Entertainment
Sunday's re-airing of the all-Boston 'Simpsons' episode has a new hidden reference to the Patriots' Super Bowl win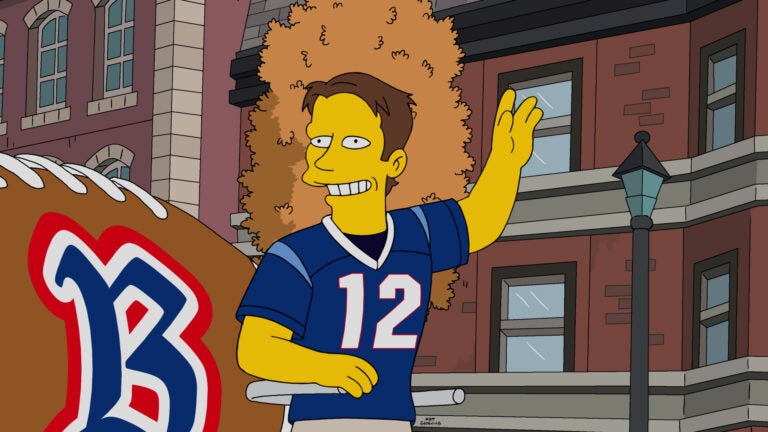 "The Town," the all-Boston episode of The Simpsons that aired back in October, has a mind-boggling number of hidden references to the city that only locals will understand. When the episode re-airs this Sunday at 7:30 p.m., there's going to be one more, thanks to the New England Patriots.
After the Pats' incredible come-from-behind, 34-28 win over the Atlanta Falcons in Super Bowl 51 last Sunday, the show's producers decided to go back and add a new Super Bowl-themed Easter egg to the episode.
"Back when the episodes were hand-drawn, something like this would have been impossible," Simpsons Executive Producer Matt Selman said. "But with digital animation, we can sneak in last-minute changes like this. The technology is amazing."
"The Town" was already full of references to the Patriots.
Early in the episode, Homer and his friends watch as the Springfield Atoms lose to the Boston Americans, thanks to a nick-of-time toss from the team's pretty-boy quarterback and a somehow legal play schemed up by the grim-faced Coach Bonderchuck. At the end of the episode, the team stages a celebratory parade down the streets of Boston quite similar to Tuesday's real-life counterpart.
Selman was cagey about revealing the exact details of the Easter egg before the episode airs, but said that it's an incredibly small moment that would be easy to miss if you're not paying close attention.
Selman, who grew up in Watertown, said that he was very pleased with the positive response from locals after the episode aired, and couldn't be happier about how well both the original airing and the rerun have coincided with major events in the Patriots' season.
"Our Boston episode ended up airing the day Tom Brady came back from his suspension, and now it's rerunning the Sunday after the Super Bowl," Selman said. "Nobody planned it that way, but it worked out perfectly."