Entertainment
A rerun of the all-Boston 'Simpsons' episode featured a new Super Bowl 51 Easter egg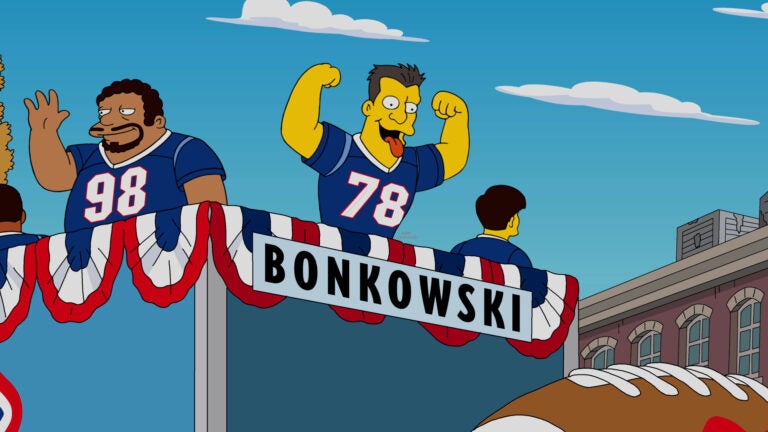 If you watched the re-airing of the all-Boston episode of The Simpsons Sunday night, you may have noticed something different.
"The Town" was already full of hidden references only locals would understand, but after the New England Patriots' historic 34-28 comeback win over the Atlanta Falcons in Super Bowl 51, the show's producers went back and added a brand new Easter egg to honor the Pats.
In the opening minutes of the episode, Homer and his pals gather at Moe's Tavern to watch the Springfield Atoms play the Boston Americans, a stand-in for the Patriots. Victory seems all but certain for the Atoms, until Boston's stern-faced Coach Bonderchuck calls an 11th-hour play during which the team mascot catches a pass from the Americans' pretty-boy quarterback.
When the episode originally aired in October, this is what the scene looked like:
But thanks to the magic of digital animation, this is how the same shot appeared in Sunday's rerun:
According to Simpsons executive producer Matt Selman, who grew up in Watertown, a quick change like this wouldn't have been possible during earlier seasons of the show.
"Back when the episodes were hand-drawn, something like this would have been impossible," Selman said. "But with digital animation, we can sneak in last-minute changes like this. The technology is amazing."
Selman said the idea for the swap first came up while members of the staff were watching Sunday's big game together.
"We were laughing about how funny it would be to add something about the Super Bowl to the episode," Selman said. "When [showrunner] Al Jean heard us, he said, 'Why don't we go ahead and change it?' We were just joking, but he was completely serious."
Unfortunately, if you wanted to see the Super Bowl 51 homage and missed Sunday's airing, you're out of luck. Selman said that whether you see "The Town" On Demand, on DVD, or on TV during a future rerun, it will be the original version that aired in October.
"For an episode that's really a love letter to Boston, this felt like the perfect one-time addition," Selman said. "It's kind of cocky, but everyone else already hates the Patriots and their fans, so it's OK."