Entertainment
'The Great Wall' is one of the worst-reviewed films of Matt Damon's career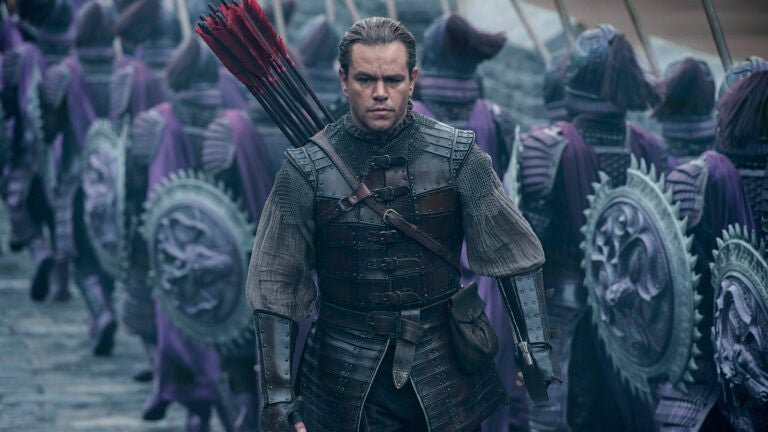 Matt Damon has starred in a number of excellent movies in a career spanning almost 30 years, winning numerous awards and landing a star on the Hollywood Walk of Fame.
Perhaps just as impressively, he's been in very few bad movies: Of his 39 films with more than a cameo role and a national theatrical release, only three have received lower than a 40 percent freshness rating from critic aggregation website Rotten Tomatoes.
The Great Wall, Damon's newest film, has become the fourth member of that group, with a freshness rating of 36 percent at the time of this article's publication. Barring any last-minute changes, The Great Wall stands as the third-worst-reviewed major film of the Cambridge native's career, slightly better-received than fellow under-40 club members The Monuments Men (30 percent) and All the Pretty Horses (32 percent), but slightly worse than The Brothers Grimm (38 percent). Even if it somehow climbs above 40 percent — which is extremely unlikely, given the number of reviews already counted by RT — it will still rank as one of the worst-reviewed films of Damon's career.
While most of the film's negative reviews are not outright pans — many critics gave the film two stars or an equivalent letter grade — The Great Wall still seems destined to be remembered as a film considerably less great than its title suggests.
Most critics ignored the whitewashing controversy surrounding the film, instead judging it on its own mediocrity.
Tom Russo gave the movie two stars in his review for The Boston Globe, saying that the film would soon be a distant memory for most.
This big-budget effort from internationally acclaimed director Zhang Yimou ("House of Flying Daggers") won't be remembered for the controversy. The film is so full of sub-Tolkien battle-epic drama and unfulfilled narrative ambitions, it likely won't be remembered, period.
Despite director Zhang Yimou's reputation for making beautiful films, Mark Jenkins of NPR found the visual effects highly underwhelming.
While the stagiest sequences are visually impressive, much of the movie is not. The 3D images feature lots of camera swoops and ostentatious closeups, and are sometimes as low-def as a holographic ring from a 1960s gumball machine.
The AP's Jake Coyle noted that as the first major collaboration between Hollywood and China, The Great Wall bodes poorly for future cross-continental collaborations.
Characters appear largely as cardboard cut-outs. The pacing is frantic. There's surprisingly little sense to the entire ordeal as Lin Mae and Garin fight to stave off the monster hordes. The Great Wall, in the end, bridges worlds only by that sad commonality we all share: the disappointment of a bloated, half-baked blockbuster.
Not all critics were disappointed, though very few gave the film anything close to a full-throated endorsement.
Simon Abrams of RogerEbert.com gave the film three stars, saying that while Damon and co-star Pablo Pascal lacked chemistry, the film still had impressive cohesion.
The makers of The Great Wall succeed where many westerns fear to tread, namely by un-ironically valorizing the selfless collectivism that has become a cultural touchstone of modern Chinese cinema. The Great Wall has significant problems—namely with Damon and sidekick Pedro Pascal's lack of bromantic chemistry—but chief among its rewards is its ability to marry its Eastern and Western sensibilities.
The AV Club's Ignatiy Vishnevetsky called the film a "stupidly awesome eyeful" in his headline, arguing that despite gigantic plot holes and an Irish accent from Damon that changes almost every scene, the film is redeemed by its visuals.
Zhang spends almost as much time on the Nameless Order's elaborate preparations for battle as he does on the battles themselves, and stages them with his usual flair for synchronized movements and patterns. There is no logical reason for the film to climax in a tower of stained glass that paints Lin Mae and William in psychedelic Suspiria lighting, but boy does it look gorgeous in 3-D.
New York Magazine's David Edelstein had similar feelings about The Great Wall, calling it "wonderfully ridiculous" in his headline and praising its cheesy plot and ludicrous climax as what makes the film special.
If you don't love The Great Wall, we don't have much to talk about. Yes, it's terrible, but it's lavishly, generously terrible, and even at its worst it isn't painful — unlike, say, the list of finalists for this year's Razzie awards.