Entertainment
'La La Land' composer Justin Hurwitz on how his time at Harvard led to the movie's ear-catching music
Hurwitz and 'La La Land' director Damien Chazelle met as freshmen and kicked off their moviemaking partnership at the Cambridge institution.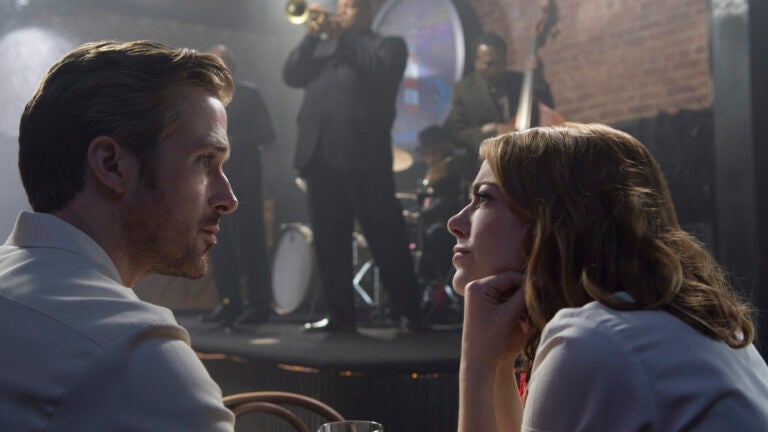 As a freshman at Harvard University, Justin Hurwitz did what many creative young people do: He joined a band with a group of musically-inclined acquaintances, including fellow freshman Damien Chazelle.
"We took it really seriously for about a year and a half," Hurwitz, now 32, said. "And then we quit halfway through sophomore year and started focusing on movies."
It's a good thing they did. Hurwitz is the chief architect of the music for the Chazelle-directed La La Land, which is up for a record-tying 14 Oscars at Sunday's Academy Awards. Hurwitz personally earned three nominations, one for Best Original Score and two for Best Original Song, for "City of Stars" and "Audition (The Fools Who Dream)," along with lyricists Benj Pasek and Justin Paul.
Hurwitz said that he and Chazelle started rooming together sophomore year at Harvard, using the other's work as inspiration for their own and building the partnership they have today.
"Damien was already studying films and had wanted to be a filmmaker since he was a little kid," Hurwitz said. "Watching the other's work, because it was such close living quarters, sharing a bedroom and a workspace, I was watching the filmmaking he was doing, and he was watching the music I was doing for my music classes because I was studying music.
"We were developing a real appreciation for each other and what we do," Hurwitz continued. "So we started to talk about how to combine what we do, how we could make movies together. How can we put my music in his movies?"
La La Land is the third film that the pair has made together, following 2014's Whiplash (which earned Oscars for film editing, sound mixing, and supporting actor for J.K. Simmons) and 2009's Guy and Madeline on a Park Bench, a film shot in Boston that has many similarities to La La Land.
If you've seen La La Land, the plot of Guy and Madeline may sound somewhat familiar. The film centers around a whirlwind romance between a jazz trumpeter and a young woman in between jobs trying to find her calling. La La Land, meanwhile, focuses on the serendipitous relationship between a jazz pianist (Ryan Gosling) who dreams of opening his own club and an aspiring actress (Emma Stone) who can't seem to catch a break. 
Both films include unexpected endings (which we won't spoil) and jazzy musical scores composed by Hurwitz. Chazelle even told The Boston Globe that he originally conceived of La La Land as a Boston love story, with a scene that takes place at LA's Griffith Observatory originally set for Boston's Museum of Science.
Guy and Madeline marked the first time Hurwitz dabbled in jazz. At the time he composed the film's music, he was mostly writing classical string quartets and piano fugues for his Harvard courses, but the thrill of jazz music quickly took root once he stepped into the recording studio with a group of local musicians.
"I remember the very first recording sessions we had for Guy and Madeline, we brought jazz musicians from Berklee into the studio, gave them lead sheets, and then let them do what jazz musicians do," Hurwitz said. "It was extraordinary. Hearing them come up with things that I never would have written on the page, it was so exciting.
"After only a day, recording jazz become one of my favorite things," Hurwitz continued. "It was because of those great Boston musicians Damien and I found at Berklee, at Wally's [Cafe Jazz Club in the South End], or around Boston. It was their talent that brought those pieces to life and gave me a real love of recording jazz."
That free-flowing improvisational nature helped Hurwitz as he composed the score for La La Land. For the Oscar-nominated song "Audition," which ushers in the film's final segment, Hurwitz had actress Emma Stone perform the song live, in one take, while he accompanied her on piano, according to an interview with Vulture.
While jazz is typically a collaborative genre, Hurwitz sought solitude at his family cottage in Wisconsin in the summer of 2014 to compose "City of Stars."
"I love to compose there," Hurwitz said, adding that he spent his middle school and high school years in the Milwaukee area. "[My parents] have an upright piano, so I just settle in and play for hours. I love to go there to get away from Hollywood for a bit and have some quiet to compose."
Despite already winning numerous awards for the music of La La Land, including Golden Globes for Best Original Score and Best Original Song ("City of Stars"), Hurwitz said attending the Oscars on Sunday is going to be extra special.
"I remember when I was 12 or so, it was the year Shakespeare in Love was sweeping the Oscars," Hurwitz said. "I remember every time it would win, they would play Shakespeare in Love music. It was so sweeping and gorgeous, and I thought the whole moment was so magical. I dreamed about sitting at the Oscars and hearing my own music play, so this is something I've been looking forward to for a long time."