Entertainment
Jimmy Kimmel's Oscars hosting job was one giant Matt Damon roast
You knew it was coming.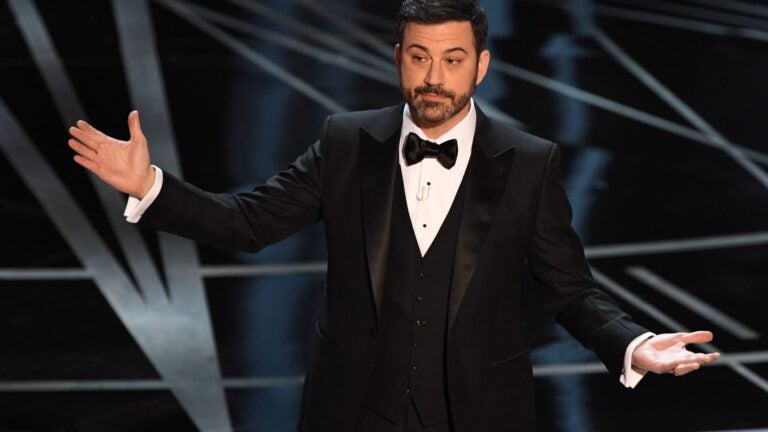 Jimmy Kimmel's Oscars opening monologue on Sunday night had jokes at the expense of Mel Gibson, the Academy's lack of diversity, and Donald Trump. But the host saved his longest, "meanest" insults for his rival Matt Damon—and never let up, even once the opening monologue was over.
During his monologue, Kimmel suggested that America might be slightly less fractured if everyone reached out to one person with whom they differ politically to have a candid conversation.
"And tonight, in the spirit of healing and bringing people together, I would like to bury the hatchet with someone I've had issues with," Kimmel said, as the camera cut to Damon. "Now Matt, I've known Matt for a long time. I've known Matt so long, when I first met Matt, I was the fat one."
Kimmel then pretended to give Damon credit for selflessly passing the lead role in Manchester by the Sea to Casey Affleck.
"He could have taken that lead actor part for himself, but he gave that role to Casey Affleck, his childhood friend," Kimmel said. "He handed what turned out to be an Oscar-caliber role over to his friend, and made a Chinese ponytail movie instead.
"And that movie, The Great Wall, went on to lose $80 million dollars," Kimmel continued. "Smooth move, dumb***."
Before the show even started, Damon joked with E! red carpet reporter Ryan Seacrest and ABC red carpet reporter Michael Strahan about his faux-feud with Kimmel.
"I'm a member of the Academy, so I think I'll definitely make it into the theater, but I don't know what he's going have in store for me," Damon told Seacrest. "It's going to be ugly."
Kimmel, for his part, was watching Damon's interviews and taking notes.
Dead man walking the red carpet. #Oscars pic.twitter.com/j2KaUkdHTX

— Jimmy Kimmel (@jimmykimmel) February 27, 2017
Later in the night, Kimmel appeared in a pre-taped bit during which he sat in an empty theater watching Damon's 2011 film We Bought a Zoo and took relentless jabs at the Cambridge native's performance.
Kimmel played clip after clip of decontextualized footage from the movie, pretending to be impressed by Damon's ability to "make two words feel like three words" and "hear words and repeat them back."
"He has almost no discernible talent," Kimmel concluded. "But it works."
Immediately after the sketch, Ben Affleck and Damon walked on stage to present the Oscar for Best Original Screenplay, but Kimmel had a few more tricks up his sleeve. First, the announcer introduced the pair as "Ben Affleck and guest." Then, as soon as Damon started to introduce the category, the orchestra swelled with the familiar music that signals the end of a speech.
"What is with the music?" Damon asked. "Are you playing me off? Seriously? I'm just presenting!"
The camera dipped below the stage to the orchestra pit, revealing Kimmel as the conductor.
"Wrap it up, we want to go home!" Kimmel yelled.
Ben Affleck and Matt Damon get "played off" presenting at the #Oscars. pic.twitter.com/JU8cOJ1EOy

— Hollywood Reporter (@THR) February 27, 2017
Even at the end of the show, Kimmel got in one more dig at Damon's expense. Before the announcement for Best Picture, Kimmel made it clear that he was rooting against nominee Manchester by the Sea, which would have netted Damon an Oscar as one of the film's producers.
"My favorite part of the night is here," Kimmel said. "A chance to see Matt Damon lose an Academy Award."
Kimmel's final barb was quickly overshadowed by the incredible gaffe in which La La Land was mistakenly announced as the Best Picture winner instead of the actual winner, Moonlight. But until that defining moment, the Oscars felt like one long roast of Matt Damon.
Matt Damon vs. Jimmy Kimmel: A timeline
[bdc-gallery id="716980″]