Entertainment
Casey Affleck wins Best Actor Oscar for 'Manchester by the Sea'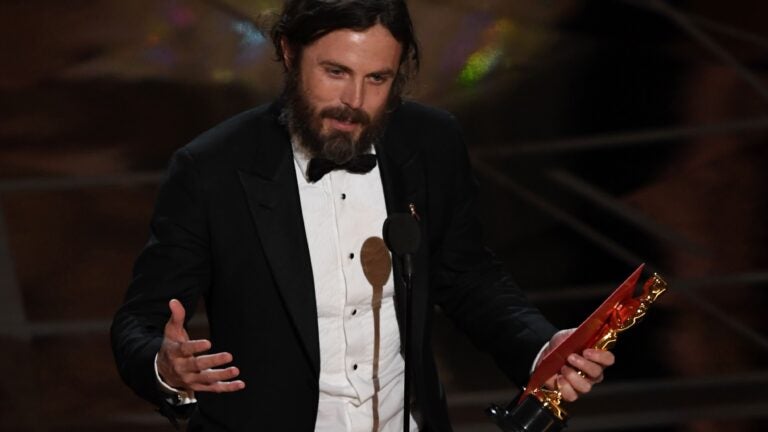 Casey Affleck took home the Oscar for Best Actor for his role as downtrodden handyman Lee Chandler in Manchester by the Sea, capping off an awards season that saw the actor win countless times for his performance.
Affleck started off his Oscars speech by thanking fellow nominee Denzel Washington, who was seen as Affleck's biggest competition thanks to his Screen Actors Guild Award-winning performance in Fences.
"One of the first people who taught me how to act was Denzel Washington, and I just met him tonight for the first time," Affleck said. "Thank you. And to all of the other nominees, you do great work. I'm proud to be in your company."
Affleck took time to thank numerous people, including friend and Manchester by the Sea producer Matt Damon, as well as his parents and older brother, Ben, but saved some of his strongest thanks for the film's writer and director, Kenneth Lonergan, who won the Oscar for Best Original Screenplay earlier in the evening.
"I'm only here really because of all of the talents and goodwill of so many people they're impossible to name, but most of all Kenneth Lonergan, who made this part," Affleck said. "And without this part and without his writing, I wouldn't be here for sure."
Affleck appeared overwhelmed by the win, saying that he regretted not preparing a more impactful speech.
"I wish I had something bigger and more meaningful to say, but I'm really proud to be part of this community in general," Affleck said. "I look out at all of you, and I have this whole year, and I'm just dumbfounded that I'm included. It means a lot to me."
Prior to the Oscars, a number of people expressed displeasure that Affleck was even nominated, bringing up a pair of sexual harassment lawsuits against the actor that were settled out of court. When Affleck's name was announced, many people voiced their anger on social media.
My aesthetic: Brie Larson not clapping for literal trash hole casey affleck pic.twitter.com/Ci5LWXLkCr

— Tyler Struble (@tyler_struble) February 27, 2017
who hates casey affleck more: me or brie larson? it's a close call.. #oscars pic.twitter.com/SoymUAhRex

— jamie (@dylanohollands) February 27, 2017
Chrissy Teigen being a national hero once again during casey affleck's speech pic.twitter.com/raZfHFQvwd

— laura (@daisyrdley) February 27, 2017
LOVE MY PEOPLE'S REACTION WHEN CASEY AFFLECK WON HIS OSCAR AT LEAST I KNOW WHO I CAN TRUST #Oscars pic.twitter.com/0cac8KibCu

— laura (@nwtseb) February 27, 2017
when viola davis mentions you vs when casey affleck mentions you#oscars #DenzelWashington pic.twitter.com/RgShKc0Uxs

— roby (@iamthatroby) February 27, 2017
when casey affleck is near to you pic.twitter.com/2rX5eDHc0v

— chiara (@chapmns) February 27, 2017
Can we check Best Actor again

— B.J. Novak (@bjnovak) February 27, 2017
To survivors of assault after Casey Affleck's #Oscars win & praise of Mel Gibson: We stand with you. You are not alone.

— NARAL (@NARAL) February 27, 2017
Watch Affleck's full acceptance speech:
https://twitter.com/THR/status/836077316639895552