Entertainment
Brie Larson says her onstage reaction to Casey Affleck's Oscar win 'spoke for itself'
The actress did not applaud when the Cambridge native won Best Actor.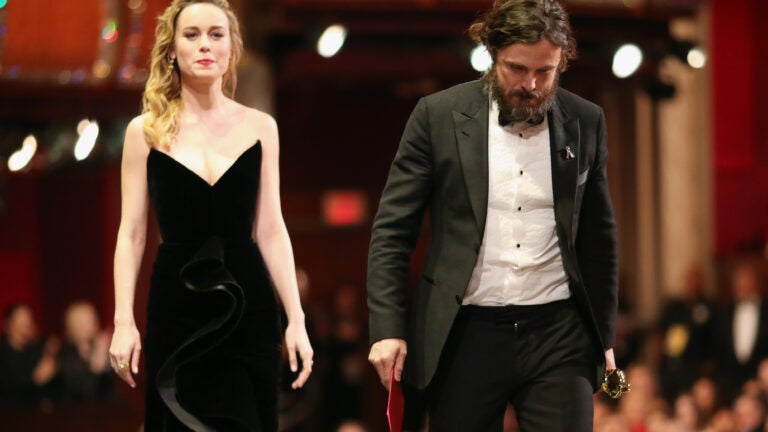 When Casey Affleck was announced as the Best Actor Oscar winner at the Academy Awards last month, a number of people on social media swiftly and strongly rebuked his victory because of previous sexual harassment allegations against the actor.
Many voiced their displeasure using photos and GIFs of award presenter Brie Larson's seemingly less-than-thrilled reaction to Affleck's win.
My aesthetic: Brie Larson not clapping for literal trash hole casey affleck pic.twitter.com/Ci5LWXLkCr

— Tyler Struble (@tyler_struble) February 27, 2017
who hates casey affleck more: me or brie larson? it's a close call.. #oscars pic.twitter.com/SoymUAhRex

— jamie (@dylanohollands) February 27, 2017
In an interview with Vanity Fair posted Thursday, Larson confirmed that her muted reaction was intentional.
"I think that whatever it was that I did onstage kind of spoke for itself," she told the publication at the Hollywood premiere of her latest movie, Kong: Skull Island. "I've said all that I need to say about that topic."
At last year's Academy Awards, Larson took home the Best Actress Oscar for Room, in which she plays a woman kidnapped as a teen and held prisoner in a shed for seven years by a man who regularly rapes and abuses her. Her 5-year-old son (Jacob Tremblay) was born in captivity and has never known life outside of their shed.
In 2010, two women who worked with Affleck on the film I'm Still Here, which Affleck co-wrote and directed, sued the actor for sexual harassment. Affleck settled the cases for undisclosed sums.
When asked about the allegations in an interview with The Boston Globe following his Oscar win, Affleck said both he and the accusers are prohibited from talking about the matter due to the settlements, and that people voicing their opinions online don't know the facts of what happened.
"I believe that any kind of mistreatment of anyone for any reason is unacceptable and abhorrent, and everyone deserves to be treated with respect in the workplace and anywhere else," Affleck said. "There's really nothing I can do about it, other than live my life the way I know I live it and to speak to what my own values are and how I try to live by them all the time."