Entertainment
'Gifted' unites Chris Evans with a new young leading lady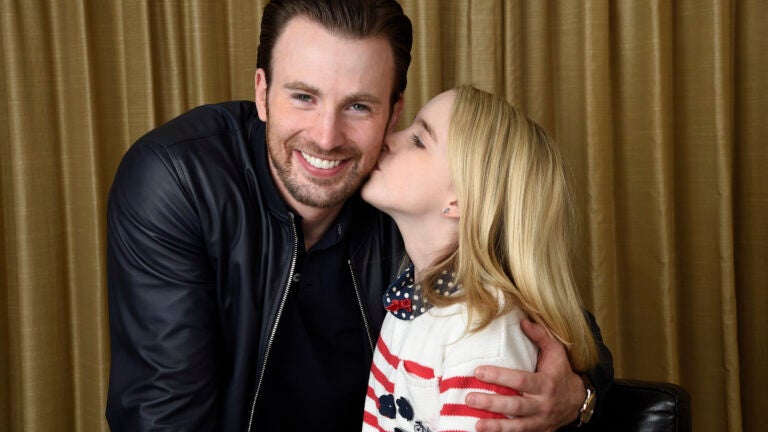 LOS ANGELES (AP) — Chris Evans glows around his new leading lady, who makes no secret of her excitement at hanging out with Captain America. She gushingly talks up his talents ("He can tap dance!"), yet is just as quick to keep him honest when he says something questionable.
She also travels with a selection of stuffed animals, including a plush seal in a pink dress.
Evans' latest co-star is 10-year-old actress Mckenna Grace. They star together in ''Gifted ,'' a family drama opening Friday about an unassuming single guy raising his math-prodigy niece, determined not to let her brilliance interfere with her childhood.
Though Evans is an uncle in real life (his eldest sister has three kids, ages 3, 5 and 7), he says he bonded in a different way with Mckenna: as colleagues. Evans and ''Gifted'' director Marc Webb ("The Amazing Spider-Man") saw dozens of girls read for the role, and Mckenna stood out with her childlike charm yet old-soul maturity.
''She might as well have an apartment,'' he said. ''I'm telling you, I've met lesser pros in adults.''
The 10-year-old actress — also a regular on TV's ''Designated Survivor'' — is the kind of professional who asks if she can bring her stuffed seal along while promoting her new film. She also has a plush cat with her at this interview, noting she's allergic to real cats.
Mckenna says she isn't a math whiz like her character in ''Gifted.'' Instead, she feels like she's gifted with a great family and amazing lifestyle.
''This experience is so wonderful and it makes me so thankful for my life. I'm gifted that I have my family here to support me and that I'm here right now with Chris,'' she said, adding, ''Well, every job could be my last, you know?''
As for Evans' gifts? Mckenna's got that covered, too.
''He has lots of secret talents,'' she said. ''He can tap dance! Though he still has not tap danced for me.''
Evans sheepishly admits that yes, he does tap dance.
''I'm looking to tap dance in a movie,'' the actor said. ''I want to find one! Maybe a nice Gene Kelly biopic.''
''He can sing and he can tap dance,'' Mckenna declared, putting a point on the subject like a manager might.
The two did a lot of singing on set between takes, she said — mostly 1990s pop-rock.
''Her dad grew up listening to the Presidents of the United States of America, a band back in the '90s,'' Evans said, ''so we would sing 'Peaches' a lot, which was one of their better songs.''
Looking at Mckenna warmly, he added: ''She couldn't actually hear all of their songs because some of their songs have bad words.''
Mckenna said she and her dad also love watching Marvel movies together, so she already knew about Captain America before working with Evans.
''He's so much more than Captain America,'' she said. '''Civil War' is always (playing) on the plane. And I look at it and I'm like, 'Hey, I know him!'''