Entertainment
'Rent' is back in Boston, and it's a homecoming for this local actress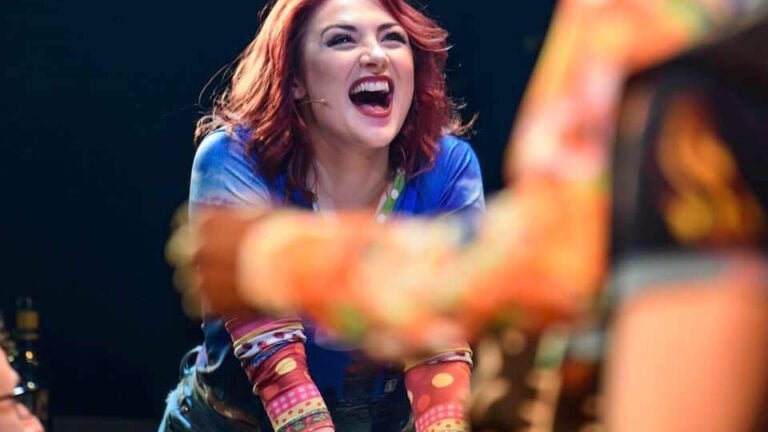 As a kid growing up in Andover, Katie LaMark had plenty of exposure to music and theater. The daughter of two musicians, LaMark spent her summers at drama camp, performed in school plays, and took trips to Boston's Theater District with friends to see shows like Wicked at the Shubert Theatre.
When LaMark stepped into the Shubert on Tuesday, however, it wasn't as a fan, but as a performer.
LaMark is part of the 20th anniversary tour of the musical Rent, which kicked off a two-week stay at the Shubert Tuesday night. Jonathan Larson's boundary-pushing rock musical about struggling artists in New York City was a phenomenon when it debuted in 1996, winning a Pulitzer Prize and putting on 5,123 performances in 12 years on Broadway, one of the longest stretches in theater history. The show was a big deal in Boston in 1996, as well. Its arrival at the Shubert marked the musical's first performance outside of New York City, and led to a 29-week sellout engagement.
LaMark looked comfortable and confident onstage Tuesday in the role of Maureen, a promiscuous bisexual performance artist who dates Joanne, a lesbian lawyer. While she didn't have as many lead songs as some of the other lead cast members, the ones she did belt out crackled with energy, and brought loud cheers from the audience.
LaMark is only 25, which means she didn't grow up in the age of Rent. But she was just the right age to become obsessed with the 2005 film adaptation.
"I was in drama club, and we all went to the movie theater in our drama club sweatshirts to see it," LaMark said. "I was totally taken by it. I loved the music. I listened to the cast recording until I had memorized it."
One of the things that made Rent so revolutionary when it first debuted was its frank, humanizing portrayals of characters who are HIV-positive and have AIDS. When Larson began writing the musical in the early '90s, the disease was still widely misunderstood, and those suffering from it were marginalized by uneducated members of the public.
While Rent is in many regards a musical of its time, the issues it addresses still persist today. On March 29, Boston City Councilor Tito Jackson ordered a hearing to address the loss of 40 beds at the Southampton Street Shelter specifically set aside for HIV-positive homeless men. Jackson's order cited statistics from Boston Housing Care and recovery service advocates claiming that there are at least 300 HIV-positive homeless people in Boston, and that they have three times more difficulty accessing care than housed people with HIV.
LaMark said she and the rest of the cast drew influence from current politics as they prepared their performances.
"I think everyone has felt that the political climate right now has contributed to the way we feel when we perform the show," LaMark said. "We have a president who is denying basic rights to people. He's advocating separating people, he's advocating taking away health care, he's denying that certain problems in our country exist."
As Maureen, LaMark's big moment in the spotlight comes near the end of the first act with the performance piece "Over the Moon." Using characters from the nursery rhyme "Hey Diddle Diddle," she riffs on the villainous landlord, Benny, and his plan to tear down the building in which the main characters live to build a cyber arts studio. While some of the lingo betrays the distinctly '90s origins of "Over the Moon" (repeated references to the dystopian "Cyberland" are a good clue), much of it still rings true for contemporary audiences. In one moment, while channeling Benny, Maureen sings about the dish and spoon seeking shelter, only for Benny (the dog) to sing, "Not in my backyard; go back to China."
"Before Trump was in office, people would laugh, and now it makes people really uncomfortable," LaMark said. "A ripple goes through the crowd when people realize, 'Oh yeah, this is happening.'"
After seven months on tour, with occasionally grueling bus trips from one city to the next, LaMark is excited for a comparatively lengthy stay in Boston. She's also looking forward to showing the Shubert audience the "New England sensibility" she's added to her portrayal of Maureen.
"If you're looking at the role of Maureen, I'm excited for people to see how I've made it my own, and that a lot of my influences are about my upbringing in Boston. I like to go back to my roots and say, 'What is my New England sensibility that I can relate to this character?' And I think people will see it."
Like a true New Englander, LaMark has a bit of a chip on her shoulder, and is eager to prove to her hometown audience what she's made of.
"I never felt like anyone was rooting for me to fail, but there's always a question in people's minds when you go into this industry whether or not it will stick, because it's hard," LaMark said. "It's nice to come home and show my friends and family that I've worked hard enough, and that it's all started to pay off."
Rent will be at the Shubert Theatre through April 23. Tickets are available on the theater's website.
Correction: A previous version of this story stated that Rent ran for 5,123 weeks. In fact, it ran for 5,123 performances, not weeks.