Entertainment
The 13 best jokes from the David Ortiz roast—that we actually can repeat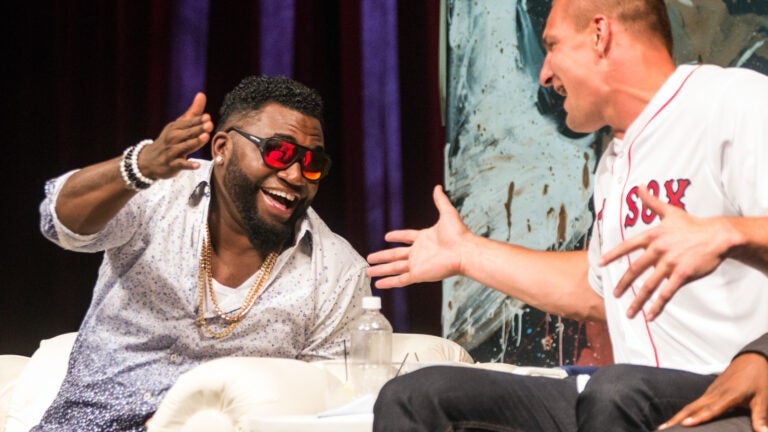 On Friday night, the Boston Red Sox plan to retire David Ortiz's jersey in what's sure to be a heartfelt ceremony full of effusive praise for the former Red Sox slugger. But before all of that, Ortiz faced hours of insults from comedians and athletes alike Thursday night at the Roast of David Ortiz at the House of Blues.
Sportscenter anchor Jonathan Coachman emceed the ceremonies, with comedians Bill Burr, Lenny Clarke, Adam Ray, Sarah Tiana, and Josh Wolf, actor Anthony Mackie (The Avengers), New England Patriots tight end Rob Gronkowski, and Red Sox second baseman Dustin Pedroia serving as the roasting panel.
It's ironic that proceeds from the event benefitted the David Ortiz Children's Fund, because children weren't allowed anywhere near the roast, and rightly so. Most of the jokes told onstage Thursday were too offensive for us to publish here. NESN, which was supposed to air the roast Friday night at 7 p.m., Saturday night at 8 p.m., and Sunday at 11:30 a.m., canceled its plans to do so, a NESN spokesman confirmed.
Nonetheless, all eight roasters managed to land some funny punchlines about Big Papi, Gronkowski, Pedroia, and the rest of the roasters that didn't make us cringe due to their crassness. Here are the best jokes from the Roast of David Ortiz that we can publish without veering into NC-17 territory. (For that, you can watch the bits from Gronk and Pedroia on Facebook.)
"Did you know a DH spends an average of 4.3 minutes a game actually doing something athletic? My mom's Fitbit has more steps from a brisk mall walk than David notched in a f****** doubleheader. Oh, Papi, you're an inspiration to overweight beer league softball players everywhere." — Rob Gronkowski, on David Ortiz

"Anthony played Falcon in Captain America: Civil War. Anthony, you were terrible, dog. It was the worst I've seen a Falcon look since the second half of Super Bowl 51." — Rob Gronkowski, on Anthony Mackie
"Do you ever turn anything down, Gronk? You would f****** spike a flaming cross at a Klan rally if they promised you travel and some buffalo wings." — Bill Burr, on Rob Gronkowski
"I can't believe they're retiring this guy's number. He's a f****** DH. Retiring a DH's number is like putting a vice president on Mount Rushmore. The man barely played a game. One time somebody asked David, 'Hey, what's it like to play professional baseball?' He said, 'It's a lot like waiting for a bus, except once every 40 minutes you stand up and ground out to second.'" — Bill Burr, on David Ortiz

"Where the f*** do you get off being honored when you only have three championships? Last I checked, Brady had five and he's still playing. Imagine if you just ate a salad every once in a while." — Bill Burr, on David Ortiz
"You'll have a reunion and see Pedro and Manny—and the team of ICE agents Curt Schilling called to deport all of you, because he's a racist f***." — Josh Wolf, on David Ortiz's retirement ceremony
"How many people called you Mookie Betts this week? People in Boston see a black guy and they're like, 'Athlete, right?'" — Josh Wolf, on Anthony Mackie
"They were gonna make a bobblehead for Dustin Pedroia, but he refused to lay in the box long enough for them to make the mold." — Josh Wolf, on Dustin Pedroia
"You look like the Dominican Babe Ruth, if he ate all the Baby Ruths. You look like a groundhog with a drinking problem. Seriously, I hope we raise some money tonight, and send it toward David's diabetes problems. What's that, 'David doesn't have diabetes'? Well he's already running like they amputated a foot, so you tell me what's going on." — Adam Ray, on David Ortiz
"Every year, Gronk gets injured. Whether it's breaking his arm or from pulling his back or from having a full-on seizure from trying to read the word 'elephant.'" — Adam Ray, on Rob Gronkowski
"You've never seen Papi in shorts, and that's scary. Motherf***** skipped leg day every day of the week. People wonder why he's so slow to first base. I'm like, you try carrying 250 pound on two burnt popsicle sticks!" — Anthony Mackie, on David Ortiz
"You ever wonder what happened to the kid on Charlie Brown once he put his blanket down? He played for the Red Sox, that's what happened." — Anthony Mackie, on Dustin Pedroia
"You're an author of a best-selling book, and the biggest word in that book was 'baseball.' Now you've actually written one more book than you've read." — Lenny Clarke, on David Ortiz