Entertainment
Peek inside Boston's brand-new wax museum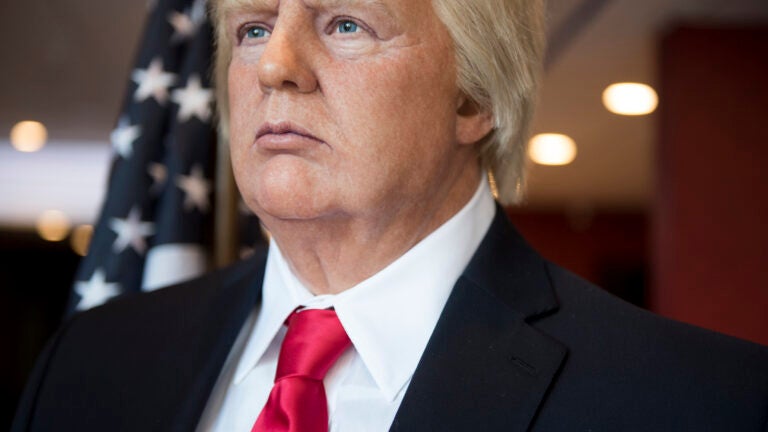 What do President Donald Trump, Michael Jackson, and Matt Damon have in common?
It sounds like the setup for an offensive joke, but the answer is that all three, along with more than 100 other notable public figures, both living and dead, are represented at the Dreamland Wax Museum, opening in downtown Boston on Monday.
The wax museum has been turning heads for weeks now, as curious onlookers near City Hall Plaza have gawked at the lifelike figures of Katy Perry, Queen Elizabeth, and Trump staring out the window of the museum's home at 1 Washington St.
According to VP of Sales Michael Pelletz, Dreamland will set itself apart from Madame Tussauds and other wax museums by allowing visitors to interact with the figures rather than viewing them behind a velvet rope or panes of glass.
"You can touch them, you can take selfies with them, you can interact with them," Pelletz said. "We're going to have an artist here full-time that's going to take care of them — do their makeup and fix their hair, every day."
The museum is owned by Dreamz Entertainment, a Brazilian company that runs more than 35 museums in Central and South America. Dreamland will be the company's first U.S. venture, and Pelletz said Boston's long and storied history makes it the perfect place for the company's foray into America.
"There's no better place to get started than Boston," Pelletz said. "The history, the tourism — we're steps away from the Freedom Trail, right next to Faneuil Hall, so we couldn't ask for a better location."
That focus on history and education is another difference between Dreamland and other wax museums, according to Pelletz. While you will still find wax versions of Beyonce, Oprah, Elvis, and other titans of the entertainment industry, half of the museum is dedicated to more academic figures, with one section featuring all 44 U.S. presidents and short, informational bios about each.
Dreamland has also partnered with Cuseum, an app company that designs interactive mobile experiences for museums. Using the app, as you walk past the wax figure of Abraham Lincoln, for example, you'll hear facts about the 16th president read by a voice actor impersonating Lincoln. Pelletz said the museum has already heard from schools hoping to arrange field trips in the fall to see the wax figures.
"They're works of art, and no two are alike," Pelletz said. "This artistry has been around since the 17th century, and there's only a handful of artists in the world that can still do this."
The museum already features several famous Bostonians in wax, including Ben Affleck, Matt Damon, Ray Bourque, Bobby Orr, Paul Pierce, and even Boston Pops director Arthur Fiedler, but Pelletz said that it plans to add more. As the museum gets up and running, it will bring in other local celebrities to have their measurements taken so their wax likenesses can be added to the collection, a process that takes four to six months.
For a sneak peek of the Dreamland Wax Museum, watch our behind-the-scenes tour with Pelletz in the video below (which may take a moment to load).
We're live at the Dreamland Wax Museum in Downtown Boston! Take a sneak peek at the 100-plus wax figures with Dreamland's Michael Pelletz before the museum opens on Monday.

Posted by Boston.com on Wednesday, July 26, 2017
(Dreamland Wax Museum; 1 Washington St., Boston; $29 GA, $25 for children, seniors, college students, military, and law enforcement)