Entertainment
Matt Damon: 'This is the kind of sexual predation that keeps me up at night'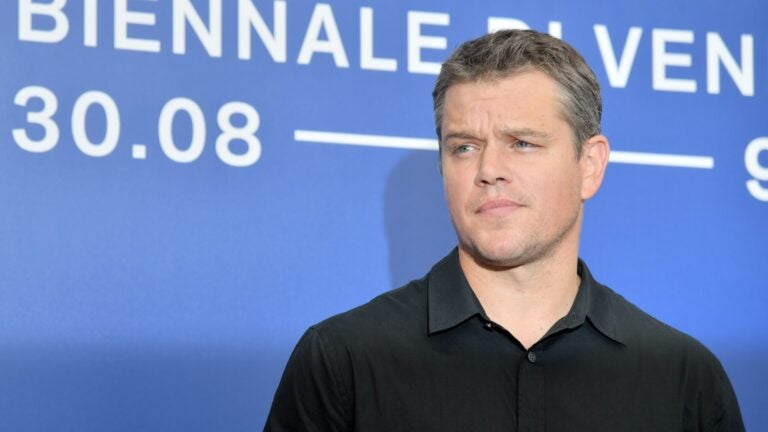 A report from The Wrap making the rounds on Monday claimed that The New York Times abandoned a 2004 story about Harvey Weinstein's sexual misconduct. The report also mentioned that actor Matt Damon called reporter Sharon Waxman to vouch for a Weinstein associate who, according to Waxman, helped arrange for "Weinstein's women needs."
In an interview with Deadline, Damon denied that he tried to impact the story, explaining that he had a one-minute phone call with Waxman that had nothing to do with Weinstein or allegations of sexual misconduct.
"Look, even before I was famous, I didn't abide this kind of behavior," Damon told Deadline. "But now, as the father of four daughters, this is the kind of sexual predation that keeps me up at night. This is the great fear for all of us."
In the Wrap article, Waxman claimed that while working on a New York Times story about Weinstein's alleged behavior, sources told her that former head of Miramax Italy Fabrizio Lombardo had "no film experience" and that his main job was to take care of "Weinstein's women needs." Later in the article, Waxman said that Damon and actor Russell Crowe, who had both worked with Weinstein, called her to vouch for Lombardo, and the Times gutted and buried her story after "unknown discussions well above my head." When published, the story's focus wasn't Weinstein, but Lombardo, whom Miramax was suing for collecting paychecks for two jobs at the company, she wrote.
Waxman only wrote of Damon and Crowe once in her Wrap story, in which she mostly blamed the Times and insinuated that the publication changed her story because of pressure from Weinstein, an advertiser with the paper. (The Times rebutted Waxman's claims in a story on Monday.)
In a tweet Tuesday afternoon, Waxman said she endorses Damon's comments to Deadline.
I endorse Matt Damon's statement. He called me briefly,wasn't informed – nor shld he have been – abt investigative aspect of piece. @thewrap https://t.co/kTbOdYY7C8

— Sharon Waxman (@sharonwaxman) October 10, 2017
Prior to Damon's Deadline interview, his reported role was noted by many on social media, including actresses Jessica Chastain and Rose McGowan.
This is heart shattering https://t.co/xqgrH5Smgp

— Jessica Chastain (@jes_chastain) October 9, 2017
Hey @mattdamon what's it like to be a spineless profiteer who stays silent? pic.twitter.com/rp0OrRrpqJ

— rose mcgowan (@rosemcgowan) October 9, 2017
Damon, who rose to prominence thanks to Good Will Hunting, which was executive produced by Weinstein, told Deadline that Weinstein called him to ask if he would speak to Waxman about Lombardo, whom he knew "in a professional capacity" from working on The Talented Mr. Ripley. Weinstein told him that Waxman was writing a negative piece but made no mention of any sort of allegations of sexual misconduct, Damon said.
Damon told Deadline that even though he had done "five or six movies" with Weinstein, he never saw any evidence of the former Miramax and Weinstein Company executive's behavior, and would have interceded if he had.
"I think a lot of actors have come out and said, everybody's saying we all knew," Damon told Deadline. "That's not true. This type of predation happens behind closed doors, and out of public view. If there was ever an event that I was at and Harvey was doing this kind of thing and I didn't see it, then I am so deeply sorry, because I would have stopped it. And I will peel my eyes back now, father [sic] than I ever have, to look for this type of behavior. Because we know that it happens. I feel horrible for these women and it's wonderful they have this incredible courage and are standing up now."
Damon concluded the Deadline interview by reiterating that he didn't try to influence Waxman's story in any way.
"For the record, I would never, ever, ever try to kill a story like that," Damon said. "I just wouldn't do that. It's not something I would do, for anybody."