Entertainment
What to know about the Harvey Weinstein scandal, the Ben Affleck allegations, and how Matt Damon fits in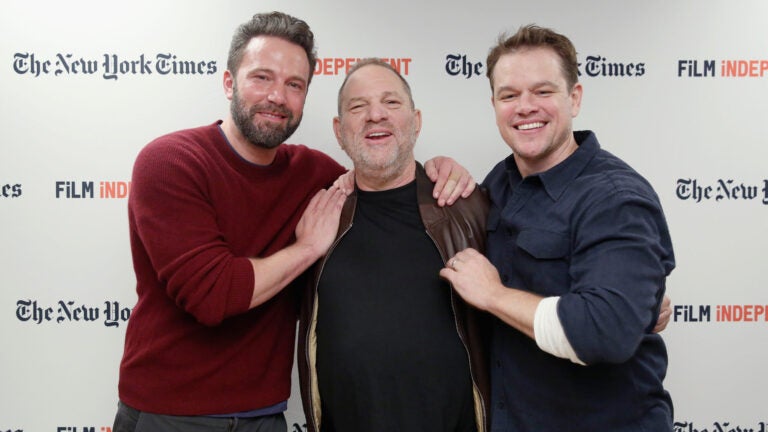 In the week since The New York Times published its blistering Oct. 5 story about Harvey Weinstein, alleging that the former Miramax and the Weinstein Company film executive engaged in a decades-long pattern of sexual misconduct, the story has mushroomed. Dozens of celebrities who have worked directly with Weinstein have weighed in with either their own accusations or reactions.
Two of those secondary storylines concern Cambridge natives and actors Matt Damon and Ben Affleck, longtime colleagues of Weinstein whose careers were jumpstarted by Good Will Hunting, a film that Weinstein executive produced.
This story is complex. To help you keep track of its threads, we've compiled what we know.
Weinstein's downfall
The Oct. 5 Times article about Weinstein contains stories from several women who describe a pattern of sexual misconduct. Though the specifics varied, Weinstein would usually arrange a meeting with a woman and attempt to pressure her into sexual situations, such as giving him a massage while naked or watching him take a shower. In one case, Ambra Battilana, an Italian model and aspiring actress, said that Weinstein grabbed her breasts and reached his hands up her skirt. The Times also reported that, according to two unnamed Miramax officials, Weinstein has reached at least eight settlements with women regarding his behavior.
In addition to Battilana, those named in the Times piece include actress Ashley Judd, who said that Weinstein appeared in a robe and asked her to massage him and watch him shower during a meeting in his hotel room, and actress Rose McGowan, whom the Times revealed reached a previously undisclosed $100,000 settlement with Weinstein following a 1997 hotel room incident during the Sundance Film Festival. McGowan declined to comment for the Times story. (However, on Thursday night she tweeted to Amazon founder Jeff Bezos that she had told the head of "your studio" that "HW raped me.")
Five days after the Times story published, journalist Ronan Farrow published an article in The New Yorker featuring comments from 13 women who said that Weinstein had acted inappropriately toward them, including three who said the film executive raped them.
After the first article, other actresses began sharing their own stories. Gwyneth Paltrow told the Times that when she was 22, Weinstein ended a work meeting by placing his hands on her and suggesting they go to his bedroom for massages. In the same article, Angelina Jolie said that in her youth, she had a "bad experience" with Weinstein and "as a result, chose never to work with him again." Cara Delevingne shared a statement with journalist Yashar Ali, which she later posted on her own Instagram, in which she said that Weinstein brought her to his hotel room and asked her to kiss a female assistant, then attempted to kiss her himself when she got up to leave.
Three days after the Times story published, the Weinstein Company fired Weinstein.
What happened with Ben Affleck
On Tuesday, Affleck posted a message to social media, saying that the "allegations of assault" against Weinstein make him "sick," and that he was "saddened and angry that a man who I worked with used his position of power to intimidate, sexually harass and manipulate many women over decades."
Shortly afterward, women shared their own allegations about Affleck.
McGowan said that Affleck knew about Weinstein's actions, which he did not address in his statement.
@benaffleck "GODDAMNIT! I TOLD HIM TO STOP DOING THAT" you said that to my face. The press conf I was made to go to after assault. You lie.

— rose mcgowan (@rosemcgowan) October 10, 2017
Ben Affleck fuck off

— rose mcgowan (@rosemcgowan) October 10, 2017
The Times asked McGowan for clarification, asking if she was asserting that Affleck knew about Weinstein's actions because she had told Affleck about them in the past, and that she was accusing Affleck of lying in his social media statement because he didn't acknowledge that he knew about Weinstein's behavior; the Times said that McGowan replied, "I am saying exactly that."
On Wednesday night, McGowan posted a message on Instagram saying that her Twitter account had been temporarily suspended.
Twitter released a statement about the suspension on Thursday, saying, "We want to explain that her account was temporarily locked because one of her Tweets included a private phone number, which violates our Terms of Service. … Twitter is proud to empower and support the voices on our platform, especially those that speak truth to power."
We have been in touch with Ms. McGowan's team. We want to explain that her account was temporarily locked because one of her Tweets included a private phone number, which violates our Terms of Service. 1/3

— Twitter Safety (@TwitterSafety) October 12, 2017
Twitter is proud to empower and support the voices on our platform, especially those that speak truth to power. We stand with the brave women and men who use Twitter to share their stories, and will work hard every day to improve our processes to protect those voices. 3/3

— Twitter Safety (@TwitterSafety) October 12, 2017
After Affleck posted his statement Tuesday, a Twitter user wrote that the actor "grabbed Hilarie Burton's breasts on TRL once. Everyone forgot though."
"I didn't forget," Burton replied.
I didn't forget.

— Hilarie Burton (@HilarieBurton) October 10, 2017
Affleck's 2003 Total Request Live appearance began being shared widely on the internet.
On Wednesday, Affleck tweeted an apology, saying he "acted inappropriately toward Ms. Burton," but did not directly acknowledge what he was apologizing for.
I acted inappropriately toward Ms. Burton and I sincerely apologize

— Ben Affleck (@BenAffleck) October 11, 2017
Also on Wednesday, social media users began recirculating a clip of Affleck from a 2004 interview with Montreal TV host Anne-Marie Losique during which Affleck was promoting the Miramax film Jersey Girl. In the clip, Affleck, with Losique in his lap, compliments her breasts as "very firm, suspiciously firm" and says that the station would like it better if she did her show while topless.
Losique told The Hollywood Reporter that the clip was all an act.
"This was for the camera," Losique told THR. "You have to understand that we have done dozens and dozens of interviews like that. It was for a show I was producing, so I was not at all a victim. When the cameras rolled, we would start to do that game. As soon as it stopped rolling, there was none of that. He never touched me in any improper way. He was very respectful, I must say."
Losique said that she didn't think it was right that the old video clip was being presented alongside additional allegations against Affleck.
"I can't say I am thrilled to have that interview mixed in with the other stories," Losique told THR, "because I don't think that is at all the same thing."
On Wednesday night, makeup artist and author Annamarie Tendler, who is married to comedian John Mulaney, tweeted that Affleck grabbed her butt at a 2014 Golden Globes party.
He walked by me, cupped my butt and pressed his finger into my crack.

— Annamarie Tendler (@amtendler) October 11, 2017
Like most women in these situations I didn't say anything but I have thought a lot about what I'd say if I ever saw him again.

— Annamarie Tendler (@amtendler) October 11, 2017
Affleck's representatives did not immediately respond to a request for comment.
How Matt Damon fits in
In an Oct. 8 article published by The Wrap, journalist Sharon Waxman claimed that she worked on a story about Weinstein's sexual misconduct at the Times in 2004, but that it was buried by editors and that the allegations about Weinstein were edited out. Waxman insinuated that this was due to pressure from Weinstein, an advertiser with the paper. She also noted that before editors defanged her story, she received calls from Damon and actor Russell Crowe vouching for Fabrizio Lombardo, the former head of Miramax Italy who sources told her had "no film experience" and whose main job was to take care of "Weinstein's women needs."
In an interview with Deadline, Damon denied that he tried to impact the story, explaining that he had a one-minute phone call with Waxman that had nothing to do with Weinstein or allegations of sexual misconduct.
"Look, even before I was famous, I didn't abide this kind of behavior," Damon told Deadline. "But now, as the father of four daughters, this is the kind of sexual predation that keeps me up at night. This is the great fear for all of us."
In a tweet Tuesday afternoon, Waxman said she endorsed Damon's comments to Deadline.
I endorse Matt Damon's statement. He called me briefly,wasn't informed – nor shld he have been – abt investigative aspect of piece. @thewrap https://t.co/kTbOdYY7C8

— Sharon Waxman (@sharonwaxman) October 10, 2017
In interviews with Good Morning America and Today that aired Oct. 23 and 24, respectively, Damon called Weinstein a bully and said that he had been aware of what Paltrow said Weinstein had done to her. But he also said on GMA that "this level of criminal sexual predation is not something that I ever thought was going on."
Damon said that although he co-starred in the 1999 Miramax film The Talented Mr. Ripley with Paltrow, they did not discuss what she said happened to her with Weinstein. Instead, he heard about it from Affleck, who dated Paltrow in the '90s.
"I never talked to Gwyneth about it," Damon said on GMA. "Ben told me, but I knew that they had come to whatever agreement or understanding that they had come to. She had handled it. And she was the first lady of Miramax, and he treated her incredibly respectfully, always."