Entertainment
Minnie Driver: 'If good men like Matt Damon are thinking like that then we're in a lot of f****** trouble'
The actress responded to her 'Good Will Hunting' costar's comments on sexual misconduct in the entertainment industry.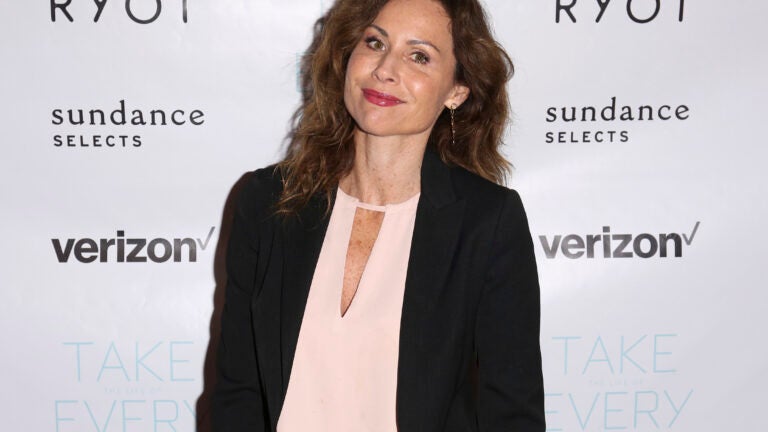 Actress Minnie Driver is taking her Good Will Hunting costar and former boyfriend Matt Damon to task for his recent comments on sexual misconduct in Hollywood.
Damon came under fire after a recent interview with ABC News, in which he said that allegations of sexual misconduct need to be analyzed individually, rather than under one large umbrella.
Driver initially responded to Damon's comments in a series of tweets Friday afternoon.
God God, SERIOUSLY? https://t.co/NDZFrLDXil

— Minnie Driver (@driverminnie) December 15, 2017
Gosh it's so *interesting how men with all these opinions about women's differentiation between sexual misconduct, assault and rape reveal themselves to be utterly tone deaf and as a result, systemically part of the problem( *profoundly unsurprising)

— Minnie Driver (@driverminnie) December 15, 2017
In an interview with The Guardian published Sunday, Driver expanded on her reaction.
"I felt I desperately needed to say something," Driver told the publication. "I've realised that most men, good men, the men that I love, there is a cut-off in their ability to understand. They simply cannot understand what abuse is like on a daily level.
"I honestly think that until we get on the same page, you can't tell a woman about their abuse," Driver continued. "A man cannot do that. No one can. It is so individual and so personal, it's galling when a powerful man steps up and starts dictating the terms, whether he intends it or not."
Driver criticized Damon for his comments about actor Louis C.K., who has been accused of sexual misconduct by five women, some of whom claimed that the Newton native masturbated in front of them without their consent. Damon told ABC News that after reading C.K.'s apology, "I don't imagine he's going to do those things again."
"I don't understand why Matt would defend Louis C.K.," Driver told The Guardian. "It seems to me that he thinks that because he didn't rape somebody — so far as we know — that what he did do wasn't as bad."
Driver continued: "If good men like Matt Damon are thinking like that then we're in a lot of f****** trouble. We need good intelligent men to say this is all bad across the board, condemn it all and start again."
Driver told The Guardian that there is "no hierarchy of abuse," and that no one can tell a woman that one type of abuse if supposed to feel worse than another, especially not a man.
"How about: it's all f****** wrong and it's all bad, and until you start seeing it under one umbrella it's not your job to compartmentalise or judge what is worse and what is not," Driver said. "Let women do the speaking up right now. The time right now is for men just to listen and not have an opinion about it for once."
Driver concluded the interview by asking men to do what she said women have long done for them: support the opposite gender and listen.
"In the same stereotypical way that we see women being supportive of men in their endeavors," Driver said, "I feel that's what women need of men in this moment. They need men to lean on and not question. Men can rally and they can support, but I don't think its appropriate, per se, for men to have an opinion about how women should be metabolising abuse. Ever."
Driver wasn't the only actress to speak out about Damon's comments. Actress Alyssa Milano, who was included among the Silence Breakers named Time's Person of the Year for her role in launching the #MeToo movement, tweeted a letter to Damon addressing his suggestion that we are currently living in "a culture of outrage and injury."
"We are not outraged because someone grabbed our a***s in a picture," she tweeted. "We are outraged because we were made to feel this was normal. We are outraged because we have been gaslighted. We are outraged because we were silenced for so long."
https://twitter.com/Alyssa_Milano/status/941841081200607232