Awards Season
What critics have to say about Matt Damon's 'Downsizing'
The new film opened Friday.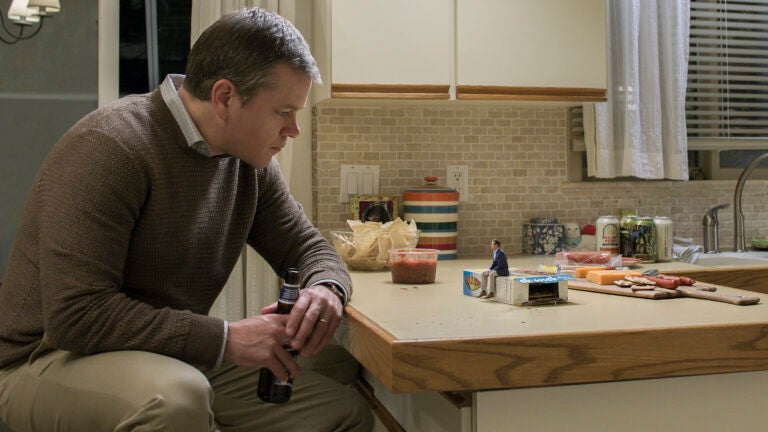 When nominations for the 75th annual Golden Globe Awards were announced on Dec. 11, Matt Damon's new film "Downsizing" —about a man who undergoes a revolutionary new procedure that permanently shrinks him to 5 inches tall  — only came away with one nomination, for Best Supporting Actress in a Motion Picture (Hong Chau). The lone nod may have been a disappointment for Paramount Pictures, given the pedigree of the film's Oscar-winning writer/director/producer Alexander Payne ("Sideways," "The Descendants") and a stacked cast that includes Oscar winners Christoph Waltz ("Inglourious Basterds," "Django Unchained") and Damon, as well as eight-time Emmy nominee Kristen Wiig ("Saturday Night Live").
While "Downsizing" was named one of the top 10 films of the year by the National Board of Review and still could end up with Academy Award nominations, response to the film has been a mixed bag. "Downsizing" had a 53 percent freshness rating on critical aggregation site Rotten Tomatoes at the time of this article's publication, and while some reviewers have fallen for the quirky satire, others have dismissed it as an incoherent mess.
To help you decide whether you want to venture out to theaters to see the film this holiday season, we rounded up some of the more insightful thoughts from critics about the film.
The Good
The Washington Post's Ann Hornaday gave "Downsizing" a four-star review, praising Damon's performance and calling the film a fix for Hollywood's lack of originality.
Weird and wonderful, zigging where it should zag and zagging where it should zig, this wildly imaginative flight of fancy strikes an admirably poised balance between whimsy, screwball comedy, social satire and generous meditation on the foibles and highest aspirations of human nature.
Time's Stephanie Zacharek spent most of her review discussing the performance of Chau, which has been somewhat controversial due to what some see as Chau's stereotypical portrayal of a Vietnamese immigrant. Chau has defended her character vigorously to the press, and Zacharek praises her performance.
We go to the movies for so many things. Sometimes we want to see characters who are at least something like us. But often it's the characters who are nothing like us that reach us most deeply.

Rolling Stone's Peter Travers acknowledged that Payne occasionally juggles too many ideas in the film, but said that "Downsizing" stuck the landing in a big way.
[Payne's] core humanity is as exhilarating and resonant as any new road he takes us on. "Downsizing" leads us to, of all things, the end of the world. Without a scintilla of Hollywood sentiment, Payne suggests it's a journey better traveled together. There's nothing small about that.
The So-So
Many of the film's reviews note that "Downsizing" has a lot of great qualities, but its plot and structure get lost along the way. Justin Chang of the Los Angeles Times called the film's second half both "thoughtful and befuddling," and wondered whether Payne's lofty vision was fully realized.
It's hard not to appreciate the visual and thematic scope of "Downsizing's" reach. But it's harder not to see the chasm between its strange, misshapen story and the grand, towering vision to which it aspires.

NJ.com's Stephen Whitty gave Payne props for moving beyond previous films like "Nebraska" and stepping into the realm of sci-fi, but felt that the director came up just short.
Payne deserves credit for trying something outside of usual, reality-based, Omaha-set comfort zone. But what he actually got onscreen don't match his huge ambitions. Maybe he should have tried – downsizing them?
The Ugly
NPR's Andrew Lapin savaged both Damon and the film itself in his critical drubbing, noting that after his statements about sexual misconduct allegations drew controversy during "Downsizing's" press tour, Damon "probably wishes he could just shrink himself to nothing and disappear forever inside the film's 'Leisure Land,' a pint-sized monument to the suburban male ego."
It's the rare movie that seems to execute every part of its concept absolutely wrong; a narrative, tonal, visual and sociopolitical fiasco the likes of which haven't been seen in many moons.

In his two-star review, The Boston Globe's Ty Burr said that the film loses focus, especially in its final third.
The film's ultimate message — help other people, basically — is, while useful and necessary, dramatically rather slack, and you notice with a shock that the film's central conceit has almost entirely dropped off the table by the final third.

And in his one-star review of the film, the San Francisco Chronicle's Mick LaSalle notes that even if the film hadn't broken down by the time the credits rolled, it still would have been bad.
Even before it completely falls apart, even before it begins to seem as though it were being made up on the spot, "Downsizing" is strangely unlovable. It's a place we don't want to visit, a world we don't want to inhabit. Watching it feels like work.