Late-night hosts all made the same joke about Tom Brady
It had to do with a certain failed fourth down conversion.
Most of the Super Bowl-related jokes on late-night shows had to do with Philadelphia fans rioting in the city after the Eagles beat the Patriots 41-33. However, one common punchline from most of the hosts was Tom Brady's dropped pass on the Patriots' failed fourth down conversion.
Jimmy Kimmel aired a commercial parody about Philadelphia fans ordering "As Seen on TV" trophies commemorating the win, including a "Tom Brady Butterfingers" trophy.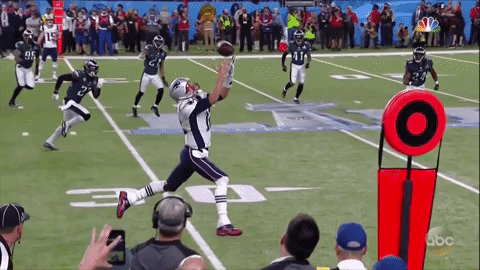 Seth Meyers tied his Brady joke to Monday's stock market decline.
"The Dow Jones industrial average closed 1,175 points lower today, which is the single biggest day drop in history. It's the worst drop since yesterday," Meyers said, with a photo of Brady attempting to catch the football appearing on the screen beside him. 
Meyers did cut Brady a little slack.
"It's not his fault," Meyers added. "It's not what he's good at!"
Stephen Colbert shared perhaps the simplest joke of all.
"Did you catch the Super Bowl last night?" Colbert asked the crowd. "Well, then you're better at catching things than Tom Brady."