Entertainment
The story behind the Boston vs. Philly sketch, according to two 'SNL' writers
'SNL' writers Streeter Seidell and Bryan Tucker discuss conceiving the idea, signing on Rachel Dratch and Tina Fey, and bringing 'Revolutionary War' to life.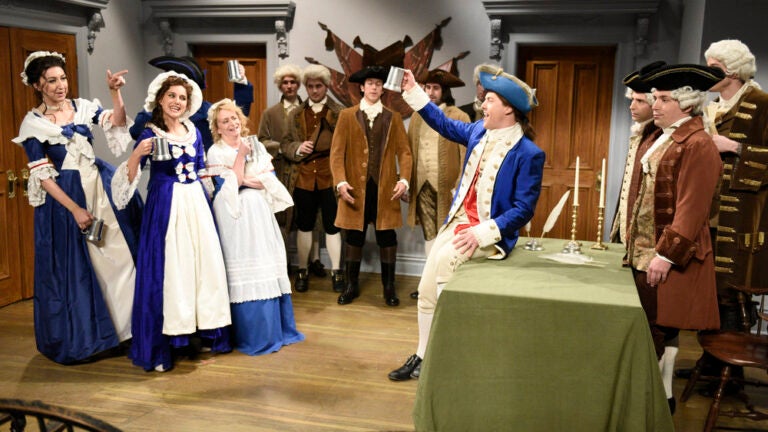 The night before the New England Patriots and the Philadelphia Eagles faced off in Super Bowl 52, "Saturday Night Live" aired a sketch called "Revolutionary War." In it, colonists receive news of a victory over the British, but seem oddly disappointed by the news. Why the frustration? It's yet another victory for the "Patriots of New England" and their fearless captain, "Thomas Brady."
Ugh, the colonists collectively groan.
The sketch captures the fan bases of both the Patriots and Eagles, with big assists from former cast members Rachel Dratch, a Lexington native, and Tina Fey, who was born in Upper Darby, a township that borders Philadelphia. It also sums up how the rest of the nation was feeling about the two fan bases — at the end of the sketch, cast member Beck Bennett asks rhetorically, "Is there any way they both could lose?"
"SNL" writer Streeter Seidell came up with the idea for "Revolutionary War" in the days following the Eagles and Patriots earning their respective spots in the Super Bowl. That's a somewhat uncommon feat on a show that often brings sketches together last-minute through all-night writing sessions.
"I wanted to do something about the Super Bowl, but that wasn't necessarily directly about the Super Bowl, if that makes sense," Seidell said. "Rather than 'Tom Brady and Bill Belichick do stuff,' I wanted to do something with the fans, because both cities have sort of notorious fan bases. That, to me, seemed more interesting than the actual people playing the game."
Seidell, a self-proclaimed "history nerd," said he had recently been watching the HBO miniseries "John Adams," and that it lent considerable inspiration.
"A lot of the early episodes of 'John Adams' are New England people being extremely aggressive and loud and kind of obnoxious, and the rest of the colonies being like, 'All right, enough from you,'" Seidell said. "There's a lot of John Adams screaming at other delegates about how New England is doing everything, and how no one else is helping or doing their fair share."
With the idea in hand, Seidell reached out to "SNL" co-head writer Bryan Tucker, who is known on the show as being the go-to writer for anything sports-related.
"When Streeter was throwing out different Super Bowl ideas, the thing that really appealed to me about 'Revolutionary War' was that even if you're not a hardcore football fan, you could enjoy the sketch," Tucker said. "There was fun for football fans underneath it, but the sketch on its surface was just enjoyable characters."
The duo brought the idea to host Natalie Portman, who was game to give her Boston accent a go.
"She was down to play a Boston lady," Seidell said. "She had gone to Harvard, but of course no one from Harvard talks in the stereotypical Boston accent. But she was down to give it a try, which was cool of her to do. She just as easily could have said no, and that would have been that, so thank you to her for playing around with our silly idea."
Seidell and Tucker wrote the sketch on the Tuesday night before the episode, then presented it at the "SNL" table read on Wednesday. At that point, the sketch was almost completely about New England and its fans. That changed when a producer suggested calling up an old friend of the show.
As the sketch started to come together, producers reached out to Rachel Dratch, a Lexington native whose "Boston Teens" sketch with Jimmy Fallon made her a hometown favorite and helped bring the Boston accent to a nationwide audience.
Tucker said that after writing a sketch about Amazon two weeks earlier, in which Bostonians try to use Dunkin' Donuts and Red Sox tickets to convince the company to build its headquarters in the city, he wished he had been able to have Dratch make a cameo. After Dratch was confirmed this time around, it quickly became apparent that Fey should be part of the sketch too.
"Once we got Rachel, it just naturally flowed that since Philadelphia was in the Super Bowl, we should have a Philadelphia representation," Tucker said. "And if Rachel's going to be in it, we should call Tina."
Tucker said that Dratch's longtime relationship with Fey — which dates back to their time together at Chicago's Second City theater in the '90s — helped ensure Fey would return.
"The fact that Rachel was on board helped Tina to be a little bit more open to being on board, because they were good friends at the show and even in Chicago before," Tucker said. "Once that was put together, we wrote it for both of those voices."
Tucker relied on his knowledge of Eagles fandom to write the Philadelphia half, with an assist from writing supervisor and West Delaware native Sudi Green. Tucker also made sure to add a few one-liners courtesy of Fey, "one of the best writers the show has ever had," according to Seidell.
Seidell, a Connecticut native, mostly wrote from the perspective of Boston fans, and got a boost from first-year writer and Dorchester native Sam Jay.
"We asked Sam to help produce it because she's from Boston, but also because she's super funny," Tucker said. "She was adding some funny lines, and she could tell us real Boston things, what felt authentic and what wasn't."

Seidell was particularly glad to have Jay on staff come Thursday night, when he was stricken with the "full-blown flu." He had to watch the dress rehearsals and show from home through a closed circuit feed, occasionally texting Tucker to hear updates and share ideas.
"It was a weird feeling," Seidell said. "That was the first time in the four years I've been here that I've watched the show like a civilian."
"Revolutionary War" was well-received by the "SNL" audience, and the cast members seemed to enjoy themselves during the sketch, as well. At one point, Pete Davidson covered his face with a stack of papers to hide his smile, on the verge of "breaking."
Tucker credited the ensemble feel of the sketch with creating a fun atmosphere for both the cast and audience.
"Oftentimes, some of the best 'SNL' sketches are when there's a bunch of people and everyone gets to have what we call a 'score,'" Tucker said. "Even if you have one line, like Luke Null, who played the guy from Connecticut. He only had a couple small lines, but for every one of them he got a laugh. When you distribute the laughs all around the sketch, often that lifts the whole ensemble up, and you can feel that spirit of fun in the audience."
Those Connecticut lines came from Seidell, who remains proud of his home state in spite of its outlier status in New England.
"We have the best lobster rolls. You know we have the best kind," Seidell said. "Connecticut invented the hamburger, and it has the best pizza. Yes we do have a lot of highways, but it's a nice little state."
Nevertheless, Seidell admitted that people in his hometown displayed a bit of fair-weather fandom when the Patriots began their run of success in the early 2000s.
"This may offend people, but I feel like when the Patriots started winning, I started seeing a lot more Patriots hats at home, way more than Giants hats. Or, God forbid, Jets hats."