Entertainment
5 Boston film buffs on their favorite Oscar-nominated films, and why you should see them
We asked local film experts to stump for their must-sees.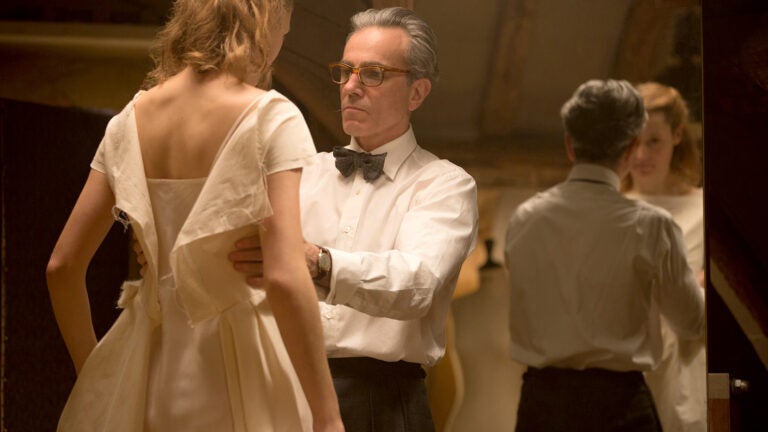 You only have until Sunday night, when the Academy Awards air at 8 p.m. on ABC, to binge-watch all the Oscar-nominated films. Unless you're a film connoisseur, chances are you may have missed one or two (or seven) of the best picture nominations. With precious hours left before the opening monologue, which of the nine nominees should you prioritize?
To help you arrive at an informed decision, we asked five Boston film experts to make impassioned cases for why their preferred best picture nominee is worthy of your viewing time.
(Note: These interviews have been condensed and edited for clarity.)
Loren King
Member and former president of the Boston Society of Film Critics, and freelance film writer
I liked several of the nominated films this year, but I recently re-watched "Call Me by Your Name," and I liked it even more than the first time. In watching it again, I just realized how everything works together in such a cohesive way. The director's use of music, the performances, the script, different allusions that were made throughout the film that begin to make sense — I just thought it was masterful.
The other thing I like about "Call Me by Your Name" is that watching it during winter, you're transported to that beautiful part of Italy in summer. It's a celebration of culture and literacy and music and family and generosity of spirit, which just feels like what we need right now, when the climate is so divisive and vulgar. It just felt like I was transported into a better world for two hours.
I think it's great that it was nominated for best picture, and I think Timothee Chalamet's best actor nomination was well-deserved. I don't think he'll win that category because it's Gary Oldman's year, but it's an extraordinary performance. It's so natural, it's so lived-in.
But omitting Luca Guadagnino from best director is a major oversight. The direction of the film is so powerful. It's tough with five nominees, but I would have found a place for him if I was a voting member. Everything gels, and when everything gels, it's usually the director's touch.
James Ivory is pretty much a shoo-in for the best adapted screenplay [award], and I'm happy about that. The screenplay is strong, eloquent, and beautiful, and there's so much wisdom in it. And then you realize he's 89 years old, and there's something special about that. There's so much wisdom in the film about growing up and maturing, and it offers an outlook on life that doesn't surprise me that an older person wrote it. To take a break from everything else we hear, the barrage of negativity, the hate, the insults, and the ugliness, I just thought, "Wow, what a breath of fresh air."
Ed Symkus
Film critic and features writer, GateHouse Media
Some years I have many favorite films, maybe a top five or top three. But this year I had a top one, and it was "The Shape of Water."
These days, I try to walk into movies without seeing trailers. I knew that Guillermo del Toro wrote and directed the movie, but that was all I knew. I didn't know who was in it. I hadn't even seen a poster. And I was just caught so off guard. I can't remember the last time I saw what I'm calling an "adult fairy tale." When I wrote my review, the first thing I wrote was, "This may sound like a kid's movie, but do not bring the kids."
"The Shape of Water" defied categorization, even after I saw it. I'm sitting there watching a science fiction movie, a horror movie, a fantasy movie, a romance, a cold war movie. And when it turned into a song and dance, I was just laughing in my seat with joy. I've never seen anything like it. I'm a big fan of Sally Hawkins, and I've seen many of her smaller art films. The supporting roles were as strong as her role in this, as well. Richard Jenkins has been ignored for too many years. I wish they could find an award for Doug Jones [as the monster]. I don't know what they would call it, but he was brilliant.
I think something that really stuck out in this movie for me was that neither Elisa nor the creature could speak. But they were communicating beautifully through sign language. And I just thought that was magnificent and something you don't see too much. I also loved how the scenes shifted so smoothly, from the quiet confines of the lab to the little cramped apartment to the big action-filled race against the clock. And it had the most lovely, unexpected, gentle ending. The whole thing kept me off guard. I was smiling all the way through it. I love that movie so much I've seen it three times.
I've been recommending it to all sorts of people, too. I sent a copy to my in-laws, who are in their 80s, and I was a little worried. But they loved it! Finally, we could agree on something.
Brian Tamm
Executive director of the Independent Film Festival – Boston
I'm not usually a big fan of the Oscars. It's rare that movies I actually like get nominated, but there's a few actual good movies nominated this year. From the best picture lineup, I'm a huge of "Phantom Thread," but my favorite on this list is "Call Me by Your Name."
I'm a big fan of Luca Guadagnino in general. He's got such a great sense of place and time. It definitely feels like it's summertime when you're watching the movie; it's a very languid film. It takes its time with things. That's what I really loved the most about it: spending time with these characters. It wasn't a rush to get anywhere, necessarily, so it has that feeling of a real summer romance, when the days kind of blend into each other. As a viewer, for me at least, it put me in that headspace that they were in. Watching it felt like laying on the grass with a good book on a warm summer day.
Beyond that, my second favorite of the big nominees was "Phantom Thread." Here's the thing about "Phantom Thread": it's so hard to talk about. [Director Paul Thomas] Anderson makes these movies where every time you watch them, you see more things. Even while I was watching "Phantom Thread" the first time, I thought to myself, "I can't wait to keep revisiting this film. I can't wait to watch it a year from now, three years from now, five years from now, to see how it impacted me."
"Phantom Thread" starts as one kind of film and slowly, before you realize it, becomes another kind of film. You get a sense, an idea of what you think the movie is going to be, and then it upends it, which is something I love. It starts as a portrait of the artist [Daniel Day-Lewis] and the selfishness that the artist requires, the need to take from everybody. His sister [Lesley Manville] has to be subsumed to him, and the women he brings into his life have to kowtow to him. There's a feeling that he's an artist, he's special, and everyone has to give their lives up for his.
But then it turns into this weird kind of love story. When [Vicky Krieps] comes into his life, she seems kind of clumsy and quiet. The scene where he takes her and starts to dress her, she's like a mannequin. He's not interested in her humanity; she only exists in the sense of how he can dress her. But then she slowly gains power over him. She's like, I'm not giving up my autonomy to you; we're going to meet on an equal playing field. It's so empowering and kind of astonishing. Even watching a second time, you already know what's going to happen, but even then you can't pinpoint when the film exactly changes, because it happens so subtly.
Ultimately, it's fun to talk about the Oscars, but they're utterly meaningless. Whatever the Academy decides one year, "Oh, this is what's important," is based on so many weird, political, byzantine decisions. Sweep all of that away, and I think for the most part nobody remembers which movie won what, or who was best actor in what year. We all decide as a culture, regardless of what the Oscars said, which movies are really important. I think "Phantom Thread" is definitely one of those films.
Matt Juul
Features/entertainment editor for Metro Boston
I mean, how do you not love "Get Out"? For me, I think it should sweep every category it's nominated in. I don't think it will, but it's very deserving. There's so many great movies that came out last year, and all of the best picture nominees are deserving of those nominations. But "Get Out" was such a different and fresh film. To see it nominated in all of these top categories is awesome. With everything that went on with the #OscarsSoWhite campaign, here's a movie that is inarguably worthy of these top nominations. For me, it's the movie to beat.
A lot of these films that are nominated are period pieces, biopics, serious dramas. They're obviously great films and have been successful, but "Get Out" was part horror, part thriller, part satire, and part comedy, which is something you rarely see in the best picture category. On top of that, it was hugely successful at the box office and is downright entertaining, which to me helps put it a cut above the rest.
It's pretty cool that it has managed to stay in the public eye even though it came out back in February. It's been back in theaters, it's been on HBO Go, and it's really a film that people can re-watch and find new things that they liked.
Jordan Peele deserves a best director and best screenplay win, as well. It's an interesting plot, and seeing him make a transition from the shorter-form comedy of "Key and Peele" to making a brilliant full-length film from behind the camera is impressive. I do give a lot of credit to Guillermo del Toro for "The Shape of Water," which seems like the best director frontrunner. He clearly accomplished what he wanted, a creature feature that's also sort of an old-school Hollywood film. But for me, it's still "Get Out." It just blew me away from beginning to end.
Sean Burns
Staff writer for WBUR's The ARTery
My favorite is "Phantom Thread," which doesn't have a chance of hell at winning. I was actually thrilled just to see it nominated. Basically, we've all seen the films about the fussy, set-in-his ways old man who learns to love again thanks to a free-spirited young woman. And "Phantom Thread," while being one of those movies, really turns the genre upside down in interesting and perverse ways. It's very much one of those fussy costume dramas that were all the rage in the '90s, but has all the perversity of a [Paul Thomas] Anderson movie.
Beyond that, I think "Lady Bird" is terrific. "Lady Bird" is the best possible version of that movie you can make. We've seen these coming-of-age stories over and over again. All these movies have the scene at the prom. Greta Gerwig really checks off all those boxes, but in ways that feel very fresh. I don't think she gets as much credit as she should for her directing. The movie is paced almost like a screwball comedy. It flies. I believe it's the shortest of the nominated movies, and it covers a whole year of school. I've had dumb conversations with people who say the camera doesn't move enough, as if that's what directing has become now — pure acrobatics. There's a lot more to it.
The way that she rounds out all of the minor characters in "Lady Bird" is great. My favorite is the school drama teacher, the one who quits halfway through the movie, plus both of Lady Bird's boyfriends. They all seem to have a life outside of the movie that I would want to watch. It's about time Laurie Metcalf got a role that suited her. She's been in theater and television for so long, so it was great seeing her as Lady Bird's mom. I'm sorry that she's probably going to lose to Allison Janney for playing a complete caricature of the mother from hell in "I, Tonya." The fact that those two performances are pitted against each other is a shame. Laurie is just terrific.
I also think "Three Billboards" is great. I know that's sort of become the controversial movie. It's poking around some pretty open sores in American relations right now, and I think that's purposeful. I don't think that movie is supposed to be ingratiating. People are talking about Sam Rockwell's character, saying he was too easily redeemed. But is he really redeemed? And what about Frances McDormand's character? She's a crazy lady too. She just firebombed a police station, and everybody knows it and lets her get away with it. They're all profoundly dysfunctional people. 
There's a big problem in criticism now, where people think depiction equals endorsement. It happens with Kathryn Bigelow movies and [Martin] Scorsese movies. These things aren't supposed to be prescriptive. They're not showing you how to live. A lot of times they're cautionary tales. I don't think [director Martin] McDonagh is saying, "Be like this woman and this guy."