Entertainment
4 things you probably don't know about 'SMILF' star Frankie Shaw
Born in Boston and raised in Brookline, Shaw's youth included stints working at a Chestnut Hill tennis club and on a Maine lobster boat.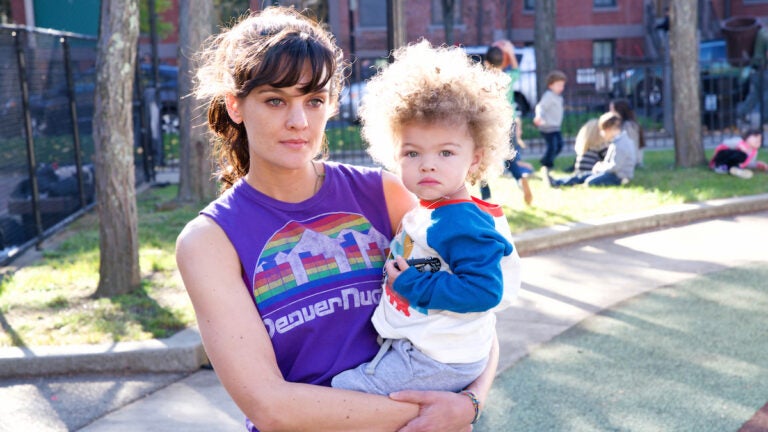 Frankie Shaw isn't shy about sharing parts of her life with the public, as evidenced by her semi-autobiographical and extremely personal Showtime series "SMILF."
So it makes sense that Shaw, who was born in Boston and raised in Brookline, detailed plenty of personal anecdotes during a lengthy interview with Scott Feinberg of The Hollywood Reporter on his Awards Chatter podcast, released last week. Here are four interesting tidbits Shaw discussed during the conversation.
1. Shaw didn't tell her mom that she applied to Milton Academy.
Shaw said that during a summer when she worked as a short-order cook at the Longwood Cricket Club in Chestnut Hill, a friend at the club encouraged her to apply to Milton Academy, the boarding school in Milton, and leave Brookline High School, where she had spent her freshman and sophomore years. Shaw hustled to get her application in on time, pushing for an interview and bugging her English teacher for a recommendation even though the teacher was in Russia for the summer. Through all of this, Shaw said she didn't recall telling her mom anything until she was accepted to Milton with a scholarship.
"I did really well in school, but my mom didn't really care that much about it," Shaw said on the podcast. "I remember there were moments in high school my freshman and sophomore year where she would have me skip school to help her clean the house."
2. During one summer in college, Shaw worked on a Maine lobster boat and learned etiquette.
"My junior year, I took a semester off and lived in Maine and worked on a lobster boat," Shaw said, noting that she needed a break from the big city, where she attended Barnard College. "New York was a lot."
That summer, Shaw also got a job in Vinalhaven, Maine, babysitting for Andre Bishop, the artistic director of the Lincoln Center, who would take her to dinners with the "New York theatre elite" and teach her "how to be an intellectual."
Shortly afterward, her grandmother got sick, and Shaw moved in with her in Southie. Back in Boston, the rest of her family noticed her change in manners.
"I knew how to set the table," Shaw said. "I wasn't an animal anymore."
3. Google has Shaw's age wrong.
If you do a Google search for Shaw, you'll see that the search engine lists her her birthday as Nov. 11, 1986, which would make her 31 years old. A Nov. 2, 2017 profile of Shaw in The Boston Globe seemingly confirms this, listing her as 30 at the time. However, Forbes reported that she was 35 in May 2017, and the New York Post pegged her as 36 in December 2017. Wikipedia doesn't list a birthdate at all, simply writing that the actress was born in 1981.
Shaw said on the podcast that she is currently 36 years old (at the time the podcast was recorded, at least), and that the mistake stems from a show she did when she was younger.
"Everyone has my age wrong," Shaw said. "I am 36. I don't know how that happened. I think because of this show, 'Blue Mountain State,' once, it was recorded wrong."
4. Raised Jewish, Shaw once reached out to a Buddhist monk over the Internet to find out whether he thought getting an abortion was morally wrong.
Like her character on "SMILF," Shaw is a single mom. Shaw said that when she got pregnant with her 9-year-old son, Isaac, she was in the process of exiting a relationship with his father and moving to Los Angeles with no acting prospects. She had also had an abortion six months prior, and wasn't sure about whether she should keep this child. In a moment of spiritual crisis, she emailed the host of a Buddhist podcast named Lama Marut (an American "who lived in Texas or something") about her troubles.
"I emailed this random Buddhist monk, and said, 'How do the Buddhists feel about abortion? Is it murder?'" Shaw said on the podcast. "And he said, "'Yes, it is murder.' And I said, 'Oh s***.'"