Entertainment
John Krasinski and Emily Blunt describe working on a movie as a married couple
Krasinski, a Newton native, once told Boston.com he wanted to work with his wife "in any way, shape, or form." It seems the work isn't always easy.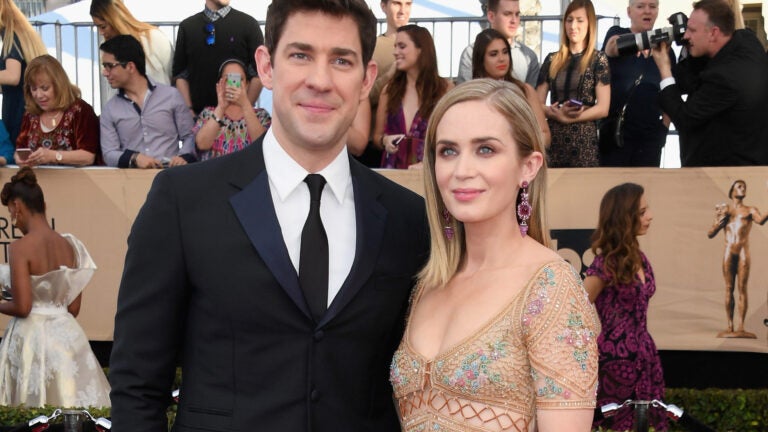 Actor John Krasinski has long been enthusiastic about doing projects with his wife, actress Emily Blunt, telling Boston.com in 2016 that he wanted to work with her "in any way, shape, or form." But according to a new interview in Vulture, once the duo actually did start working together for the horror film "A Quiet Place," out Friday, they found that there were going to be some challenges.
"Once she signed on," the Newton native and former star of "The Office" told Vulture, "Emily was like, 'Just so you know, our personality differences are going to be a problem.'"
Apparently, Krasinski is generally more impulsive, while Blunt is more measured.
"I'll have an idea and want to jump in," Krasinski said, "and she'll want to think about it for three days."
Krasinski explained the dynamic another way, describing his wife's thought process when reacting to one his ideas: "The way Emily would put it is, 'Do you want me to just tell you that your idea is awesome? Or do you want me to feel that it's awesome?'"
Blunt said she was occasionally hard on Krasinski while he was co-writing the film.
"He'd go upstairs to work for, like, eight-hour stretches, and then he'd come down looking like he'd been hit by a truck," Blunt told the publication. "I remember being too hard on a scene that he'd been struggling with. But he processed what I was saying and found a solution."
"A Quiet Place," which stars Krasinski and Blunt as parents who must live in near-silence with their two children to avoid a creature that hunts its prey by sound, hits theaters April 6.