Entertainment
What critics are saying about 'Chappaquiddick'
Here are some of the reviews (good and bad) from a few of the nation's top film critics.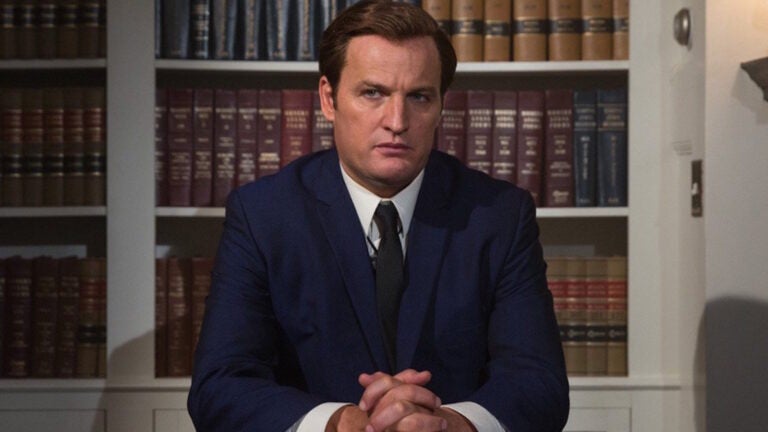 The film "Chappaquiddick" will surely divide audiences when it hits theaters Friday. First and foremost, in terms of whether it judges Senator Edward M. Kennedy too harshly or not harshly enough for his role in the automobile accident that resulted in the death of Mary Jo Kopechne. Second, and more generally, in how audiences feel about the quality of the film.
On the whole, critics have responded positively to the movie, which had a 79 percent freshness rating on review aggregation website Rotten Tomatoes at the time of this article's publication. But as more reviews have come in, the freshness rating has trended downward, with more than a few critics disappointed by the film.
To help you decide whether or not to head to theaters, we've rounded up a range of reviews (the good, the so-so, and the bad) from some of the nation's top film critics.
The Good
In The New York Times, critic A.O Scott wrote that he was leery of the film even before seeing it because of America's "ongoing, morbid fascination with everything Kennedy," but left the film satisfied with its message.
The test that "Chappaquiddick" sets for itself is not accuracy but plausibility. Whether or not events actually unfolded this way, the story the film tells is an interesting and complicated character study, with something to say about the corrosive effects of power and privilege on both the innocent and the guilty.
Vulture's Emily Yoshida said that Jason Clarke, who plays Kennedy, is excellent in the role.
He's turned in underrated performances as bad husbands in "Mudbound" and (the equally underrated) "All I See Is You;" he excels as villains that think they're the heroes of the story. Thus, there's no part that seems more tailored to his strengths than Ted Kennedy in director John Curran's graceful "Chappaquiddick."
Peter Travers of Rolling Stone praised Clarke as well, saying he perfectly embodied the role of a politician. (Clarke, it should be noted, played a Rhode Island politician on the Showtime series "Brotherhood," which mirrors the story of Whitey and Billy Bulger.)
Kudos to the electrifying Australian actor Jason Clarke ("Mudbound," "Zero Dark Thirty") for playing Senator Edward "Ted" Kennedy with a forceful urgency that avoids the trap of saint-or-sinner labels – an easy go-to when you're portraying a member of America's foremost political dynasty. Both he and "Chappaquidick" hit on something far more complex: the broken moral compass of a driven, passionately committed politician.
The So-So
The Boston Globe's Ty Burr (who gave the film 2.5 stars out of 4 in his review), called the film "an entertainingly brutal portrait of feckless privilege and buried tragedy," but noted that occasionally the dialogue is a bit too on-the-nose, like it was written for a made-for-TV movie.
The dialogue has a tendency to drop with a psychologically convenient TV-movie thud: "The country 'needed' me? . . . They just needed my name," Ted grouses at one point; in a later scene, one of his children innocently shoves the knife home by saying, "Uncle Jack could do anything, couldn't he, Dad?"
Jake Coyle of the Associated Press praised Clarke's performance, calling it an "unexpected relief" from typically caricatured Kennedy portrayals, but felt that director John Curran used too much restraint in telling the story.
Curran's film — a profile in cowardice, you might call it — is principally an effort to visualize and understand that evening. It's a low-key, generally absorbing if somewhat lackluster procedural that ominously reflects on the darker shadows that loom behind even the brightest shining political hopes.
The Ugly
Todd McCarthy of The Hollywood Reporter criticized what he considered anodyne storytelling, blaming both Curran and rookie screenwriters Taylor Allen and Andrew Logan for the film's blandness.
First-time screenwriters Taylor Allen and Andrew Logan have done their homework in organizing the material but haven't brought an argument to the table that might have zapped the film to life; everything is methodical, it covers most of the bases, but passion and vitality are crucially missing from director John Curran's treatment.
Loren King, writing in Newport This Week, dismissed the film as "watchable," but "nothing close to ambitious or artistic."
But for all its irresistible intrigue, "Chappaquiddick" is a disappointment. No matter how one feels about the Kennedys or the late senator, it's like a made-for-Lifetime network melodrama and little more, despite solid performances, particularly from Jason Clarke as Kennedy and Ed Helms as cousin and "fixer" Joe Gargan.
Vince Mancini, writing for Uproxx, said that the filmmakers told the same official story that everyone has heard for almost five decades, meaning there's little room for anything interesting to blossom.
In retelling the story we already know (give or take a few stylized sequences here and there, a dramatic moment in a bathtub, a couple dream sequences) there's a pretty low ceiling on how exciting it could possibly be. It's a dull story, well dressed.