Entertainment
What critics are saying about 'A Quiet Place'
Reviews of Newton native John Krasinski's new film have been largely positive.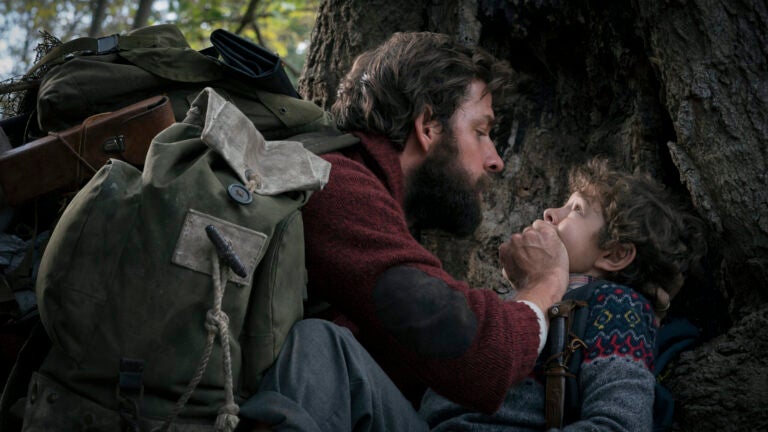 For someone who has never acted in a horror movie, much less directed one, Newton native John Krasinski has certainly impressed a lot of critics with his new film "A Quiet Place."
Set in a post-apocalyptic world where humans are hunted by creatures with super-sensitive hearing, "A Quiet Place," which co-stars Krasinski's wife, Emily Blunt, had a 97 percent freshness rating on critical aggregation website Rotten Tomatoes at the time of this article's publication.
According to Box Office Mojo, the movie already has netted $4.3 million from Thursday night preview screenings, and online ticket retailer Fandango says the film is outselling other recent horror films like "Split" and "10 Cloverfield Lane," which earned $40 million and $24 million in their opening weekends, respectively. Considering that "A Quiet Place" had a budget of only $17 million, that's a good sign.
To help you decide whether or not to head to theaters, we've rounded up reviews from some of the nation's top critics.
In her four-star review, The Washington Post's Ann Hornaday compared "A Quiet Place" to 2017 best picture nominee "Get Out." 
A creeping, increasingly queasy sense of dread pervades "A Quiet Place," John Krasinski's nervy thriller that marks a notable addition to the recent spate of smart, timely genre pictures. Like "Get Out," which was on its way to becoming a pop culture juggernaut around this time last year, "A Quiet Place" deploys the most classic conventions of similar films that have gone before it, including jump scares, creepy-looking creatures, frightening camera angles and a terrifying sound design.
Justin Chang of the Los Angeles Times praised Krasinski's directing, comparing his ability to slowly reveal the film's monsters to the work of Alfred Hitchcock, and noting that the sympathy Krasinski inspires for the characters is "remarkable."
I can't recall the last time I found myself caring as intently for the characters in a horror picture as I did for the family in "A Quiet Place," the sensationally gripping and emotional new alien-invasion thriller from the actor and writer-director John Krasinski. The sheer levels of sympathetic adrenaline he summons here — of pure, relentless, moment-to-moment anxiety — are nothing short of remarkable, especially since the terrors that have befallen this family are at once so ludicrous, so vague and so inexplicable.
Richard Roeper of the Chicago Sun-Times called the film "one of the smarter and more involving horror films of the last few years," and commended Krasinski's direction.
It takes a certain confidence of material and vision for a filmmaker to hit the ground running with a movie, plunging us into the story without exposition and trusting we'll stay with it for a number of scenes. Krasinski does just that — and with success — in "A Quiet Place."
The Boston Globe's Ty Burr, who gave the film three out of four stars, praised the "nearly unbearable" tension of the film, saying that "the movie grabs you at the start and never lets go."
In a striking departure from the standard jet-engine clamor of most modern movies, "A Quiet Place" is a thing of stocking feet, meaningful glances, and objects placed on surfaces very very carefully. The effect on the audience at the screening I attended was nearly magical. No small talk. No cellphones. Just the sound of a full house holding its breath for 90 solid minutes.
Writing for NPR, Scott Tobias discussed the film's sound design, saying "A Quiet Place" is a welcome break from "being pummeled into submission by studio soundtracks." Tobias noted how ironic it is that Michael Bay — he of the ear-splitting "Transformers" franchise — served as a producer for the film.
Krasinski starred in Bay's thriller 13 Hours: The Secret Soldiers of Benghazi, and Bay has returned the favor by allowing him to merge the quiet, character-driven qualities of his indie films with the sledgehammer impact of a mainstream shocker. Krasinski lands on a loud-quiet-loud formula akin to '90s alternative rock: When the chorus kicks in, the jump-scares really pop.
The Chicago Tribune's Michael Phillips said mostly kind things in his review (two and a half stars out of four), but couldn't help but play "Mr. Logic Cop," wondering why the supposedly supersonic hearing of the creatures — who come running from hundreds of yards away at the slightest sound — so often failed them.
"A Quiet Place" depends on a single plausibility factor above all: These creatures find their human prey through their sense of hearing, and they can hear almost anything, from long distances. But too often in Krasinski's movie, the human characters are rustling the cornstalks or knocking over this or that, and nothing comes of it.
Running total opposite from the many positive reviews, K. Austin Collins of The Ringer found himself laughing during much of the film, and left unsure of whether "A Quiet Place" was a straightforward horror film or a comedy deftly parodying cheesy horror movie tropes.
"A Quiet Place" is a classic example of a film that needed to be either better or worse to really be good. It needed either to embrace that it's a dumb horror movie populated by dumb people making dumb choices and revel in that fact, as its premise is more than prepared to do, or to earn its self-seriousness with real complication and compassion, preferably something beyond poorly scripted dramatic arcs and the lonesome Americana of Krasinski's beard.