Celebs
How to watch the Royal Wedding of Meghan Markle and Prince Harry
On your TV, by streaming, or at an event in Boston.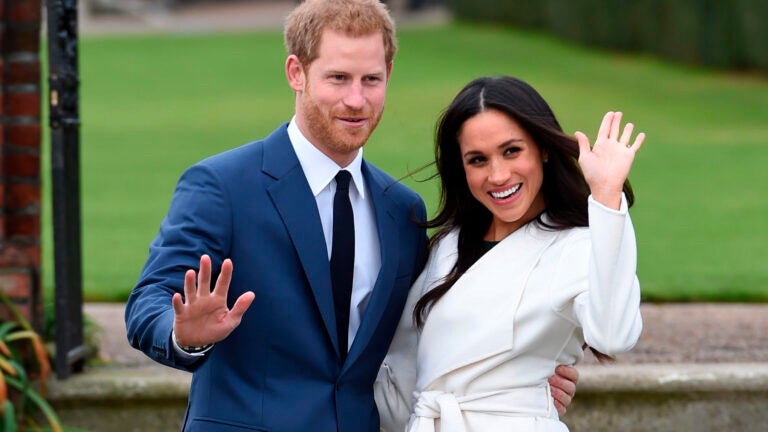 The countdown to Prince Harry and Meghan Markle's wedding started as soon as their engagement was announced. But with the ceremony scheduled for this Saturday, May 19, we're now within single-digits of the nuptials, and it's time to get serious about your Royal Wedding watching plans.
Assuming you are not on the guest list, you'll have to settle for tuning in from across the pond here in Boston, where the ceremony will begin at 7 a.m. (that's 12 p.m. in the United Kingdom).
Whether you wish to stay in your pajamas all morning (tea in hand, surrounded by corgis, perhaps?) or get glam and go out, here are several ways to watch the red headed British prince wed the American actress.
How to watch on TV
ABC
Beginning at 5 a.m., Robin Roberts of "Good Morning America", David Muir of "World News Tonight", and reporters and experts will take over ABC with all things Royal Wedding straight from the UK.
BBC America
For those who want to watch the British Royal Wedding coverage from the British Broadcasting Corporation, BBC America will simulcast four hours of BBC One's coverage starting at 4 a.m. Hosts Kirsty Young, Huw Edwards, Dermot O'Leary, Tina Daheley, Alex Jones, Ore Oduba, and Anita Rani will be based at different locations, including the moat outside of Windsor Castle and the roof of the Guard Room inside of the castle walls.
CBS
"CBS This Morning" co-host Gayle King and "Entertainment Tonight" co-host Kevin Frazier will broadcast live from London starting at 4 a.m. "Royal contributor" Tina Brown will also be on hand to offer up expertise.
CNN
CNN's coverage is set to commence at 4 a.m. and will be anchored by Anderson Cooper, Alisyn Camerota, and Don Lemon, as well as CNN's Royal correspondent Max Foster, CNNI anchor Richard Quest, senior international correspondent Clarissa Ward, and fashion expert Joe Zee. Also on air will be a team of commentators and contributors, including Dr. Harvey Young, who is a dean at Boston University and Markle's former theater professor at Northwestern University.
E!
E!'s coverage will kick off at 5 a.m. The five-hour special will include a peek at the celebrity and royal arrivals, which are sure to be fascinat(or)ing.
Fox News
Fox News Channel's chief news anchor Shepard Smith and "America's Newsroom" co-anchor Sandra Smith will report from outside of St. George's Chapel at Windsor Castle beginning at 6 a.m., after "Fox & Friends" co-host Ainsley Earhardt kicks off coverage at 5 a.m., also from Windsor.
HBO
Looking for something a bit less stuffy and a lot more funny? Will Ferrell and Molly Shannon will reprise their roles as "broadcast legends" Cord Hosenbeck and Tish Cattigan on "The Royal Wedding Live with Cord and Tish!" — available on HBO, as well as HBO Go and HBO Now at 7:30 a.m. on Saturday.
NBC
Savannah Guthrie and Hoda Kotb will broadcast live from a "special vantage point overseeing the castle" in Windsor, England, beginning at 4:30 a.m. More of the "Today" show team will pitch in coverage from the UK, as well.
PBS
PBS will broadcast live coverage from BBC beginning at 4 a.m.
TLC
Starting at 5 a.m., "TLC's Royal Wedding Live" will air a four-hour live feed of the nuptials.
How to livestream
ABC
Whether or not you have a TV, you can tune into ABC's five-hour live coverage. It will also stream on their digital platforms for ABC News and "Good Morning America," including its mobile apps and social platforms.
BBC
You can find BBC America's live coverage streamed to their website, also beginning at 4 a.m.
CBS
In addition to airing on TV, CBS's live coverage featuring Gayle King and Kevin Frazier will stream on CBSN and CBS News social media platforms beginning at 4 a.m. as well.
Hulu
"Hulu with Live TV" subscribers can tune in to pre-show coverage on Hulu's Royal Wedding Live collection beginning at 4 a.m. The pre-show will be followed by four hours of wedding coverage beginning at 7 a.m., during which viewers can choose between network shows, including: "The Today Show," "Good Morning America," and "E! News."
The New York Times
The Times will livestream the nuptials on NYTimes.com.
People
People.com will begin its livestream of the wedding day at 6 a.m. with "People Now" host Jeremy Parsons.
How to watch around Boston
See it on the big screen through Fathom Events
For the first time ever, a Royal Wedding will be shown on the big screen at select cinemas around the U.S., thanks to Fathom Events and BritBox. Fenway Stadium 13 in Boston, AMC Assembly Row 12 in Somerville and AMC Framingham 16 will all feature the 3.5-hour "theatrical presentation" at 10 a.m. following the ceremony. Tickets can be purchased on Fathom Events' website for $10.
Watch live at Cafe Fleuri at The Langham Hotel
Cafe Fleuri has the distinction of being the only event on this list actually carrying the Royal Wedding live. The doors of the Langham Hotel will open bright and early at 6:30 a.m., allowing customers to munch on English scones, order a full English breakfast, and snap photos in a Royal Wedding photobooth before the ceremony starts. Given that this is one of the only parties in town broadcasting the ceremony live, reservations are strongly encouraged.
Enjoy it over rosé and tea at the Mandarin Oriental
The Mandarin Oriental will get fancy Saturday morning with their Royal Wedding party from 11 a.m. to 1 p.m. As the ceremony loops on TVs throughout the event space, guests will have the chance to enjoy a 30-minute rosé reception followed by a traditional tea service, complete with a three-tiered tray of snacks like scones, finger sandwiches, and pastries. Each guest will also leave with a "special gift." The event costs $88 for an individual seat, and $80 per person for tables of six, eight, 10, or 12 guests.
Have some doughnuts with the wedding at Harvest Cambridge
From 11 a.m. to 2 p.m., Harvest Executive Pastry Chef Joshua Livsey will hold a Royal Wedding doughnut pop-up at the Cambridge restaurant, with flavors like strawberry shortcake and lemon elderflower royal doughnut (the Royal Wedding will feature a lemon and elderflower cake) available for seated customers or to go. All of the TVs at the restaurant will play the Royal Wedding, as well.