Entertainment
Mass. 15-year-old Brynn Cartelli crowned the winner of 'The Voice'
The Longmeadow native just became the youngest winner in the show's history.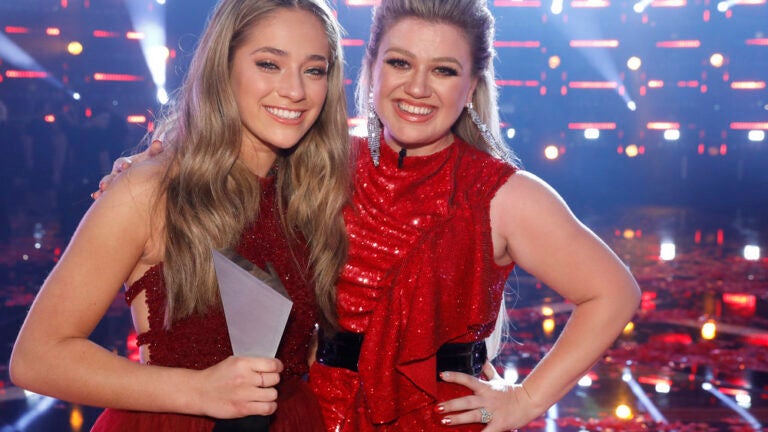 Longmeadow 15-year-old Brynn Cartelli will finish her freshman year of high school with a recording contract. She was crowned the winner of season 14 of NBC's "The Voice" on Tuesday night.
The teen, who host Carson Daly called the youngest finalist in the singing competition's history, threw her hands over her face after hearing that she had won before hugging her coach, Kelly Clarkson, and her family. Clarkson had previously predicted that Cartelli would win this season's competition.
"You've been an inspiration to me since I was so young," Cartelli told Clarkson on Tuesday before it was revealed that she was in the top two. "The fact that I've been able to meet you and work with you and share ideas with you has been such a blessing, and I love you so much."
"I'm going to be Brynn's big sis for life," Clarkson said during a taped portion of the show before the winner was announced. "One, just 'cause I love her parents. We would totally barbecue. She's kind of stuck with me, regardless if she desires it or not. I love being her friend. I love being her mentor and her cheerleader."
Two other season 14 contestants with Massachusetts ties — Jackie Foster, who just graduated from Berklee College of Music, and Mia Boostrom, a Taunton native — helped kick off Tuesday's finale by singing "In the Air Tonight" by Phil Collins with a few other fellow season 14 contestants.
The other three finalists this season were Britton Buchanan, who came in second place; Kyla Jade, who came in third; and Spensha Baker, who came in fourth. Toyota gifted a new car to each of the four finalists during a taped portion of the show. Cartelli can look forward to driving hers — when she gets a license.
Boston.com previously asked Cartelli what she would do if she won the competition. She laughed and said, "Get an ice cream cone."