Entertainment
'Pod Save America' rips into Harvard at Boston Calling
"Jared Kushner, good for you guys. Nice to have him as part of your alumni association."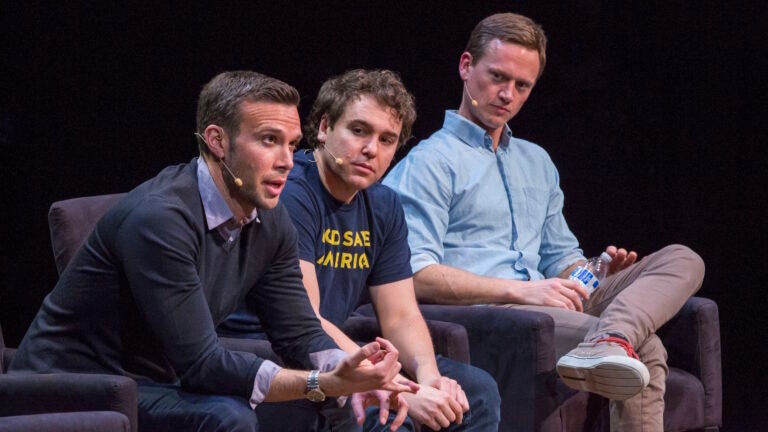 If you were to determine the most popular act at Boston Calling 2018 based solely on the number of T-shirts worn at the festival by its fans, the winner would be "Pod Save America" by a landslide. The proudly left-wing political podcast created by a group of former President Barack Obama staffers was a big draw at the festival Saturday afternoon.
In fact, it was a trip home for two of the co-creators, Jon Favreau and Tommy Vietor, who both hail from the area (Favreau from North Reading, Vietor from Dedham). The third co-creator, Jon Lovett, attended Williams College. When the "Pod" co-hosts hit the stage this weekend, they and guest host Erin Gloria Ryan took a break from lambasting the Trump administration to needle Harvard University.
The Harvard-bashing started on Friday, when Lovett hosted his other Crooked Media podcast, "Lovett or Leave It."
"It's great to be here at Harvard," Lovett said. "Didn't let me in the old-fashioned way, which I don't take as an indictment of myself. Jared Kushner got in."
"Jared Kushner, good for you guys," Lovett added a minute later. "Nice to have him as part of your alumni association."
Lovett also took a moment to mock the university as a whole.
"We're Harvard. Our graduates ascend to the top echelons of American society, and then the good ones and evil ones battle to a draw," Lovett said. "Four hundred years, canceling each other out."
On Saturday, Favreau, Vietor, Lovett, and Ryan devoted a segment of "Pod Save America" to a game called "Alternative Veritas," in which they asked an audience member questions about famous Harvard alumni. But instead of highlighting crowd favorites like Obama, the "Pod" crew cherrypicked notable conservatives like the late Supreme Court Justice Antonin Scalia and Republican Sen. Ted Cruz. They also focused on unabomber Ted Kaczynski and Ernst Hanfstaengl, a close confidante of Adolf Hitler beginning in the 1920s who composed marching music for Hitler based on songs he had previously composed for the Harvard football team, according to Boston Magazine.
"Ernst Hanfstaegnl, class of 1909, even came for his reunion in 1934 while he was Hitler's leading international propagandist," Lovett said. "Hope they had punch. Oh, other fact, he met Hitler through a friend from the Hasty Pudding Club."
At one point during the game, Lovett was interrupted by someone yelling from the crowd, and he took it as another opportunity to roast Harvard students.
"Look at these Harvard people, like, 'Call on me! Call on me!' Give it a goddamn rest," Lovett said. "You already got in, and the only hard part is getting in. You get through the application process, and then its A-pluses until law school."
The last question of the segment was multiple-choice. The hosts asked which of the listed current and former members of President Trump's cabinet or inner circle were Harvard alumni. The gag quickly became apparent when the options went beyond A, B, or C (Jared Kushner, Steve Bannon, Anthony Scaramucci), and stretched into H, I, J, and so on, with the ultimate answer being "all of the above."
"And that doesn't even include fellows Sean Spicer, Reince Priebus, and Corey Lewandowski, or senior fellow Dina Powell," Lovett said. "What happened to veritas, Harvard?"
The Boston Calling episode of "Pod Save America" has yet to be released. Listen to the Boston Calling episode of "Lovett or Leave It" here: