Entertainment
This local teen got to play drums with The Killers at Boston Calling
The concert was a 'dream come true' for one Cohasset High School junior.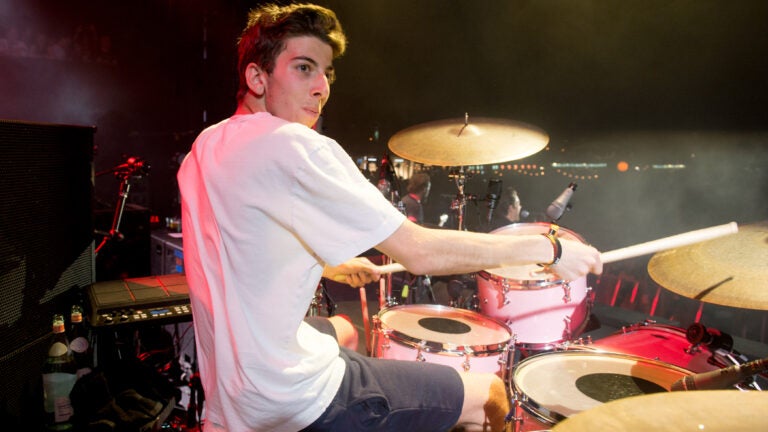 In the middle of The Killers' Boston Calling set on Friday night, the band invited someone from the crowd onstage to play drums during their song "For Reasons Unknown." That someone was 17-year-old Nick Evans, a junior at Cohasset High School.
Evans did such a great job that some people in the crowd wondered if his performance was a stunt put on by the band. Evans assured Boston.com in an interview at the festival on Sunday that it was not. However, he said it was a goal he had been planning on reaching for the last month and a half.
The Killers have been making a habit of pulling people out of the audience to perform "For Reasons Unknown" with them. Evans said that once he realized The Killers might do it at Boston Calling as well, he decided to start practicing. It helped that the song is from his favorite Killers album, "Sam's Town."
"I was just like, 'I'm a drummer. Let's make the dream come true,'" Evans said. "So I made up my mind a month and a half ago, I made the sign, and I gave it my best shot."
Evans said he was one of three people standing in the front of the audience with a sign about drumming with the band when Killers frontman Brandon Flowers chose him. Though he was "terrified" as he walked onto the stage, he said, he quickly got over his fear.
"When I got behind the kit and looked out at the crowd, and I looked at Ronnie Vannucci the drummer and Brandon," Evans said, "I went from that terrified moment to, 'You wanted to be up there. You practiced. You did the work. Let's go.'"
That night, one account on Twitter that noticed his performance was that of Cohasset High School Athletics, which noted that Evans had recently won the honor of "Mr. Skipper," a talent show at the high school that raises money for prom.
Not sure how it happened or why it happened but Cohasset's Mr Skipper Nick Evans just got up on the stage with the Killers at Boston Calling and CRUSHED it on the drums

Way to go Nick!!!! pic.twitter.com/fJ9aqG06Zm

— Cohasset Sports (@CohassetSports) May 26, 2018
Evans said that the annual pageant is mostly "outrageous guys who make fools of themselves," so he decided to enter. He and a friend wrote a rap, and Evans performed it, winning the contest. 
"We went from 500 people in that crowd to 20,000 on the main stage at Boston Calling," Evans said, making a guess at how many were in the audience that night. "Pretty incredible."