Entertainment
What critics think of 'Ocean's 8'
Read what the reviews (good and bad) say about the female-driven heist film co-starring Cambridge's Mindy Kaling.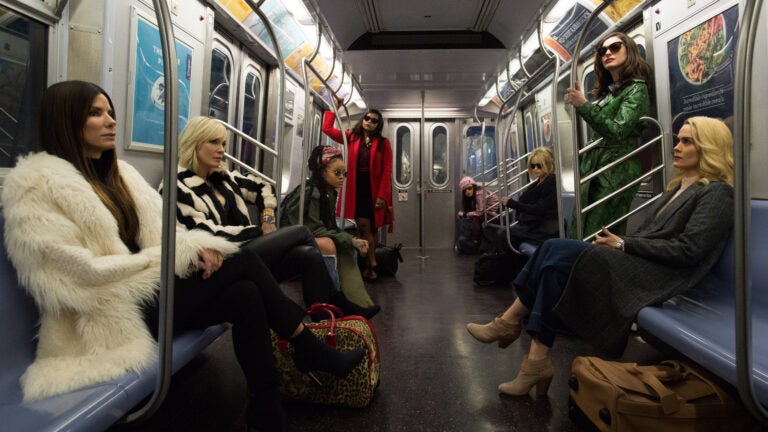 Will "Ocean's 8," led by an all-female cast, steal the hearts of critics and audiences?
It's been more than a decade since Danny Ocean (George Clooney) and his gang of criminals pulled off another heist in 2007's "Ocean's Thirteen." This time, it's Danny's sister Debbie Ocean (Sandra Bullock) and a team of women including second-in-command Lou (Cate Blanchett), fashion designer Rose Weil (Helena Bonham Carter), and jeweler Amita (Cambridge native Mindy Kaling) stealing precious jewelry from the Met Gala. A couple of male characters from the "Ocean's" series make cameo appearances, as well, though the promised appearance from Matt Damon was cut from the film.
Studio estimates from Warner Bros. Pictures peg the film for an opening weekend box office of $33-38 million, which would be right around what "Ocean's Eleven," "Ocean's Twelve," and "Ocean's Thirteen" each earned in their respective opening weekends.
As for the critics, reviews have been generally positive, with the film earning a 74 percent freshness rating on Rotten Tomatoes at the time of this article's publication.
That said, a single number can't adequately capture the range of critical response, and many of the reviews coded as "fresh" or "rotten" by the critical aggregation site have a bit more nuance. To help you judge whether to rush to theaters starting Thursday afternoon, here's what some of the top film critics are saying, both good and bad, about "Ocean's 8."
The Good
Entertainment Weekly critic Leah Greenblatt felt that the film was a nice counterweight to the endless parade of superhero movies.
In a year heavy with noble spandexed heroes fighting crime, it feels like about time someone committed one — not for some dark cause or galactic domination but for kicks and mad money, and just because they can. Ocean's 8's girls-just-wanna-have-grand-larceny conceit is the kind of starry, high-gloss goof the summer movie season was made for, even if it feels lightweight by the already zero-gravity standards of the genre.
Peter Travers of Rolling Stone said that even with a few flaws, "Ocean's 8" has everything you want in a summer movie.
Ocean's 8 is a heist caper that looks gorgeous, keeps the twists coming and bounces along on a comic rhythm that's impossible to resist. What more do you want in summer escapism?
Justin Chang of the Los Angeles Times said that the film is proof positive that movies with all-female casts aren't only enjoyed by female audiences, comparing it to 2016's "Ghostbusters" remake, but noting its "better results."
It should go without saying that a splashy Hollywood caper picture featuring one or two (or eight) female leads should have as much appeal for men as for women. … Like 2016's distaff reboot of "Ghostbusters," only with better results and far less accompanying fanboy outrage, "Ocean's 8" is very much a movie about women at work and having a grand time doing it.

The So-So
In theorizing that heist films are almost impossible to mess up, The Boston Globe's Ty Burr called the movie "a two-and-three-quarters-star affair if ever there were one."
"Ocean's 8" has … the novelty of an all-female starring cast, and while it hums along smoothly and delivers a reasonably enjoyable two hours at the movies, no one will mistake it for inspired. Certainly not in comparison to the earlier 21st century "Ocean's" trilogy, a reboot of the 1960 Rat Pack classic, "Ocean's 11." A plot detail in the newest installment involves a 3-D printer that turns out Zirconium replicas of diamond baubles, and you won't find a better metaphor for this movie than that.

Lindsay Bahr of the Associated Press praised Bullock's and Blanchett's performances, but bemoaned the lack of danger or stakes when the women attempt their heist. 
That's kind of the overall problem of "Ocean's 8." It's all predicated on the fact that women are often underestimated. But in making that point, it's also somehow underestimated the audience who still should be entitled to a smart, fun heist, no matter who is pulling it off.

The Ugly
The A.V. Club's  Ignatiy Vishnevetsky referred to Gary Ross' direction as "undexterous," and considered some of the cast members' roles homogenous and the heist itself a disappointment. 
The all-female team is smaller than in the previous Ocean's films, but many of the characters are indistinct and inconsistent, and the Gala heist itself is confused and repetitive. Somehow, it involves three different trips to the bathroom—an accidental bit of symbolism in a protracted climax that strains to keep its audience's attention.
Emily Yoshida of Vulture criticized the film's "flabby" final act, wondering why all of the best one-liners in the film were saved for James Corden's insurance fraud detective instead of the women who dominate most of the film. Ultimately, she laid blame with the director.
I left Ocean's 8 more convinced than ever that no amount of fierce, fantastic female ensembles can overcome the mediocrity of a dull male director.