Entertainment
How to give yourself the best shot at seeing 'Hamilton' in Boston
"Hamilton" will be a hot ticket, but this could help.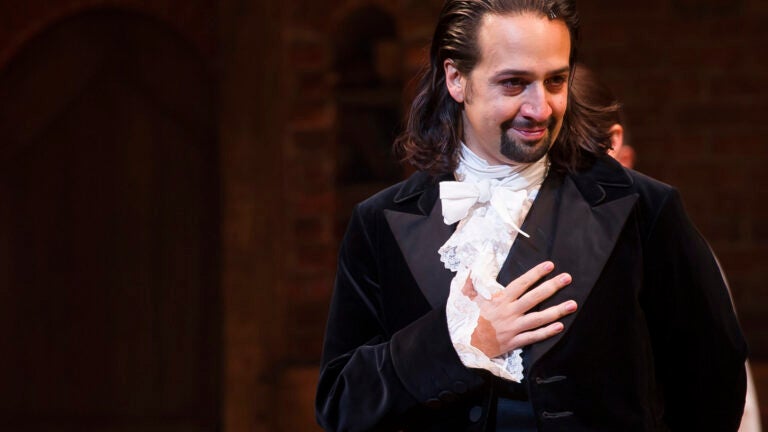 Tickets for Boston's production of "Hamilton," which will run from Sept. 18 through Nov. 18 at the Boston Opera House, officially go on sale on Tuesday, June 19 at 9 a.m. The national tour of the Tony-award winning musical is sure to be a hot commodity.
Now there's at least one way you can give yourself a better chance at landing the coveted tickets.
Broadway in Boston and "Hamilton" producer Jeffrey Seller announced Friday afternoon that registration for Ticketmaster's "Verified Fan" program runs from Friday, June 8 at noon until Friday, June 15 at 11:59 p.m.
So what is "Verified Fan," exactly? It's a program to make sure actual people get tickets. In Ticketmaster's own words, the company "built a really big robot to protect fans from the thousands of little scalper bots trying to scoop up tickets."
You can sign up for the program by following this link.
"If verified and randomly selected, you will receive an access code via text message," the press release instructs. "The first message(s) will include timing details and a link to where you can purchase your tickets, immediately followed by another text containing your unique offer code. Keep your phone handy – you'll receive text messages 2-4 hours before the sale begins."
According to Broadway in Boston, buyers are limited to four tickets per household when purchasing. Standard tickets range from $84.50 – $199.50. There will also be a select number of premium seats available for $569.50, and there will be a lottery for 40 $10 orchestra seats available for each performance. For those who don't want to purchase tickets online, a select number of tickets will be available at the Boston Opera House on Tuesday, June 19 starting at 10 a.m.