Entertainment
Choreographer reveals what it was like to work with Beyonce, Jay-Z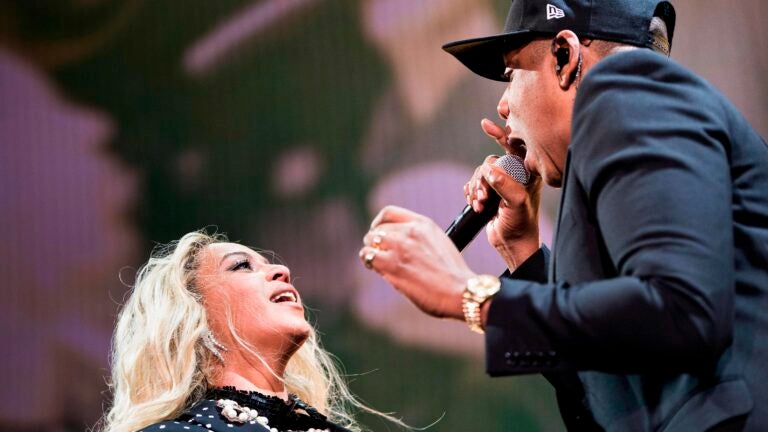 He had to keep it all secret.
Choreographer Sidi Larbi Cherkaoui was finishing up previews on his latest project, "Jagged Little Pill'' at the American Repertory Theater, when he got the summons:Beyonce and Jay-Z wanted him to jet to Paris for an artistic consult.
Fast forward a few weeks to Saturday, June 16, when the Carters released their surprise nine-track album, "Everything Is Love,'' and it all makes sense.
[fragment number=0]
Cherkaoui was called upon to choreograph the new music video for the track "Apes**t'' that dropped over the weekend. Working after hours at the Louvre, the team spent weeks perfecting the video's moves. And now, Cherkaoui can now finally share what it was like to work with music royalty amid some of the most famous art on earth.
Q: How does it feel to see your choreography in Beyonce and Jay-Z's music video?
A: It's the second time I've worked for Beyonce, and every time it is such a wonderful opportunity to express yourself. She knows so well what she wants, so she is extremely precise about the picture she is looking for. And at the same time, there is room for you to interpret that and go somewhere with your own universe. It was so exciting to see that in the final edit and how the choreography came out — it was super beautiful.
Q: How was it to be able to work with the Louvre as your backdrop?
A: It was so exciting to see how the final product came out because we were working in the middle of the night. I had also worked there before so it was familiar. I am from Antwerp, which is two hours from Paris, so the Louvre was actually an accessible place in a certain way, but it was also incredible because we were working in the middle of the night, outside of visiting hours, so it was exciting to have all these incredible artworks free from people. It was quite magical to be allowed to be moving and going in and out of the spaces where all these beautiful artworks were hanging. It felt like magic, like spirits were surrounding it.
Q: Walk me through how you were approached by the Carters to get involved.
A: It was simple. They were interested in having me come over for their tour, as they were preparing for that in Paris, so it came up in the artistic meeting. One thing led to another, and at this point it was after I had worked with them. So I was used to the process, and Beyonce knew what she liked and what she was looking for and it was clear. I had meetings with the director, and step by step the work started to get a certain clarity as to what we were going to do.
Q: Was it hard to stay secretive about the album?
A: You want to tell your friends, of course, so you have to wait until it's out to share the news, and so everyone was so surprised. . . . We live in an age where everything is so constantly wanted before it's even out, and I think that it was really intelligent of Jay-Z and Beyonce to just do the real work and then afterward unleash it to the audience the moment they feel it ready to let it free. I find that really inspiring.
Q: Back in Massachusetts, "Jagged Little Pill'' is receiving loads of praise. How does that feel?
A: I have loved Alanis [Morissette] since I was 17. I felt the music helped me through so many moments in my life because her lyrics are so relevant to your own journey so it was very powerful to be allowed to invent and make scenes and choreography to that music and I loved the group that put it together. Also, I've never wept so much in my life. I was crying a lot during rehearsals because of the scenes and how close things hit home and how much you can relate to the issues.
Q: Both the Beyonce and Jay-Z song and "Jagged Little Pill'' are focused on topics of identity. How do you take weighty concepts and turn them into movement?
A: It all kind of goes with my identity . . . matters of identity are very important to me. Being Arab, and I am a gay man, and I was raised Muslim . . . I am more of a Buddhist in my life right now, and I can tell you that all these things are really important . . .
Because the political climate is very volatile right now and intense and there is so much irrationality, I think the arts are waking up again and wanting to clarify what it means to be human and what it means to be welcoming, aware of other people, and understand that we are all connected. All of this just makes sense.
Q: You've worked on traditional ballets, plays, movies, and now music videos. Which has been your favorite to choreograph?
A: I think I like them all. I like to think of myself and trying to be borderless, and I do love that every one of those mediums addresses another type of audience. I'm guessing it's also because I grew up in Belgium, which is a really small country and overwhelmingly influenced by the whole world. We have Hollywood movies, but we also have Japanese manga and French culture and then English influences. So when I grew up, there were a lot of things I was into and found interesting, and my whole life I have been trying to explore them all. Now I am 42, so I have just been going from one medium to another. Like a butterfly going from one flower to the next.
Q: And when you need a break from flying around the world, how do you relax?
A: I like to play a bit of piano. On Instagram, follow me playing like a real beginner, but I love it. My dream is to one day be able to play well. I always dream of becoming a musician one day. I've only been learning in the last five years, but it keeps me sane in between all the projects to put my hands on the piano and improvise.
"Jagged Little Pill'' runs through July 15 at the American Repertory Theater. Cherkaoui will also be in Becket with his dance company Eastman at Jacob's Pillow from July 11 to 15.