Entertainment
Hamilton's Bo Burnham on how his own middle school experience did (or did not) inspire 'Eighth Grade'
The comedian and first-time director chronicled the life of a 13-year-old girl in his new film.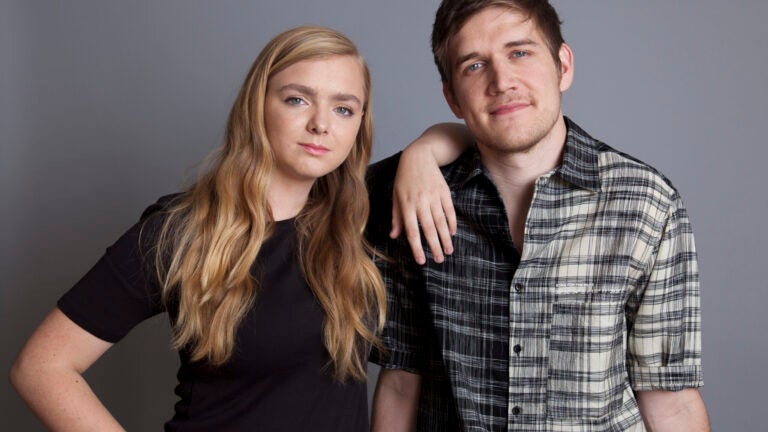 The first thing Hamilton native Bo Burnham wants to make clear about his directorial debut, "Eighth Grade" — which has received rave reviews from film festival audiences and critics alike — is that it isn't a movie about him.
"It really was not my experience," Burnham, who also wrote the film, said in an interview last month with Boston.com. "I'm sure some personal stuff made it in there, but that was not my resource. I didn't want to make something nostalgic, though it will probably make people feel nostalgic because it's about kids and markers and pool parties and the whole middle school thing."
It's true that the film's protagonist, Kayla (Elsie Fisher), feels like a fully realized character navigating the trials and tribulations of a present-day middle school experience vastly different from the one Burnham, 27, likely had in the early 2000s at Miles River Middle School in Hamilton. But hearing Burnham discuss his own adolescence in Massachusetts makes Kayla's similarities to Burnham readily apparent, even if Burnham only included them in the film subconsciously.
"Eighth Grade" begins with Kayla making a YouTube vlog. (Burnham initially rose to fame around age 16 as an early YouTube celebrity, racking up millions of views online with clever and profane songs that he wrote and performed on his keyboard.) She's giving advice to a faceless audience on how to make friends, how to be more outgoing, and how to show people that you're not just some quiet kid. The film then cuts to Kayla in the classroom, where she and her fellow eighth graders receive their year-end superlatives. Kayla gets "Most Quiet."
Burnham said that at his middle school, the superlative was "Most Shy."
"I was going to put 'Most Shy' in the movie, but people thought it was too unrealistic," Burnham said. "Honestly, 'Most Shy' is even worse than 'Most Quiet.' It's strange being called the 'Most Something.'"
As the film progresses, it becomes increasingly clear that Kayla's vlogs are more aspirational than a reflection of her true self. She advises people on how to be confident, but has a panic attack in the bathroom at a pool party. She dishes on how to talk to boys, but struggles mightily when attempting to speak with her crush.
Burnham, who described himself as "unhealthily stressed" as a teenager, said that his digital fame barely made a ripple at St. John's Preparatory School in Danvers, where he went to high school.
"My life didn't really change; that was the weird thing," Burnham said. "I was seeing all these numbers, getting millions of hits online, but I was still just going to high school. Once in awhile some kid in the hall would ask, 'Did I see you on some website?' And I'd be like, 'I don't know.'"
Running through some of the most important scenes in "Eighth Grade," Burnham's and Kayla's parallels seem clear. Both he and Kayla attended uncomfortable middle school pool parties. ("I hit puberty late so I didn't have any hair under my arms, and it was very, very stressful for me.") Both he and Kayla wrote letters to their future selves in sixth grade with questions that alternate between distinctly youthful optimism ("Are you playing basketball at Duke?") and surprising earnestness ("Did they rebuild the World Trade Center?"). And both he and Kayla used the mall as their place to feel like adults — in Burnham's case, it was the Liberty Tree Mall in Danvers. (He even recently held a friends and family screening of "Eighth Grade" at the AMC theater there.)
"Going to the mall was very meaningful to me in middle school," Burnham said. "It was the one place where you had freedom, but you don't, but you're pretending you have freedom."
Even though basically no one watches Kayla's videos, she narrates them in the cadence known as "YouTube voice," asking her nonexistent audience to remember to rate, subscribe, and leave a comment, and ends each video with her catchphrase, "Gucci!"
Burnham said he was not trying to mock Kayla or the "culture of performance," as he called it, and recognizes the difficulty of self-expression online.
"There's this tension between how we think we need to present ourselves to get whatever we want to say across, and what we actually want to get across," Burnham said. "And they are often at odds with each other."
Oh, and while the film examines self-confidence and the corrosive effects of social media and the unrelenting awkwardness of the middle school experience, Burnham wanted to make clear that "Eighth Grade" will also make you laugh.
"I can talk about the movie and how it's so heavy, but really, it's very funny," Burnham said. "Hopefully people think deeply about the film, but it's not some sad and depressing thing. You'll feel anxious during it, but that's because it's eighth grade!"