Entertainment
A Waltham magician is blowing minds on 'America's Got Talent'
"A lot of magic feels like you're trying to fool someone,'' Shin Lim said. "[But] I'm trying to change the outlook on card magic — to make it more artistic, more visual.''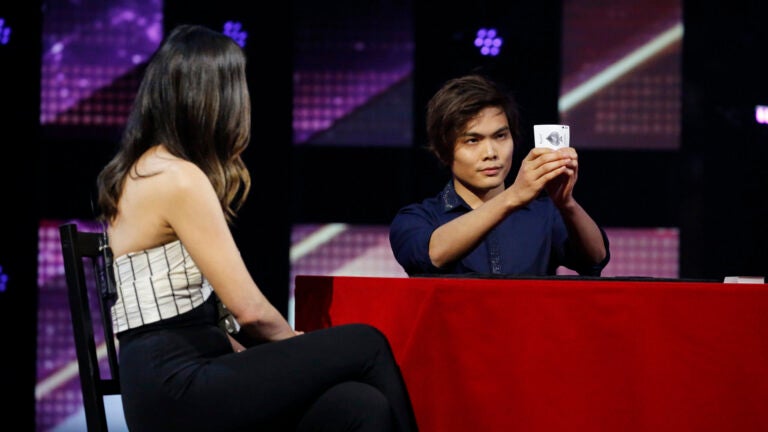 At various points during Waltham magician Shin Lim's second performance on NBC's "America's Got Talent'' last month, actress and guest judge Olivia Munn's jaw fell open.
For his card trick, Lim asked Munn to hide the ace of spades under her hand. After a series of camera-close-up, sleight-of-hand moves, the routine ended when Munn lifted her hand to find all four aces. She looked honestly spooked.
"Woooah!'' judge Howie Mandel shouted at one point during Lim's act.
At another, fellow judge and Spice Girl Mel B pounded the table with an almost childlike glee, exclaiming in disbelief, "No! No, no, no!''
"Olivia you were literally inches away. What happened?'' the notoriously hard-to-wow judge Simon Cowell, clearly impressed, asked Munn after the Acton-Boxborough Regional High School alum's act.
"I still don't know if there was one card or if there were four,'' the "X-Men: Apocalypse'' actress said. "My hand did not move. It was amazing.''
In a recent phone interview with the Globe, Lim, 26, who moved on to the live round, said he's not out to trick anyone.
"A lot of magic feels like you're trying to fool someone,'' Lim said. "[But] I'm trying to change the outlook on card magic — to make it more artistic, more visual.''
A pianist beginning at age 9, Lim attended Lee University's School of Music in Tennessee with ambitions to go pro. After first starting to practice magic as a hobby at age 16, Lim turned to it as artistic expression after he was diagnosed with carpal tunnel syndrome at age 20 and had to give up the piano.
"My magic is very much like playing a piano. It's sequential. Most magicians talk, make jokes, there's a lot of patter,'' said Lim, who performs in silence to music, usually film soundtracks. "Mine is always music-driven.''
Lim, whose parents are from Singapore, was born in Canada and grew up in Acton.
A winner at the 2015 International Federation of Magic Societies World Championships, he does most of his professional gigs overseas: in Australia, Canada, China, France, Germany, Hong Kong, Malaysia, New Zealand, Scandinavia, Singapore, Spain, Sweden, and Taiwan, among other countries. He auditioned for America's Got Talent to, well, show his talent to America.
"I feel like a lot of Americans don't know who I am yet,'' he said. "I perform more way more outside than inside America.''
"AGT'' airs Tuesdays at 8 p.m. on NBC.