Entertainment
13 movies Bostonians should know about this fall
Including a trio of Steve Carell films with Oscar ambitions.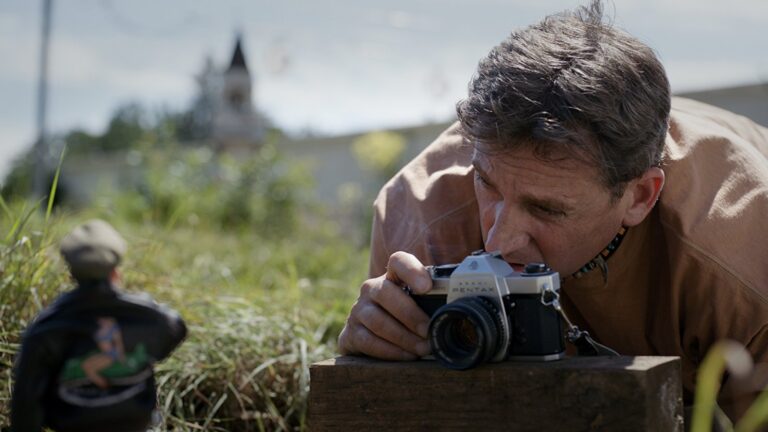 The beginning of fall is still a month away, but with kids across Massachusetts set to head back to school in the coming weeks, both summer—and summer movie season—are almost at their unofficial ends.
The beginning of September usually marks the time when studios pivot away from mega-budget blockbusters and head towards prestige films meant to court awards voters. In previous years, several films set in the Bay State or starring Massachusetts natives made fall debuts, with some finding awards glory ("Manchester by the Sea," "Spotlight") and others missing out on hardware ("Black Mass," "Stronger"). This year, the local star most likely to garner nominations is Acton native Steve Carell, who has three promising films set to debut in the coming months: "Beautiful Boy," "Welcome to Marwen," and "Backseat."
Aside from the awards contenders, there's also an animated Netflix film starring John Krasinski ("Next Gen"), another Mark Wahlberg movie ("Instant Family"), and plenty of other titles sure to have your friends buzzing ("Venom," "The Old Man & the Gun").
Here are the 13 films Bostonians should know about set to be released in the remainder of 2018.
"Next Gen" (Sept. 7)
This Netflix animated feature stars Newton native John Krasinski as 7723, a next-gen robot prototype that forms a friendship with a young girl (Charlyne Yi, "This is 40"). In a world where robots are ubiquitous, 7723 must help to save the world when a villainous madman turns a horde of common robot assistants against their human owners. "Next Gen" will debut on Netflix on Sept. 7.
"Little Women" (Sept. 28)
No, this isn't the upcoming Greta Gerwig-directed "Little Women" with Meryl Streep, Emma Watson, Saoirse Ronan, and Timothee Chalamet expected to hit theaters Christmas 2019. Instead, it's a "modern retelling" of Louisa May Alcott's 1868 classic 150 years after the book was published, featuring Lea Thompson ("Back to the Future") as Aunt March and a cast of relative unknowns as the four March sisters. We'll have to see whether this version follows Alcott's lead by setting the film in Concord when "Little Women" lands in theaters Sept. 28.
"The Old Man & The Gun" (Oct. 5)
Robert Redford says he is retiring from acting after "Old Man & the Gun," in which he plays aged bank robber Forrest Tucker, a real-life criminal who continued to hold up tellers and subsequently escape from prison until he was 79. Casey Affleck plays police detective John Hunt, who attempts to unravel the mystery of the "Over-the-Hill Gang" led by Tucker as they hit bank after bank in Oklahoma and Texas. Directed by David Lowery ("A Ghost Story," "Pete's Dragon"), "The Old Man & the Gun" shoots into theaters Oct. 5.
"Venom" (Oct. 5)
Tom Hardy plays Eddie Brock, a journalist investigating the Life Foundation and its leader, Dr. Carlton Drake (Riz Ahmed), for illegal experiments on marginalized people. While investigating, Brock unwittingly comes into contact with Venom, a "Symbiote" that requires a human host but gives said host deadly superpowers. Also on hand is Milton native Jenny Slate ("Obvious Child"), who plays a Life Foundation scientist who reaches out to Brock for help and Michelle Williams ("Manchester by the Sea") as Anne Weying, who also works with the Life Foundation. "Venom" hits theaters Oct. 5.
"Beautiful Boy" (Oct. 12)
Based on a series of articles and memoirs by David Sheff and his son, Nic, "Beautiful Boy" tells the story of David's attempts to save his son from a deadly cycle of methamphetamine addiction. The elder Sheff is played by Steve Carell, while Nic is played by Timothee Chalamet ("Call Me By Your Name," "Lady Bird"). Co-starring Amy Ryan ("Gone Baby Gone") as David's ex-wife and Nic's mother, and Boston native Maura Tierney ("The Affair," "ER") as David's second wife, "Beautiful Boy" will hit theaters Oct. 12.
"The Long Dumb Road" (Nov. 16)
Nahant native Jason Mantzoukas has made a name for himself playing outrageous ensemble characters in shows like "Parks and Recreation," "The Good Place," and "The League." In "The Long Dumb Road," Mantzoukas is front and center as Richard, a recently fired auto garage employee in Texas who jumps into a car with a teen named Nathan (Tony Revolori, "The Grand Budapest Hotel") for a road trip to Los Angeles. "The Long Dumb Road" received generally positive reviews after its Sundance debut in January and will simultaneously open in theaters and be available on demand on Nov. 16.
"Instant Family" (Nov. 16)
No, it's not "Daddy's Home 3," but Mark Wahlberg does become an unwitting father of three in his latest film. Pete (Wahlberg) and Ellie (Rose Byrne) plan to adopt a single child, but when they meet three foster siblings, including a defiant teenage girl, they end up with way more than they bargained for. Based on the real-life experiences of writer-director Sean Anders, the film also stars Octavia Spencer ("Hidden Figures") and Margo Martindale ("The Americans"). Initially destined for a February 2019 release, "Instant Family" was bumped up to a Nov. 16 slot thanks to positive audience responses at early test screenings, according to Deadline.
"The Front Runner" (Nov. 21)
In 1988, Senator Gary Hart was a front-runner for the Democratic presidential nomination until reports of an extramarital affair forced him to drop out of the race. Director Jason Reitman ("Juno," "Up in the Air") will examine the rise and fall of Hart's campaign through the lens of a dark comedy, with Hugh Jackman ("X-Men") playing the adulterous politician. Also on hand is J.K. Simmons ("Whiplash"), Vera Farmiga ("The Departed"), and Canton native Bill Burr. Set to debut at the Toronto International Film Festival on Sept. 7, "The Front Runner" hits theaters Nov. 21.
"Welcome to Marwen" (Nov. 21)
The second of three Carell films on this list, "Welcome to Marwen" stars the Acton native as Mark Hogancamp, a man whose life was shattered in 2000 after he was beaten within an inch of his life outside a bar for being a cross-dresser. After waking from a nine-day coma with no memory of who he was, Hogancamp coped with the trauma by building an elaborate 1/6-scale model of a World War II village he called "Marwencol" (shortened to "Marwen" in the film), populated by doll versions of people he knew in real life. Directed by Robert Zemeckis ("Forrest Gump," "Cast Away") and co-starring Leslie Mann ("Knocked Up," "This Is 40") and Janelle Monae ("Hidden Figures," "Moonlight"), "Welcome to Marwen" lands in theaters Nov. 21.
"Bumblebee" (Dec. 21)
West Newbury native John Cena is following in Mark Wahlberg's footsteps by joining the "Transformers" franchise, though not as the protagonist. That role belongs to Hailee Steinfeld ("True Grit," "Pitch Perfect 2"), who plays Charlie Watson, a teenager who forms a friendship with Bumblebee after she finds the titular Transformer hiding in her garage. The film takes place in 1987, before the all-out robot wars of the other films, but the government agency Sector 7 (led by Cena as Agent Burns) is still on the hunt for robots in disguise. "Bumblebee" flies into theaters Dec. 21.
"Backseat" (Dec. 21)
The last of the Carell trifecta reunites him with director Adam McKay ("Anchorman," "The Big Short") for a story about former Vice President Dick Cheney, and how his influence and policies shaped the world at large. Little is known about the plot, but regardless of the narrative choices McKay makes, it will be fascinating to see what level of prosthetics, makeup, and weight fluctuation Christian Bale, Amy Adams, Sam Rockwell, and Carell needed to play Dick Cheney, Lynne Cheney, George W. Bush, and Donald Rumsfeld, respectively. "Backseat" will be in front of audiences starting Dec. 21.
"On the Basis of Sex" (Dec. 25)
Based on the first trailer for "On the Basis of Sex," the second movie about Ruth Bader Ginsburg to hit theaters this year, it's unclear how much we will see from the years the Associate Justice of the Supreme Court (played by Felicity Jones, "Rogue One: A Star Wars Story") spent at Harvard Law School. However, one hint that we will at least see a glimpse of that era is the casting of Cambridge native Sam Waterston ("Law and Order") as former Harvard Law School Dean Erwin Griswold, who reportedly once asked Ginsburg to justify her "taking a place in the class that otherwise would have gone to a man." (Griswold later denied saying this.) Audiences will have to wait to see if the law school drama makes the final cut when "On the Basis of Sex" hits theaters Dec. 25.
"Slice" (TBA)
When a pizza delivery boy is murdered, who will the townspeople blame? Drug dealers run amok? A lack of gun control? Or maybe that dang werewolf that lives on the outskirts of town? That's the plot of "Slice," a comedy-horror film that serves as a major film debut for Chance the Rapper. The cast blends comedy veterans like Chris Parnell ("Saturday Night Live") and Paul Scheer ("The League") with up-and-comers like Zazie Beetz ("Atlanta," "Deadpool 2,") and Newburyport native Joe Keery ("Stranger Things"). While distributor A24 has not announced an official release date, the film is expected to burst into theaters sometime this fall.