Entertainment
What critics have to say about John Krasinski's 'Jack Ryan'
Read what the reviews (good and bad) say about the new spy series starring the Newton native.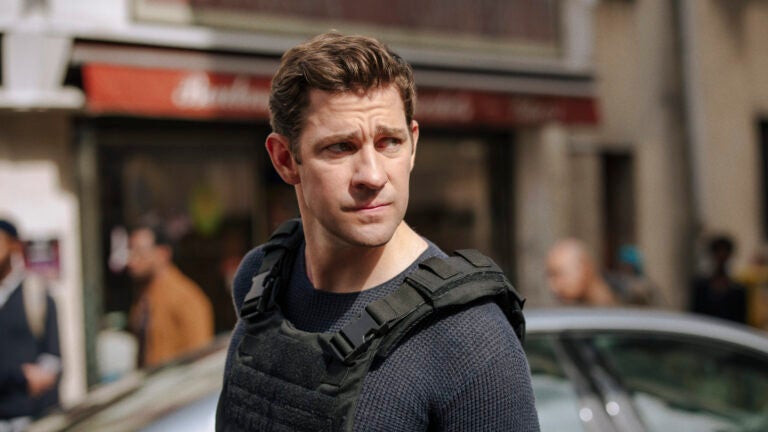 Does John Krasinski have what it takes to fill Jack Ryan's shoes?
The Newton native has had a standout year, scoring a major hit with "A Quiet Place," the thriller he co-wrote, directed, and co-starred in with wife Emily Blunt. The film earned more than $332 million worldwide on a $17 million production budget, and studio executives have already greenlighted a sequel, tentatively scheduled for a 2020 release.
Now, Krasinski takes on author Tom Clancy's iconic spy role in a new Amazon series titled "Tom Clancy's Jack Ryan," which debuted all eight episodes from its first season on Amazon Prime Video on Friday. In playing Ryan, Krasinski is following in the footsteps of Ben Affleck, Alec Baldwin, Harrison Ford, and Chris Pine in portraying what some see as the American version of James Bond, including Krasinski himself.
Critics have been generally positive about the show, with "Jack Ryan" earning a 72 percent freshness rating on Rotten Tomatoes at the time of this article's publication. That said, a single number can't adequately capture the range of critical response, and many of the reviews coded as "fresh" or "rotten" by the critical aggregation site have a bit more nuance. To help you judge whether to binge-watch the series this Labor Day weekend, here's what critics are saying, both good and bad, about "Tom Clancy's Jack Ryan."
The Good
Variety's Daniel D'Addario said that Krasinski makes a solid Jack Ryan, and even compared him favorably to his character on "The Office."
The first four episodes of "Jack Ryan" are cause for optimism; the best sign is the casting of John Krasinski, a happily low-key star, in the lead. After the enormous box office success of "A Quiet Place," of course, Krasinski's public profile looks a lot different, but his CIA desk jockey here is still amiably close to his cubicle dweller from "The Office."
Michael Hale of The New York Times credited Krasinski with embodying specific parts of the Jack Ryan character better than his predecessors Affleck, Baldwin, Ford, and Pine.
[Krasinski] gives Ryan's professorial side a credibility that Mr. Ford and Mr. Affleck couldn't manage, and his combination of boyishness and physical presence, already used for comedy in "The Office," helps give his Ryan a humorous edge that Mr. Baldwin and Mr. Pine went for with middling success. Mr. Krasinski is the face of "Jack Ryan," and he's a pleasure to watch.
Writing for Rogerebert.com, Nick Allen wrote that "Tom Clancy's Jack Ryan" was a refreshing addition to the Clancy canon, partly because it managed to focus on multiple characters and viewpoints rather than zeroing in on the titular protagonist.
Expertly plotted by creators Carlton Cuse and Graham Roland, "Tom Clancy's Jack Ryan" is all the more impactful for its restraint and scope, offering excellent character-based drama that's concerned with much more than just its namesake.

The So-So
Vulture's Kathryn VanArendonk found herself wishing that the show focused more on its protagonist. 
If Jack Ryan spent more time shading in Ryan's personal world, there might be more chance for the character to feel three-dimensional. It could've made his affection for Cathy into something more than an obligatory demonstration of heterosexuality, or turned his relationship with his boss James Greer (Wendell Pierce) into something more complex than surface-level, gruff male respect.

 
In his review for The Hollywood Reporter, Daniel Fienberg said the show's high budget and Krasinski's likable star turn give the show a bit of a bump over a generic action thriller, but there's not a huge gap in quality.
The Jack Ryan name will cut through the clutter and polished production values and the solid Krasinski should help viewers choose this Oreo, even if it's only sometimes appreciably better than the store-brand sandwich cookie.

The Ugly
The Boston Globe's Matthew Gilbert found the show generic and a general waste of Krasinski's talents. 
I won't say I hated "Jack Ryan," and I'm certain those who enjoy plain but high-pitched stories about terrorist plots and heroic Americans will find something to like in it. But I was alternately bored and disappointed, watching a tired genre and waiting and waiting some more for something fresh to surface.
TV Guide's Tim Surette said that Jack Ryan the character was the worst part of "Jack Ryan" the show, with Krasinski given little to work with.
It's absolutely insane that a series named after its hero would do so little for the guy to make him likeable or even believable as a human being, but this Jack Ryan is a name only. Even Dwight Schrute would be begging for Jim to show up and give this some life.