Entertainment
What it's like to be in the room where it happened at 'Hamilton' in Boston
A diary of the sights and sounds of the Broadway smash hit musical at the Boston Opera House.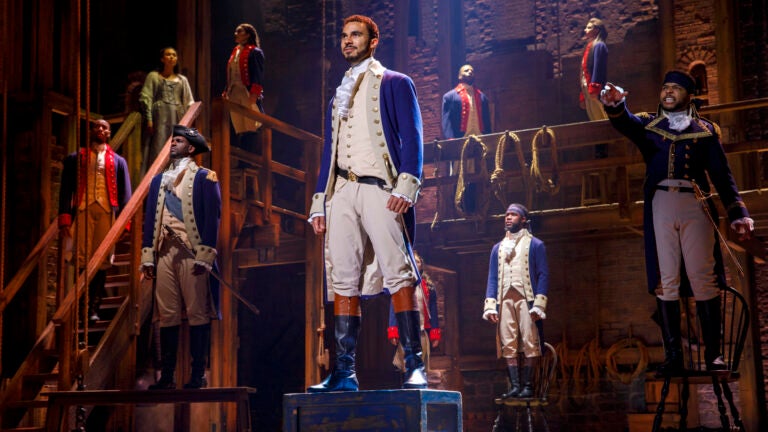 Even more than an hour before the start of Wednesday night's performance of "Hamilton" at the Boston Opera House, a palpable buzz emanated from both inside and outside the theater. The line to get in was already out the door, with pockets of fans crowding the sidewalk. WBZ-TV had a camera and lights set up nearby — a reporter stopped groups as they passed to ask them about their excitement for the show, giving them their own moments in the spotlight.
More than three years after Lin-Manuel Miranda's historic musical's Broadway debut, the Tony Award-winning smash hit has finally arrived in Boston. Starring Austin Scott as Alexander Hamilton and Winchester native Nicholas Christopher as rival Aaron Burr in his first professional performance in front of a hometown crowd, the national tour will be in town through Nov. 18.
Inside the theater, the lobby had a case of gridlock that rivaled I-93 at rush hour. Lines of fans buying "Hamilton" merchandise (hats, shirts, coffee mugs, posters, albums, key chains), couples and families snapping selfies, and veteran theatergoers sipping drinks and sharing laughs with ushers forced any through traffic to move at a crawl. No one seemed to particularly mind, however, with the prospect of the evening's entertainment awaiting.
"Should we get in line for a shirt or a drink?" one woman asked another as they moved through the scrum, eventually settling on buying a shirt first, and a drink later.
At the edge of the orchestra pit, audience members like Bostonians Allison Bloch and Kelli Sigmon stopped to snap photos in front of the stage, using the wooden scaffolding designed by Mansfield native David Korins as an Instagram backdrop. Bloch already had tickets as part of her Broadway in Boston package but was able to upgrade them prior to the show.
"I'm a big fan," Bloch said. "I've tried since to see it since it came out on Broadway, but I couldn't afford it."
https://www.instagram.com/p/Bn7rEPPl44p/?taken-by=llsnblch
As the show neared its start, regular theatergoers milled in the aisles, greeting each other like old friends. Wednesday was the show's press night, and if you sat in the orchestra level, there was a good chance you were near someone in the media, with reporters, editors, columnists, and personalities from The Boston Globe, Metro Boston, Fox 25 Boston, and even DJs from 101.7 The Bull, Magic 106.7, and Mix 104.1 dotting the crowd. Close to curtain time, Mayor Marty Walsh attempted to take his seat, only to rise repeatedly as numerous showgoers stopped by to shake his hand and say hello.
Then the lights dimmed. Each and every song drew rapturous applause, with particular highlights including Christopher as Burr in "The Room Where It Happens" and Hannah Cruz as Eliza Hamilton singing the scorched-earth ballad "Burn." As the final notes of "Who Lives, Who Dies, Who Tells Your Story" rang out, the audience gave the cast a long and well-deserved standing ovation.
Welcome to the room where it happens in historic Boston, MA. #Boston #HamiltonBoston #BroadwayInBoston Hamilton

Posted by Broadway In Boston on Wednesday, September 19, 2018
Shuffling toward the exits, you would be hard-pressed to hear a single negative word spoken about "Hamilton." Words like "amazing," and "incredible" rang out through the crowd, a sentiment shared in reviews the next day from the Globe's Don Aucoin, WBUR's Ed Siegel, and The Patriot Ledger's Dana Barbuto.
"I've been waiting so long," said Hannah Peacock, who lives in Boston and bought a season pass to Broadway in Boston as soon as she learned "Hamilton" was coming to the city. "I listened to the soundtrack hundreds of times, read every article, watched every special. Seeing it in person was incredible."
As the crowd spilled out the doors onto Washington Street a little before 10:30 p.m., some hurried away to avoid traffic.
"I need to get away from here as fast as possible and find an Uber," said one man holding a very sleepy-looking child.
Others stuck around to survey the scene, or to snap one last photo of the marquee. A select few — including Hillary Pritchard, who was visiting Boston for the first time from California and nabbed tickets once she realized that she and the "Hamilton" tour would be in town at the same time — waited at the stage door to greet the actors after the show. Pritchard said she managed to get autographs from so many cast members, including Christopher, Cruz, Bryson Bruce (who plays Thomas Jefferson and Marquis de Lafayette), Paul Oakley Stovall (George Washington), and Peter Matthew Smith (King George), that she had to start having them sign the inside of her playbill.
Later, Christopher posted photos and videos on Instagram celebrating with a trio of friends. In a modern take on the musical's fourth song, the quartet each raised a shot glass in the air.
And that, Bostonians, was "the story of tonight."