Entertainment
These are the five best props you can bid on from 'The Office'
Make home feel a bit more like Dunder Mifflin.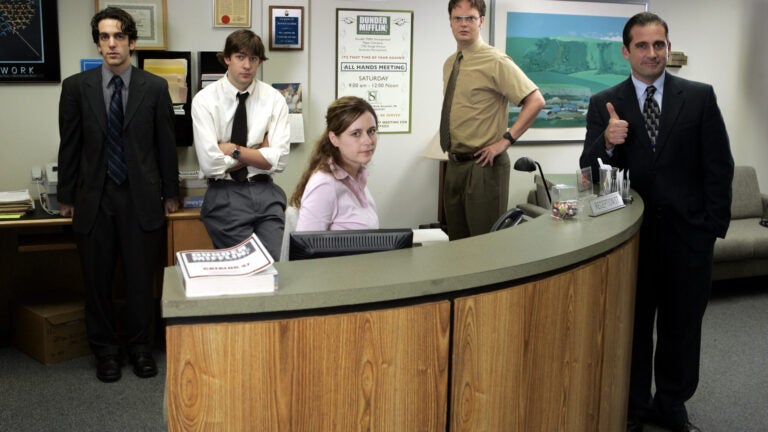 Michael Scott (Acton native Steve Carell) once said, "An office is a place where dreams come true." Now bring pieces from "The Office" home with you.
Screenbid, which hosts auctions on behalf of studios and producers, opened an auction on Sept. 20 with hundreds of items from the hit NBC show's nine seasons, all of which come complete with a certificate of authenticity from Universal Television. (Before you bid every last Schrute Buck on Michael Scott's manager desk, be warned — Screenbid charges an additional 24 percent buyer's premium to the winning bid after closing in order to cover administrative costs. You will also be responsible for tax, handling, and shipping costs.) The auction will begin closing on Oct. 5 at 4 p.m. (EST), according to Screenbid CEO Jeffrey Dash.
Here are five of the hundreds of props up for auction from "The Office."  
Newton native John Krasinski became a household name sitting behind this very desk as Jim Halpert. This desk was with Jim through it all, whether it was plotting pranks on Dwight Schrute (Rainn Wilson) or moving forward with his relationship with Pam Beesly (Jenna Fischer).
Dwight Schrute's rubber nunchucks
These nunchucks were among the many, many weapons Dwight used to fulfill his role as "defender of the office."
Dwight Schrute's stapler and crocodile staple remover
Although this is not the stapler Jim put in Jello in the pilot episode, according to Screenbid, it probably witnessed some of that classic Jim and Dwight banter — which may account for the asking bid of over $1,000?
Michael Scott's neon St. Pauli Girl beer sign
This sign appeared in the fourth season episode, "Dinner Party," in which viewers got a rare look into the home life of Michael Scott. The St. Pauli Girl beer sign proved to be the breaking point in Michael and Jan Levinson's (Melora Hardin) already distingrating relationship throughout the episode.
Try to outbid Bob Vance!#TheOffice Auction is now live: https://t.co/DNa98CAj6r pic.twitter.com/842u9MRL6v

— The Office (@theofficenbc) September 24, 2018
Dunder Mifflin, Inc. huge sign  
For those looking to start their own paper business, this might be for you. Broadcast your love of the workplace comedy with this "huge" sign and create your very own Dunder Mifflin.