Entertainment
Steve Carell and Timothee Chalamet on bonding for the film 'Beautiful Boy'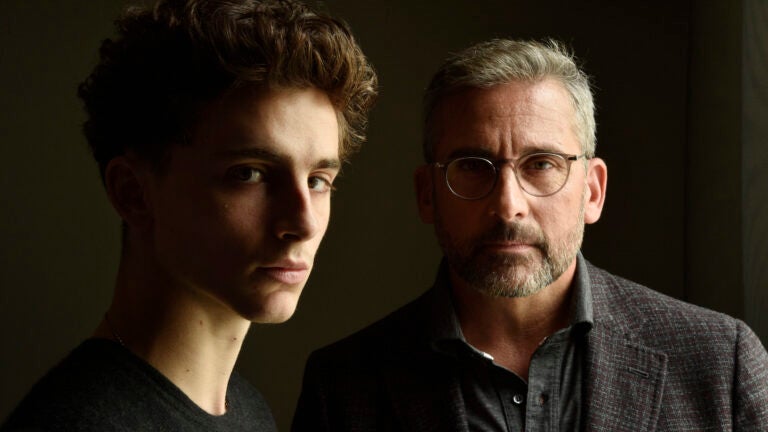 TORONTO (AP) — Steve Carell and Timothee Chalamet both knew the addiction drama "Beautiful Boy" hinged on the father-son relationship.
The movie is based on the twin memoirs of David Sheff and his son, Nic, about each's perspective on Nic's decade-long, nearly fatal plunge into meth addiction. Toggling between nightmare and memory, "Beautiful Boy," fluctuates between addiction and recovery, between the love and anguish of a father and son.
So when the two first met at Chalamet's final audition to read as Nic, it was a pregnant moment.
"I think it was an open-armed hug," recalled Chalamet of his eventual co-star's greeting. "I was very appreciative of that because I was really quite nervous going in there."
The meeting is vivid to Carell, too. For him and everyone else in the room, it was instantly clear Chalamet (whose breakthrough Oscar-nominated role in "Call Me By Your Name" hadn't yet come out) was the right choice.
"I don't think I've ever seen a better audition," said Carell.
A year after Chalamet impressed audiences in his chemistry with Armie Hammer in "Call Me By Your Name," ″Beautiful Boy" teams him with another veteran actor who has likewise been something of a mentor to the 22-year-old Chalamet. The two found they had a natural affinity for each other despite being generations apart. Chalamet grew up an "Office" fan and in an interview last month over coffee, was most eager to hear the 56-year-old Carell's "Daily Show" stories.
"It was natural," said Chalamet. "I felt like we had a physical dialogue that was akin to what a father and son's physical dialogue would be."
"I feel absolutely the opposite," Carrell deadpanned, cracking up his co-star. "He's somebody you want to be around. He's somebody you want to talk to. He's such a committed actor and takes it seriously but at the same time is entirely open."
Addiction has rarely been seen onscreen as it is in Felix Van Groeningen's "Beautiful Boy," which opens in theaters Friday. Whereas Hollywood has often concentrated on the tailspin of addiction or swift recovery, "Beautiful Boy" stays true to the cycles of relapse. As Nic's addiction threatens to destroy him, David is racked by desperation, guilt and hopelessness.
When acquiring the rights to David's "Beautiful Boy: A Father's Journey Through His Son's Addiction" (which grew out of a New York Times Magazine story) and Nic's "Tweak," producer Jeremy Kleiner of Brad Pitt's Plan B convinced the Sheffs that they would honor the realism of their story.
"To put this in someone else's hands was really scary," said David Sheff, an author and journalist. "What convinced us was what Jeremy said: Addiction has always been portrayed with the same few cliches over and over again. He said that he was committed to showing addiction the way it is: no easy answers. Everything about it is complicated."
An estimated 21.6 million Americans are addicted to drugs and another 16 million to alcohol. With the rise of opioids, deaths from drug overdoses have doubled in the last decade. It's an America that the Sheffs have gotten a close look at since their books came out — a response they hope will only be magnified by the movie.
"After sharing our stories, we've been able to really connect with all these different people that have either had similar experiences or know someone who's gone through something like this," said Nic, now 36. "It's been an amazing example of how being open and sharing can facilitate those kind of conversations."
Being on book tours together and now with the movie has given both father and son time to talk through everything. Both say they've never felt closer.
"A lot of people have been through hell," said David Sheff. "A lot of people feel the damage is reparable. I hear about it all the time. People say: 'I'll never be able to speak to my parents again,' 'I will never speak to my children again.' We were there once. And we've shown that with hard work and time, relationship can be renewed. So when we're together in these places, I look over there and just feel so lucky that Nic is here."
Before shooting began, Chalamet had lunch with Nic, and Carell met David, who also visited the set several times.
"They both very bravely supported the movie," said Carell. "There was a great sense of trust on both their behalf. They had no idea how it was going to turn out, whether it was going to be some treacly depiction of the after-school special version of this story."
For the role, Chalamet dropped 18 pounds. But both he and Carell are cautious about playing up any of their efforts to authentically portray addiction and its toll.
"In addition to getting all the specificities of using right, it was first and foremost about the family and the relationships within that," said Chalamet. "It's not about mannerisms but rather the emotional truth they were living. And trying to get the moments where I'm using or high onscreen as accurate as possible without being so cavalier as to think that's what the true experience of an addict would be."
And as much as Carell and Chalamet focused on David and Nic, and their books, they drew as heavily from their own experiences with their fathers and, in Carell's case, with his kids. For Carell, the film resonates most deeply as a story about a family that is flawed but full of love. In other words, most families.
"It was as deeply as I have felt for something and for a story of anything I've ever been involved with," said Carell. "You can label this a story about addiction, but it's really a story about the love between these people."
___
Follow AP Film Writer Jake Coyle on Twitter at: http://twitter.com/jakecoyleAP
——
In a previous version of this article, The Associated Press erroneously attributed a quote about drug use by Timothee Chalamet's character to Steve Carell.