Entertainment
Emma Watson braved 'snow' while filming 'Little Women' in Harvard
"Little Women," big umbrellas.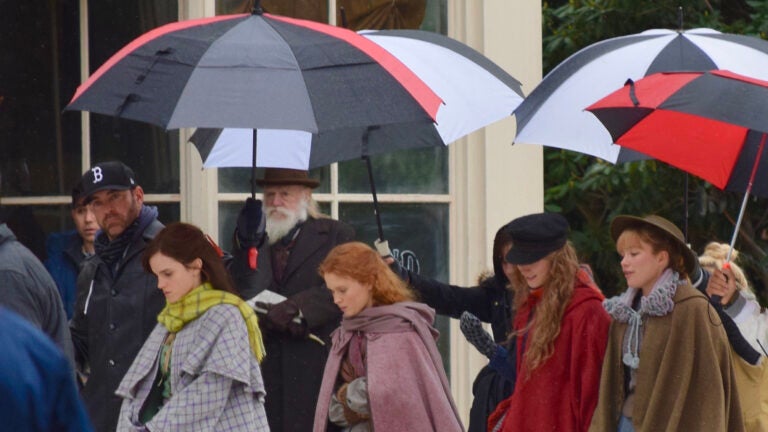 Emma Watson ("Harry Potter"), Saoirse Ronan ("Lady Bird"), Eliza Scanlen ("Sharp Objects"), and Florence Pugh ("Lady Macbeth") filmed scenes for "Little Women" in Harvard, Mass. on Monday.
According to Kathleen Jones, a Lunenburg resident who spotted the set, the shoot took place in front of the Harvard General Store, which was transformed into the Concord General Store to match the setting of Louisa May Alcott's landmark 1868 novel.
Much like when Mark Wahlberg filmed his Netflix project "Wonderland" in Dorchester last month, "Little Women" producers laid down a layer of fake snow for Monday's filming. While the actresses donned period-appropriate clothing, they were protected from the elements by decidedly modern umbrellas.
Ronan is set to play protagonist Jo March, Watson will play elder sister Meg, Scanlen will play third sister Beth, and Pugh will play youngest sister Amy.
"Little Women" also is set to star Meryl Streep, Laura Dern ("Star Wars: The Last Jedi"), Timothee Chalamet ("Call Me by Your Name"), Bob Odenkirk ("Better Call Saul"), and Chris Cooper ("Adaptation"). Directed by Greta Gerwig ("Lady Bird"), the film is scheduled to shoot from October through December in Boston, Canton, Concord, Harvard, Ipswich, Lawrence, Stoughton, and the Lexington/Burlington area, and is slated to hit theaters on Dec. 25, 2019.