Entertainment
How the Boston Jewish Film Festival can be a place for healing amid tragedy
"I really do believe film is an empathy tool that gives a window into other people's lives."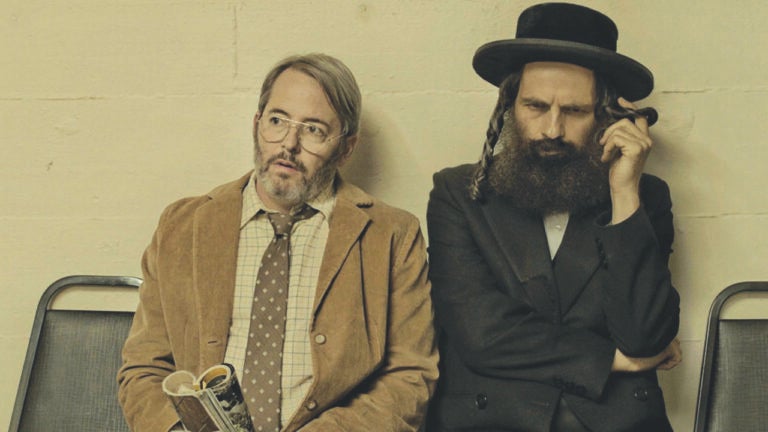 The 30th edition of the Boston Jewish Film Festival kicked off on Wednesday night and runs through Nov. 19, bringing together dozens of films that reflect varied perspectives on the Jewish experience. It's a time to celebrate for the festival, which over the years has expanded from two days' to two weeks' worth of films, and also now offers programming year-round.
At the same time — and especially in the wake of last month's mass shooting at the Tree of Life synagogue in Pittsburgh — the festival can serve as a place for community and as an educational tool for the world at large, according to festival artistic director Ariana Cohen-Halberstam.
Cohen-Halberstam discussed why she thinks the festival is so important at this particular moment in time, the film she's most excited about at this year's festival, and more.
(This interview has been edited and condensed for length and clarity.)
Q. This is the festival's 30th anniversary. How has it changed over the course of its life?
A. I think the festival has changed pretty significantly in the past few years. The festival started 30 years ago when Jewish film wasn't that accessible to people. It wasn't like now where you can find films via streaming or some other technology. We've had to change and think about what our role is as technology changes. We've also grown from being a weekend of films to a two week-long festival.
Q. What film are you most excited about showing at the festival?
A. It's always a tough question to narrow it down, especially when you're the one picking them all. One I would highlight is "To Dust," which stars Matthew Broderick and Geza Rohrig, who was the lead in "Son of Saul," which won the Oscar for Best Foreign Film and played at our festival in 2015. ["To Dust" is] about a Hasidic man whose wife dies. After she dies, he becomes obsessed with the decomposition process of her body, and starts having these nightmares. He goes out to find someone who can explain this process to him, and Matthew Broderick plays a professor at a community college who explains it to him in pretty rudimentary terms, and they come up with this crazy plan to bury a pig — which definitely isn't a kosher animal — and see what happens. There's a very dark humor to the movie, which is sort of reminiscent of the Coen brothers. We'll also have the director, Shawn Snyder, at the festival for a Q&A.
Q. How do you go about sourcing films for the festival? How long does that process take?
A. Officially, our submissions open in February, but really it's a year-round process. I travel to a number of film festivals, including Cannes, each year. Sometimes we look at films playing the festival circuit or reach out to filmmakers we're interested in. Oftentimes filmmakers are surprised when we reach out, because we look at films through such a specific lens [through which] the filmmakers themselves don't see the Jewish connection that we do. It's a very lengthy process, and it's very interesting to see every year what films emerge and what seems to be on filmmakers' minds.
Q. In the wake of the horrific shooting at the synagogue in Pittsburgh last month, do you feel this year's festival carries a greater meaning or significance than usual?
A. In light of the attack, showing the diversity and the breadth of the Jewish experience and Jewish history on-screen is extremely important. I really do believe film is an empathy tool that gives a window into other people's lives. After 30 years, it's hard not to feel like we're talking to ourselves sometimes. So I hope these films get seen by people for whom this is illuminating, people for whom these films are educational.
At the same time, I think the festival plays an important role for people who have been coming to this festival for years who are looking for community and a place to reflect. Every year, we aim to create an environment that fosters community and conversation, and enriches and connects our lives. I think these films are valuable when you watch them at home on your couch too, but I think they're more valuable when you're watching in an audience, where you can see and feel the people around you reacting to them. That's a big part of the festival, experiencing it all together. In times like these, I find the festival to be very helpful, and I hope it will be for others as well.