Entertainment
How Mark Wahlberg's own family inspired 'Instant Family,' according to its director
"Instant Family" is loosely based on director Sean Anders' family. But Mark Wahlberg's clan provided inspiration as well.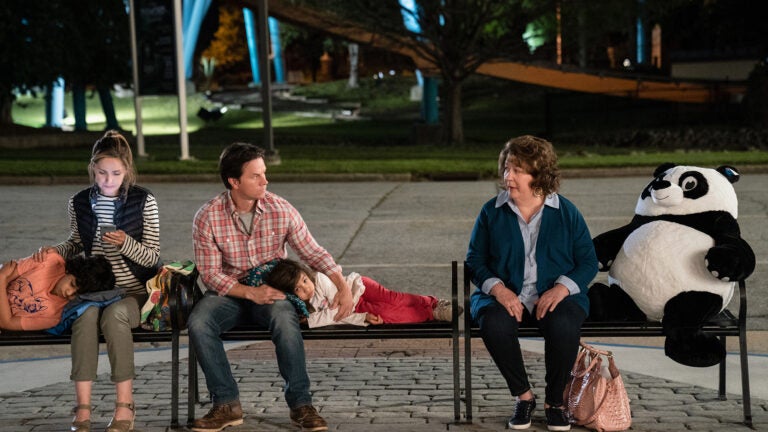 Sean Anders has made a career out of making people laugh as the writer behind movies like "Hot Tub Time Machine" and "Horrible Bosses 2." He's also made a (recent) career out of working with Mark Wahlberg, first in "Daddy's Home" and its 2017 sequel, and now with "Instant Family," which opens nationwide Friday.
Wahlberg and Rose Byrne ("Bridesmaids") play a suburban couple whose lives are irrevocably changed after they adopt three siblings who are all foster children. It's a personal film for Anders and his wife, Beth, who adopted three foster children of their own a little more than six years ago, and whose experiences serve as the loose basis for the movie.
As such, "Instant Family" is a bit more serious than his previous work, weaving emotional gut punches in between the typical laughs and comic set pieces. After very positive early test screenings, studio executives decided to bump the film up from its original February 2019 release so it could debut as a holiday season film.
Prior to the film's release, Anders sat down for an interview at the Eliot Hotel in the Back Bay, discussing his appreciation for everything Wahlberg does, the message Anders hopes to convey about foster care, and what aspects of Wahlberg's life helped to inspire the movie.
This is the third time you've collaborated with Mark Wahlberg. How did you get him to sign on for this movie?
We did the two "Daddy's Home" movies with Mark. But this was a different kind of movie, and I wasn't sure he'd be up for it. He gets a lot of offers. So I wrote him an email, and I worked really hard on this email. I sent it to him kind of late at night. And the next morning I was driving my kids to flag football, and I had a call from Mark at 8 in the morning. I jumped out of the car, all excited, and he just said yes. He said, "I got your email, I've been waiting for a decent hour to call." He had probably been up since 3:30 a.m. or something. He said he'd met some kids in foster care, and this was something that was important to him, too. And then he just said yes.
That's a crazy thing that people don't realize, that people of his caliber don't just call you and say yes. They call and say, "This is an interesting idea, let's talk about it, let's have a meeting." Mark just jumped right in, and that meant so much to me.
In "Instant Family" and "Daddy's Home," Mark plays characters where being a father is a defining characteristic. What sort of expertise or personal experience does he bring as a father of five to the role beyond what you wrote in the script?
Mark has a teenage daughter right now, and I believe his daughter was 15 when we were making the movie, which is the same exact age as Lizzy [his daughter in the film]. And then he has younger kids as well, like the other two in the movie. He has a lot of his own insights and experiences that he brought into his performance, or that he and I would talk about.
In the film, Mark's character, Pete, occasionally comments on his own upbringing, mentioning that he got in lots of trouble as a kid and that his strong-willed mother (played by Margo Martindale) had trouble expressing her love for him. Were those details inspired specifically by either of your childhoods?
I wasn't in trouble a lot when I was a kid — that was a little more inspired by my brother. To be clear, Mark's not playing me in the movie. The movie is inspired by my story, but also by a number of other families' stories. But I wanted the character of Pete to have that kind of a past. That was one of the ways he empathized with these foster kids who are being pre-judged since Pete had dealt with being a bit pre-judged when he was a kid.
His mom, Sandy, played by Margo Martindale, was a little bit based on my own mom. But also, when I had talked to Mark early on when we were working on the script, we incorporated a little bit of Mark's mom into the character as well.
The film has a solid comic sensibility, but it's also an undeniable tear-jerker. How did you balance those scenes when editing the film? Did you worry about audiences feeling like they were put through wild, emotional mood swings?
In reality, the families that get involved in foster care and adoption, they laugh a lot. Sometimes in dark situations. Because you have to laugh. That balance you mentioned was the No. 1 thing we worked the hardest on, from the first draft of the script all the way to the last edit. We were constantly tweaking and adjusting, hoping to get it just right.
I was very worried about that. I didn't want the audience to be taken out of the drama by a cheap joke or to find the movie so serious or preachy. The first time we put it up in front of an audience, we didn't get everything right, but we did find that they really engaged with it emotionally in between laughter.
If you had a message or a takeaway you wanted to share with people in general from the film, what would it be?
When people hear the words "foster care," they have some negative notions and ideas in their minds of what that is and who these kids are. It's not out of malice. It's almost a knee-jerk reaction.
I think if people come to this movie, they're gonna laugh a lot and have a good time, but they're gonna learn how a family like this is forged. My hope is they come away realizing these kids in the system are just kids, and they need love and families and support just like the rest of us. My ultimate hope would be if someone they know had an interest in fostering or adopting, that after seeing the movie, they would be more supportive of that. That would make a huge difference for kids all over the world.
Looking forward, do you think you'll want to do something with Wahlberg again in the future?
I would work withMark again in a heartbeat. Anytime, anywhere. I joke with him about this, but I feel like every time I get Mark in a movie, he's coming from some movie where he's in a faraway country or some movie where he's been dangling from wires for months. My movies are mostly people just talking in rooms, and it's almost like a vacation for him.
I think it would be cool if me and Pete Berg could switch places, where I'd go out in a jungle somewhere and Pete could have a nice, chill movie. We'll see what happens.
This interview has been lightly edited and condensed.