Entertainment
Michael Douglas visits Boston to receive a pair of lifetime achievement awards
The veteran actor was in fine form at Boston University on Wednesday night.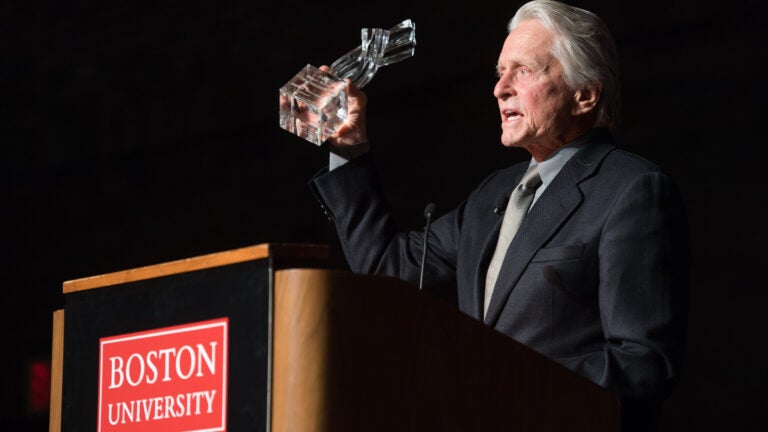 After 50 years on the silver screen, Michael Douglas is reaping the rewards this fall. Earlier this month, he nabbed a star on the Hollywood Walk of Fame, and this week in Boston, he's getting a pair of lifetime achievement awards at Boston University and the Coolidge Corner Theatre, respectively.
On Thursday evening, Douglas will receive the Coolidge Award for his "remarkable career and cultural legacy" from the Brookline cinema. Douglas will also participate in a Q&A following a screening of his 2000 film "Wonder Boys." On Wednesday night, Douglas spoke at BU's Howard Gotlieb Archival Research Center, where he was given the Bette Davis Lifetime Achievement Award by family members of the late actress, who was born in Lowell and spent her pre-Hollywood years growing up in Massachusetts.
Prior to receiving the Bette Davis award, Douglas sat for a conversation about his career with Jeremy Hobson, the co-host of the NPR and WBUR program "Here and Now." Douglas told the audience what a bad actor he was when he first began performing in college, and how intimidating it was to follow in the footsteps of his father, actor Kirk Douglas.
"I wasn't very good," Douglas said. "And Dad was the first [to tell me]. He came to my first show, and he said, 'You were terrible.' And rightfully so. Our union runs about 90 percent unemployment, and I think he was very worried after what he saw that this was not the right path for me."
When asked to name the actors he enjoys from the "next generation" of stars, Douglas mentioned Newton native John Krasinski.
"I'm keeping my eye on him, I like him a lot," Douglas said. "He has a wonderful range."
Before the award presentation, guests of the university were able to view an exhibit featuring select items from Douglas's personal archive, including letters he has received over the years from actors like Jack Lemmon, Walter Matthau, and his own father.
In Lemmon's letter, the late actor complimented Douglas for his Oscar-winning performance as Gordon Gekko in 1987's "Wall Street," jokingly writing that while he had always thought of Douglas as "one dandy fella," he was convinced otherwise after seeing Douglas's villainous turn in the film.
"… I don't care how good an actor is nobody could play that part the way you did without basically being a rotten stinking insensitive vicious prick and I am personally going to spread the word and I don't ever want to speak to you again," Lemmon wrote. "Congratulations, you were absolutely brilliant."