Entertainment
Matt Damon on what makes John Krasinski and Emily Blunt special
The Cambridge native offered the duo praise for landing on EW's Entertainers of the Year list.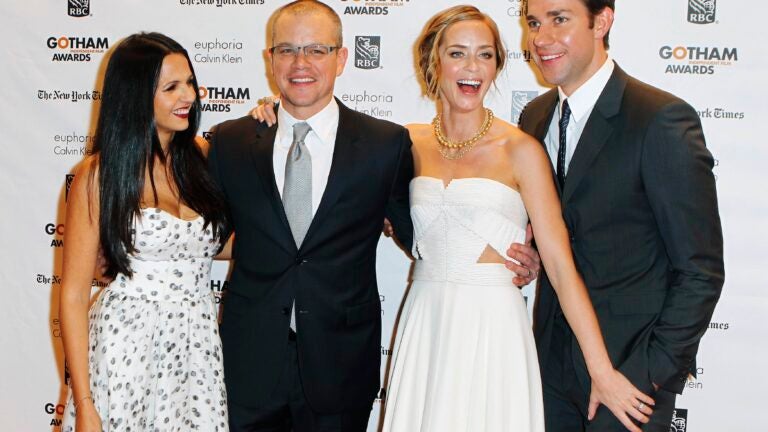 Married actors Emily Blunt and John Krasinski have had a pretty successful 2018, and Matt Damon is more than happy to let them know it.
Blunt and Krasinski, the latter a Newton native previously best known for his role as Jim Halpert in NBC's "The Office," were named to Entertainment Weekly's annual "Entertainers of the Year" list on Thursday. The honor caps off a big year for the duo that saw the success of  "A Quiet Place," as well as Krasinski's role in "Tom Clancy's Jack Ryan" and Blunt's in "Mary Poppins Returns."
To commemorate the pair's inclusion on the list, EW spoke to Damon, who co-starred in 2011's "The Adjustment Bureau" with Blunt and co-wrote 2012's "Promised Land" and worked on 2016's "Manchester by the Sea" with Krasinski.
"Playing a character on a TV show for so long, John had this unfair burden he had to smash through, and that's been done now, clearly," Damon said. "Emily, I don't think she ever repeats herself. When I worked with her almost 10 years ago in 'The Adjustment Bureau,' everybody knew she was this really gifted actress. But with this year's one-two punch of 'A Quiet Place' and 'Mary Poppins Returns,' she's now a huge movie star in the eyes of the people who greenlight movies. I don't think we've seen the limit of what either of them can do yet."
In a recent interview with EW, Krasinski said he couldn't stop tearing up watching Blunt on-screen in "Mary Poppins Returns," which opens Dec. 19.
"Twenty-five minutes into the screening, which was just Emily and I, I stood up and walked to the back of the room, which of course immediately communicates nothing but love to your partner that you're walking out of the room," Krasinski said. "And she said, 'Oh my god, you've never done that before, do you want me to stop the movie?' And I was just in the back at the concessions table and I just said, 'No, I'm looking for napkins,' because I just needed anything to stop crying and to blow my nose because I had blown through an entire box of tissues in 25 minutes."