Entertainment
The Bostonian's 2019 Golden Globes viewing guide
Everything you need to know before Sunday's ceremony.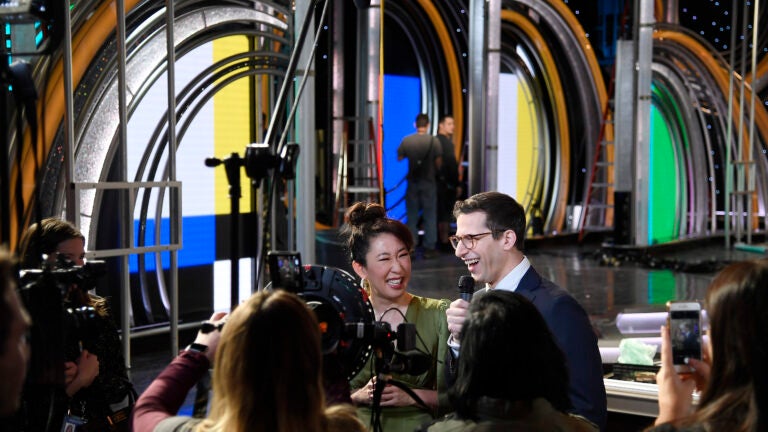 The Golden Globes will be broadcast Sunday, January 6, kicking off the 2019 awards season.
The annual celebration of achievement in television and motion pictures often feels like the freewheeling cousin of the Academy Awards, offering a slightly off-the-cuff vibe typically unmatched by the more formal Oscars. Will an award winner belatedly accept a trophy because she was in the bathroom, like Renee Zellweger did in 2001? Will a star (or two or three) appear visibly intoxicated in the audience? Will any films with local ties bring home some hardware? The Hollywood Foreign Press Association (HFPA), the organization behind the awards ceremony, hopes you'll tune in to find out.
Before you settle in for a slice of awards season magic on Sunday, here's everything you need to know about the 2019 Golden Globes.
What time are the 2019 Golden Globes?
The 2019 Golden Globes will air on Sunday, Jan. 6 at 8 p.m. on NBC. The ceremony will be held at its usual venue, the Beverly Hills Hilton in Beverly Hills, Calif.
Who is hosting and presenting at the 2019 Golden Globes?
In December, the HFPA announced that Andy Samberg and Sandra Oh would serve as hosts of the show. Both actors have won Globes in the past: Oh in 2006 for her supporting role on the show "Grey's Anatomy," and Samberg earning a pair of Golden Globes in 2014 for comedy series "Brooklyn Nine-Nine," both as an actor and as a producer.
The organization also had slowly been revealing its presenters on Twitter before unleashing a torrent of famous names who will take part in the ceremony on Thursday. The list of confirmed celebrity presenters at the time of this article's publication is as follows: Chadwick Boseman, Mike Myers, Chrissy Metz, Idris Elba, Catherine Zeta-Jones, Jamie Lee Curtis, Michael B. Jordan, Felicity Huffman, Emily Blunt, Steve Carell, Bradley Cooper, Lady Gaga, Danai Gurira, Olivia Colman, Gina Rodriguez, Emma Stone, Rachel Weisz, Julianne Moore, Kristen Bell, Taron Egerton, Richard Gere, Lena Waithe, Halle Berry, Harrison Ford, Kaley Cuoco, Johnny Galecki, Jim Parsons, Sterling K. Brown, Justin Hartley, Chris Pine, Megan Mullally, Antonio Banderas, William H. Macy, Lupita Nyong'o, Taraji P. Henson, Octavia Spencer, Allison Janney, Saoirse Ronan,  Sam Rockwell, Jessica Chastain, Amy Poehler, Nicole Kidman, Maya Rudolph, Lucy Liu, Ben Stiller, and Dick Van Dyke.
How do I watch the Golden Globes?
The easiest way to watch the Globes is to simply tune your television to NBC. (Reminder for local viewers: NBC10 Boston, not WHDH-TV Channel 7, will broadcast the Golden Globes.)
For those who want to watch online or on their mobile devices, the process is only slightly more complicated. According to an NBC spokesman, the preshow broadcast and main awards show will be available across multiple platforms with authentication, including NBC Digital platforms like the NBC app.
Most people authenticate using cable login information, while others use paid services like Hulu, PlayStation Vue,  Sling TV, and YouTube TV. Basically, if you pay for NBC in some way, you should be able to watch the Golden Globes online. After the broadcast airs, both the preshow and awards show also will be available On Demand for 45 days, according to the spokesman.
How do I watch the Golden Globes red carpet?
E! News will provide the early round of red carpet coverage starting at 6 p.m., while NBC will pick it up starting at 7 p.m. Both shows also can be watched online using the aforementioned authentication methods.
If Sunday night's playoff game between the Chicago Bears and Philadelphia Eagles on NBC runs long, you can still find the show on E!, as well as on the Golden Globes website and Facebook page.
https://www.facebook.com/GoldenGlobes/videos/2275853195782624/
Who should I root for?
As usual, a number of the nominated movies and shows have local connections. The leader of the local pack is "Green Book," a comedy-drama about the unlikely friendship between a black concert pianist (Mahershala Ali) and the white driver (Viggo Mortensen) hired to safely escort him through the 1960s segregated South, which earned five nominations. Rhode Island native and onetime Massachusetts resident Peter Farrelly garnered a Best Director nomination, as well as a Best Screenplay nod, which he shared with co-writers Nick Vallelonga and Peabody native Brian Currie. The film also earned nominations for Best Picture (Musical or Comedy), Best Actor (Musical or Comedy) for Mortensen, and Best Supporting Actor (Ali).
Newton native John Krasinski's thriller "A Quiet Place" earned a nod for Best Original Score, while Krasinski's wife, Emily Blunt, scored a Best Actress (Musical or Comedy) nomination for "Mary Poppins Returns," one of four nominations for the film.
Neil Armstrong biopic "First Man" reunited Harvard grad and "La La Land" director Damien Chazelle with leading man Ryan Gosling, but neither earned any attention from the Hollywood Foreign Press. Chazelle's Harvard classmate Justin Hurwitz did earn a nomination for Best Original Score, however, an award he won in 2017 for "La La Land."
"Eighth Grade" didn't earn a nod for first-time director and Hamilton native Bo Burnham, but it did score a Best Actress (Musical or Comedy) nomination for Elsie Fisher.
On the television side of things, awards darling "The Handmaid's Tale," a dystopian drama set in Massachusetts, underperformed expectations in earning only two nominations, for Best Actress (Drama) for Elisabeth Moss and Supporting Actress for Yvonne Strahovski.
Which movies and stars with local connections have the best shot at winning?
While a number of local nominees stand an outside chance at victory on Sunday, awards prediction site Gold Derby thinks "Green Book" has the best shot at actually taking home some hardware. Gold Derby gives "Green Book" the best odds of winning two of the five categories it's nominated in, with predicted wins for Best Picture (Musical or Comedy) and Best Supporting Actor for Ali. Gold Derby also gives the film second-best odds at winning Best Actor (Musical or Comedy), third-best for Best Screenplay, and a tie for fourth-best odds for Best Director.
In the Best Actress (Musical or Comedy) category, Gold Derby likes Olivia Colman of "The Favourite," with 82/25 odds of taking home the award. Following her are Blunt (18/5 odds) and Fisher (9/2 odds), respectively.
In the Best Original Score category, Hurwitz's "First Man" has second-best odds of winning at 19/5, better than "A Quiet Place" at 9/2. Both trail "Mary Poppins Returns," however, which has 17/5 odds of winning the trophy.
Finally, Gold Derby doesn't foresee a rosy night for "The Handmaid's Tale," giving both Moss and Strahovski fourth-best odds at 9/2 in Best Actress (Drama) and Supporting Actress, respectively.