Entertainment
One movie with local ties won big at the Golden Globes
"Green Book" was a major victor at Sunday night's ceremony.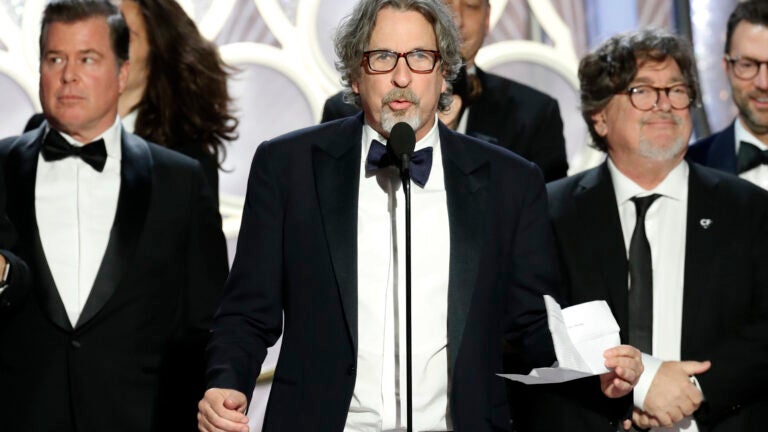 Only a handful of the nominees with local connections took home coveted hardware at Sunday night's Golden Globes, but one of those films picked up some major awards.
"Green Book," a comedy-drama about the unlikely friendship between a black concert pianist (Mahershala Ali) and the white driver (Viggo Mortensen) hired to safely escort him through a segregated South, was a big winner, nabbing three of the five awards it was nominated for, including Best Picture (Musical or Comedy).
In his acceptance speech, Rhode Island native and onetime Massachusetts resident Peter Farrelly said that he hoped the real-life story of pianist Dr. Don Shirley and driver Tony Vallelonga could inspire others to overcome their differences.
"This story, when I heard it, gave me hope, and I wanted to share that hope with you," Farrelly said. "Because we're still living in divided times, maybe more so than ever. And that's who this movie's for. It's for everybody. If Don Shirley and Tony Vallelonga can find common ground, we all can."
Farrelly also won for Best Screenplay, an award he shared with co-writers Nick Vallelonga and Peabody native Brian Currie, and Ali won Best Supporting Actor for his turn as Dr. Shirley.
The only other notable winner of the evening with local ties was in the Best Original Score category, where Harvard-educated Justin Hurwitz won for the Neil Armstrong biopic "First Man." Hurwitz was classmates at Harvard with "First Man" director Damien Chazelle, and also won the 2017 Best Original Score Golden Globe for the Chazelle-directed "La La Land." Among the films "First Man" beat in the category was the John Krasinski and Emily Blunt thriller "A Quiet Place."
In other categories, those with local ties weren't so lucky. For Best Actress (Musical or Comedy), Olivia Colman of "The Favourite" bested Elsie Fisher, nominated for her performance in Hamilton native Bo Burnham's "Eighth Grade," and Blunt in "Mary Poppins Returns."
On the television side of things, the Massachusetts-set dystopian drama "The Handmaid's Tale" missed out on both of its nominations, with Elisabeth Moss and Yvonne Strahovski losing in the Best Actress (Drama) and Supporting Actress categories, respectively.