Entertainment
Meet Alex Dillon, the Boston woman who dressed as a sloth on 'The Bachelor'
Dillon dished on why she chose her costumed alter-ego, deleted scenes from the show, and where the "still single" 23-year-old likes to go out in Boston.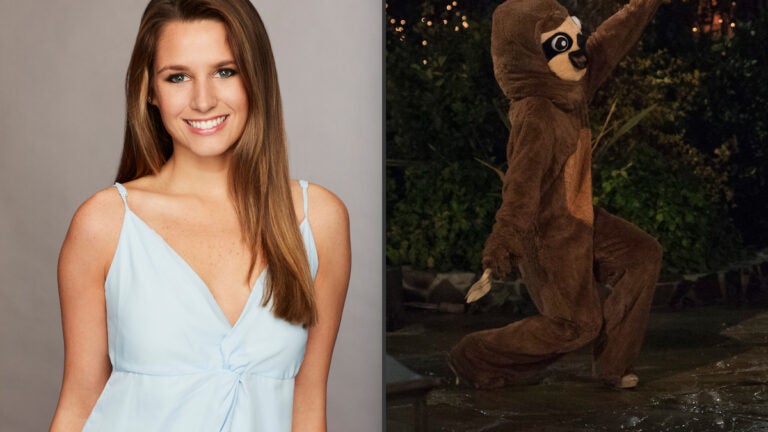 For the most part, Alex Dillon, 23, is your typical Boston-area young professional. 
She was born and raised in Dennis, went to school at UMass-Amherst, and has been working as an associate account manager at Collabera, an IT staffing company, since June.
But she also has an alter-ego now known by millions: Suzette the Sloth.
Dillon made a name for herself on last Monday's season premiere of "The Bachelor" when she stepped out of the limo in a full-body sloth costume, proving to Colton Underwood that when it came to their potential relationship, she could take things very — very — slow. 
Dillon's ploy didn't pay off, as she was among the first wave of contestants to not receive a rose from Underwood. In an interview with Boston.com, Dillon talked about why she chose her slow-moving persona and said that, despite being eliminated so early, she "would do it all again."
The journey from single to sloth began when a friend nominated Dillon for the show while she was bored at work.
"She had a boyfriend at the time, and I think she was sick of me third-wheeling her," Dillon said. "So she thought she could get rid of me that way."
Dillon said she isn't sure exactly how she passed the in-person audition process, beyond being single, outgoing, authentic, and comfortable in front of the camera. Once she was cast, the brainstorming of Suzette began.
Dillon chose her sloth costume for a few reasons. First off, she hoped to jokingly show Underwood, who is a virgin, that she could take things slowly, and give him an idea of what it would be like to date her.
"I wanted Colton to know exactly what he'd be getting into in a relationship with me," Dillon said. "I don't put on a certain persona. I'm not going to act like someone I'm not."
Dillon paused for a moment, realizing how contradictory her statement sounded.
"Obviously, I'm not a real sloth," she said, laughing. "But I definitely like having fun, and I wanted to get that out of the way the first night."
She also wanted to make the other contestants feel a bit more comfortable.
"I love the ability to have a good time in a semi-awkward situation," Dillon said. "During the show, everyone is so tense. The girls are going over what they're going to say, worrying about whether they're going to come off a certain way. If you have a girl who's freaking out, hoping that she didn't stutter, or trip on her dress, and then she looks over and sees a sloth dangling in a tree, she can think, 'Well, at least I'm not that weird girl.' I liked giving people that ease."
"How can you not like a sloth?" #TheBachelor pic.twitter.com/WTghEpdRwm

— The Bachelor (@BachelorABC) January 8, 2019
That said, the first episode showed that several other contestants' reactions to Dillon's sloth character were mixed, at best. Some were disdainful when Dillon was hanging from a tree on set, with one contestant calling her "kind of weird," while another suggested that getting sent home before Sloth Girl would be a crushing blow.
"To my face, everyone was saying nice things," Dillon said. "Some applauded me for my bravery, which I was confused about at the time, because I was like, 'What am I being brave about?' Some of them were going to think it's weird, which it is, so I'm not going to say they're wrong. Ultimately, I don't have anything negative to say. I was gone pretty fast, especially for a sloth."
Beyond the disappointment of getting eliminated so early, Dillon was also a little bummed that several scenes she filmed in Boston with a crew from "The Bachelor" didn't make it to air, though she was happy to see them later appear on the show's social media.
"I'm not sure why it didn't air, but we basically ran around the city while they shot some activities with me," Dillon said. "I brought them to the Common, and we went to Newbury Street and did a lot of stuff there. That was a fun day, and I loved being able to show the beautiful city where I'm from."
We're………………………sad…………………..that……………….she………….had………….to……………go………….but………….here's a deleted scene from when we first met Alex the Sloth! #TheBachelor pic.twitter.com/IOUEExpaal

— The Bachelor (@BachelorABC) January 9, 2019
As this interview was wrapping up, Dillon was getting ready for her first Friday night out on the town since the episode aired, wondering how many would recognize her despite spending much of her time on "The Bachelor" in costume. While she wasn't sure where she and her friends were going, she said that she was a big fan of the Southie and South End scenes, naming Capo, Lincoln, and Toro among the bars and restaurants she most often frequents.
Given that Dillon is still single and she didn't make the cut with Underwood, a former NFL tight end, we asked her if there were any Boston athletes she'd like a shot with in a perfect world.
"The ultimate Boston fangirl answer would be Tom Brady, but I'm pretty sure he's taken by one of the most lovely ladies in the game, so I'll pass on that one," Dillon said. "I want to let the players do their jobs correctly and not put any pressure on them, so I'll let them reach out to me if they're interested."