Entertainment
Here are the most buzzworthy Super Bowl commercials
From Steve Carell to Carrie Bradshaw.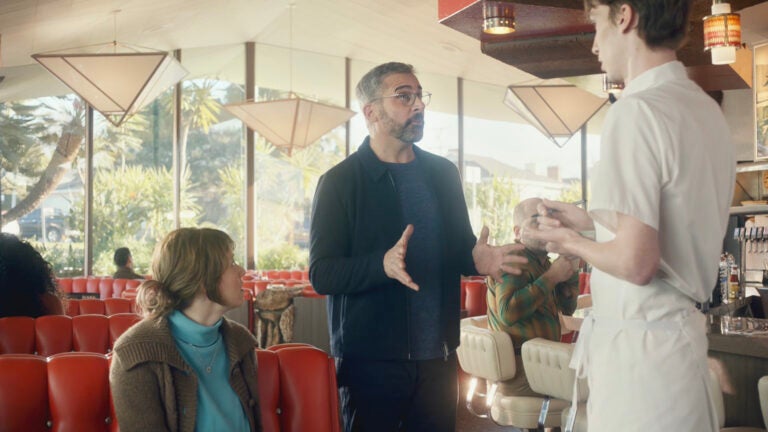 The Super Bowl has long been much more than just a football game, with the spectacle and interest surrounding the halftime show and the Super Bowl commercials making it the premier television event in the United States.
While there will undoubtedly be plenty of surprise advertisements popping up during the big game, companies have begun to treat the lead-up to Super Bowl Sunday as its own advertising opportunity, releasing teasers and sometimes full commercials days or weeks beforehand. With that in mind, we've put together an updating guide to the most interesting, impactful, and buzzworthy 2019 Super Bowl commercials, with a particular eye toward ads that Bostonians may enjoy.
Toyota's Super Bowl commercial features female football player Toni Harris
Who is Toni Harris, the young woman knocking down barriers in Toyota's Super Bowl ad? Harris plays football for East Los Angeles College, and according to USA Today, is considering scholarships to four other schools.
"I plan to be the first female NFL player," Harris told USA Today Sports. "Drafted or undrafted, as long as I get there, with God's will."
The conceit for the commercial is admittedly a little flimsy — Toyota says its car will "shatter perceptions" just like Harris — but it's an inspiring story nonetheless.

"Handmaid's Tale" teases season 3 with eerie Super Bowl commercial
Hulu had one of the most eye-catching ads in the early minutes of the Super Bowl, teasing season three of its smash hit "The Handmaid's Tale."
The commercial has an idyllic beginning, with a pleasant voiceover informing audiences that "it's morning again in America." Soon enough, though, the good cheer melts away, replaced by a sinister vibe typical of the dystopian drama set in Massachusetts.
"Wake up, America," an ominous voiceover says. "Morning's over."
Harrison Ford, Ilana Glazer, Abbi Jacobson, and Forest Whitaker experience Alexa failures in an Amazon Super Bowl commercial
Like Amazon's 2018 Super Bowl spot, a variety of celebrities are featured in this year's ad. Although Alexa is being embedded into other items in the commercial, "not everything makes the cut." These include Forest Whitaker's toothbrush, the dog collar on Harrison Ford's pup, and a hot tub used by Ilana Glazer and Abbi Jacobson.
Tony Romo makes everything look easy in a Skechers Super Bowl commercial
Tony Romo has made predicting plays look easy during his time in the CBS broadcast booth, so it's fitting that "easy" is the operative word in a Super Bowl commercial for Skechers starring the former Cowboys quarterback. Doing things in "Romo Mode" means sinking a putt into a gigantic golf hole, playing fetch with his dog using a tennis ball cannon, and sliding Skechers Sport slip-on shoes onto his feet.
Acton native Steve Carell stars with Cardi B and Lil Jon star in a Pepsi Super Bowl commercial
Carell plays himself in this soft-drink spot, or "at least a version of myself," as the Acton native put it in an interview with Sports Illustrated. Carell takes issue with a waiter's question of "Is Pepsi OK?" and bemoans his inability to mimic rapper Cardi B's distinct way of saying "OK."
A Massachusetts woman is featured in a [yellow tail] Super Bowl commercial
Blink and you'll miss it, but winemaker [yellow tail] features a Massachusetts woman in its 30-second "Tastes Like Happy" campaign. Katherine Nunez of Boston submitted a video of herself swinging from a rope off a boat in Aruba during her honeymoon, which [yellow tail] selected in addition to one other clip from around 1,500 submissions for inclusion in the ad.
Jeff Bridges and Sarah Jessica Parker reprise their iconic roles for a Stella Artois commercial
Sarah Jessica Parker's Carrie Bradshaw and Jeff Bridges' Jeff "The Dude" Lebowski are both iconic roles with memorable drink orders: Cosmopolitan for Bradshaw, White Russian for The Dude. For Stella Artois' Super Bowl commercial, the pair switch their orders to Stella, and in doing so advertise the brewery's partnership with Matt Damon's nonprofit Water.org, in which the beermaker donates money for clean drinking water with every purchase.
A Budweiser Super Bowl commercial features Bob Dylan, dogs, and Clydesdales
In one of the many commercials Budweiser will air this Super Bowl, the brewery showcases its use of wind power to brew its beer, set to the tune of Bob Dylan's "Blowin' in the Wind."
Check out the Pringles sad device Super Bowl commercial
In this ad, an unnamed virtual assistant similar to Alexa laments her inability to eat Pringles, launching into an impassioned soliloquy about her monotonous existence before being told to play "Funkytown."