Entertainment
Bruce Springsteen and Peter Wolf made a surprise visit to a Boston music shop
Why does The Boss keep popping up around Boston?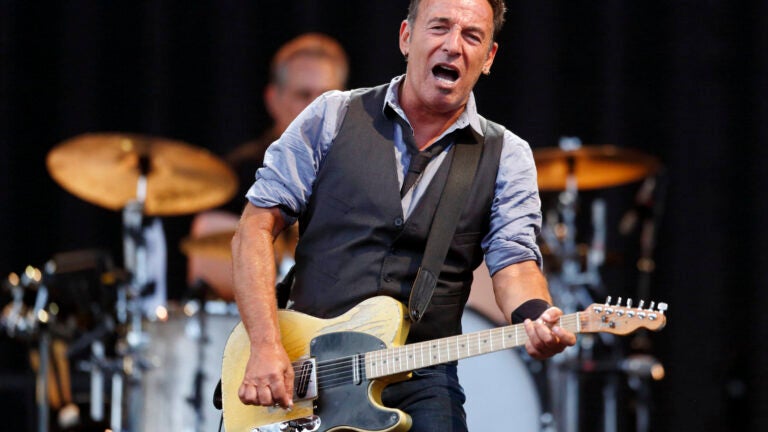 Bruce is back.
Exactly two weeks after The Boss made an impromptu stop at The Bebop, an Irish pub on Boylston Street, Springsteen and J. Geils Band vocalist Peter Wolf made a surprise visit to Allston music store Mr. Music.
Tom Barone, who co-owns Mr. Music with his older brother Sal Barone, said that Springsteen and Wolf stopped by the store at around 2 p.m. on Friday for a quick visit. Barone said that Wolf has known the brothers for decades, but Springsteen's visit was out of left field.
"Peter always comes in; he's a regular," Barone said. "He's like family to us. We've known Peter for at least 20 years. He comes in and hangs out with us, and that day he came walking in, and he says, 'I've got a friend with me,' and it was Bruce."
https://www.facebook.com/mrmusicallston/photos/a.302417459820918/2168582516537727/?type=3&theater
Barone said that after poking around the shop and chatting with salesman Steve Sidhly, the pair began strumming on some of the store's guitars.
"He sat down and started playing guitar. Him and Peter were just jamming along, trying out some pedals," Barone said. "He just poked around, checked out all my stuff, sat there, shot the s*** with the salesman."
Barone clarified that all of the details he knew about about Wolf and Springsteen's visit came from Sidhly and from reviewing security tapes, because despite working in the shop almost every day since he graduated high school in 1978, both he and Sal were gone that day.
"I've been here since I was 14, for Chrissakes. I'm always here," Barone said, his voice rising. "Never take a day off! And the one day I take off… My wife had me go somewhere, and I said, 'I told you I shouldn't have gone! I should've been there!'"
Barone said his favorite story of the visit was when Springsteen discovered a signed concert photo of himself on the wall from a concert at the old Boston Garden in the 1970s.
"I'd forgotten I'd put it there, and I'm so happy I did," Barone said. "He saw it, and pointed and laughed, and he said to Steve, 'What's that?' And Steve said, 'Oh, that guy? He ain't that good, don't worry about him.'"
https://www.facebook.com/mrmusicallston/posts/2168559259873386?__xts__[0]=68.ARBLeWGruTMh6qGK_ZN53qZYyXP3WoXoG-knSwCvXuu8prbx7ji3Z4WQA78Vunj6y7CR5clQLbmL02ikRyzuLA7-raMwhISIgjYKuMzp4g_rNGUHilYkomYYOVxmmPxW2GmdohX7Q820td7lXUmvyaukgcCnHZKD3tA5cz-xYV2pHlYy9w6ngwHshXkPlepmMAP3aIuObxWjz2-m3KpOM65P2sddIaiy9pBa6XjfMnQGTktuw1Nxuye7itRFJRtyIZp_SSB8EXBVqMFo0bFZmKEQkPFdpnmGpDVMYMIkSDnY_Y8BCOH7wxtld9j4TEJiUGzE5xlQmoYqwW4Zf3xSleIFGA&__tn__=-R