Entertainment
The New England-born co-writer of 'Shallow' on why the 'Star Is Born' song is deeply personal
"I had to get myself help because I wasn't really showing up for my life."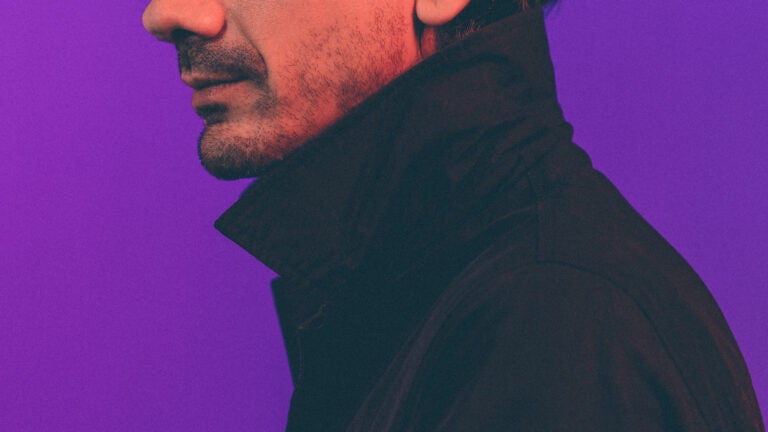 About a decade ago, Anthony Rossomando, founder of the now-defunct Boston-based band The Damn Personals, was living in London and working as a musician when he met Grammy-winning producer Mark Ronson.
The pair bonded while dancing in the pit at the Connecticut-founded band MGMT's first London concert, and during a post-concert jam session at the makeshift studio in Rossomando's loft.
Another evening, Ronson brought a friend to Rossomando's pad.
"Mark said, 'You gotta meet this girl. I know you'll get along. You're both Italian. You're from the tri-state area,'" recounted Rossomando, 42, a Connecticut native. "I don't remember what her first single was, but it had only been out for two weeks."
That woman was Stefani Germanotta, better known as Lady Gaga.
"We ended up back at my place and started jamming," Rossomando continued. "She kept trying to snap me back in time because I was on drums. She was like, 'Keep it in time, brown eyes!' And I was like, 'Who the hell is this woman drinking my whiskey and talking s*** to me about my s**** drumming?' I was blown away by her openness, her bundle of personality, and her absolutely undeniable talent."
Through his friendship with Ronson, Rossomando began writing songs that weren't solely for himself to sing, something he had never done during his six years living and performing in Boston in the late '90s and early 2000s. In 2010, Rossomondo was one of eight credited on "Somebody to Love Me," a single for Ronson's third album that featured vocals from British pop star Boy George and musician Andrew Wyatt, who currently serves as the lead vocalist for Swedish electronic group Miike Snow.
And then in 2017, Gaga, Ronson, Rossomando, and Wyatt gathered to write "Shallow" — which would go on to become the breakout, award-winning hit from the Oscar-nominated film "A Star Is Born" — in a process Rossomando said was extremely intimate due to the group's long-term friendship.
"There wasn't a lot of over-intellectualization of the process. It was very primal, and immediate, and trusting," Rossomando said. "When you're this close to people and you're sitting in a circle a couple feet away from each other, you feel very safe."
Even with the knowledge that they had been brought together to create a song that could be featured in a Hollywood motion picture, Rossomando had no expectations that the song would ever become the massive success it has turned into.
"It was a movie with a pretty small budget," Rossomando said. "[Gaga's] first time acting, [Bradley Cooper's] first movie directing, and some pretty serious subject matter. We didn't know how big it would get."
When Rossomando, Ronson, and Wyatt saw "A Star is Born" for the first time, they were blown away.
"When [Gaga] is singing it in the parking lot, our jaws just dropped," Rossomando said. "We were trying not to show each other we were crying at the end, but it got us all."
"Shallow" is especially personal for Rossomando, who said that he channeled into the song some of the feelings he'd had while struggling with mental health and substance abuse issues. By his own account, 2013 and 2014 were "lost years," during which he was forced to sell some of his music gear and was not performing any gigs.
Rossomando said he's not sure he could have gotten sober if he had not moved to Los Angeles from London, leaving behind old friends and old habits. He also doesn't think he would have been able to co-write "Shallow" if he hadn't gotten help.
"Thank God I was recently sober when I got the call, because I might have missed it," Rossomando said. "Or I might have just been like, 'When was this? Friday? Oh s***, because it's Saturday now.' When it comes to Mark and stuff, I'm pretty on top of it, but still. The term 'lost years' really applies to that time in my life. I'm so lucky I got some help here.
"You can spend a lifetime getting f***** up and playing records and arguing about which is the best, and I could do that until the cows come home in London," Rossomando continued. "But I had to get myself help because I wasn't really showing up for my life."
In attempting to reflect on writing a song with some of his best friends and reaching millions of people with it shortly after hitting rock bottom, Rossomando concluded that "Shallow" is one of the highlights of his life.
"To think that 10 years ago we were jamming Bob Marley at 4 in the morning, polishing off the rest of a bottle of [Jack Daniels], and 10 years later we get called on to pour our experiences out into a song," Rossomando said, "and to have all of this attention and success, it's a really special thing. I'll never forget this time in my life."