Entertainment
The Forbes Under 30 Summit will not be returning to Boston in 2019
The annual gathering of young talent has relocated.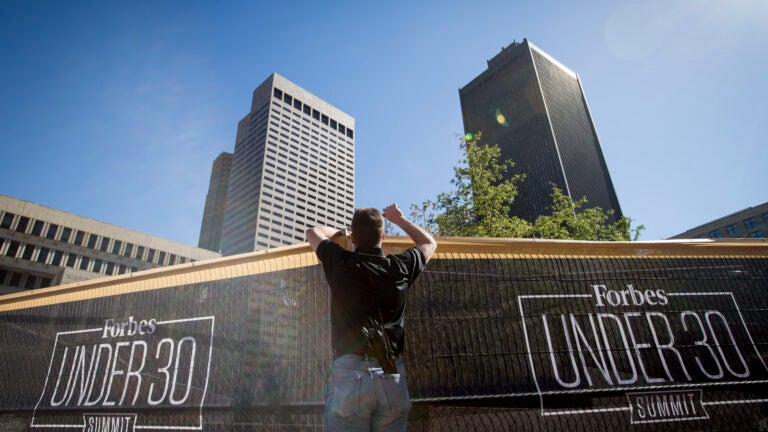 After three years in Boston, the Forbes Under 30 Summit is moving on.
The company announced on its website Tuesday that the 2019 edition of its annual summit will be held in Detroit.
"Detroit is a city on the move and a shining example of what can happen when entrepreneurs, investors, venture capitalists, elected officials, students and entertainers come together to address challenges, create partnerships and jointly reimagine a city's role on the world stage," said Randall Lane, chief content officer of Forbes and founder of the Under 30 Summit in the release. "For six years, our Under 30 Summits have celebrated the people who are changing our world for the better, and we are proud to help focus the world's attention on Detroit and its leaders who are demonstrating how entrepreneurial capitalism is a force for good."
In a statement to Boston.com, a Forbes spokesperson expressed gratitude to Boston for helping the summit grow to what it is today.
"We thank Boston for being a great host city for the Forbes Under 30 Summit," the company wrote. "Over the last three years, we elevated the Summit to an entirely new level — expanding in both size and scope. As we look towards the next chapter, we can't think of a better place to host the Under 30 Summit than Detroit, a city that drives the world and is undergoing its own renaissance, attracting a new generation of talent across all industries."
During its first two years, in 2014 and 2015, the Under 30 Summit was a private, invite-only event held in Philadelphia. With its move to Boston in 2016, it made passes available to purchase for the general public, and in 2018, the company announced that 9,100 people had registered for its four-day summit.
During the three years that the summit was held in Boston, local athletes like Kyrie Irving, Martellus Bennett, and Aly Raisman, as well as local politicians like former Secretary of State John Kerry and US Rep. Seth Moulton served as speakers. Other famous faces who appeared at the summit include Virgin Group founder Richard Branson and musicians Cardi B and Jason Derulo. Olympic gold medalist Michael Phelps even led attendees on a run around Boston.
This year, in keeping with the shift in location, one famous figure headlining the summit is Detroit Pistons forward Blake Griffin.
"I was humbled and proud to make the Forbes Under 30 list in 2019 and be featured on the cover of the magazine," Griffin said in Forbes's Tuesday release. "Just as I represent the great city of Detroit and its people while playing for the Pistons, Forbes represents entrepreneurs everywhere."
Representatives for Boston Mayor Marty Walsh did not immediately respond to a request for comment about the company's decision to move away from Boston.