Entertainment
Joey McIntyre on why he moved his family across the country last year to pursue a Broadway career
"Not to be dramatic, but on my deathbed, I wouldn't say, 'I wish I had hung in there for a few more pilot seasons in LA.'"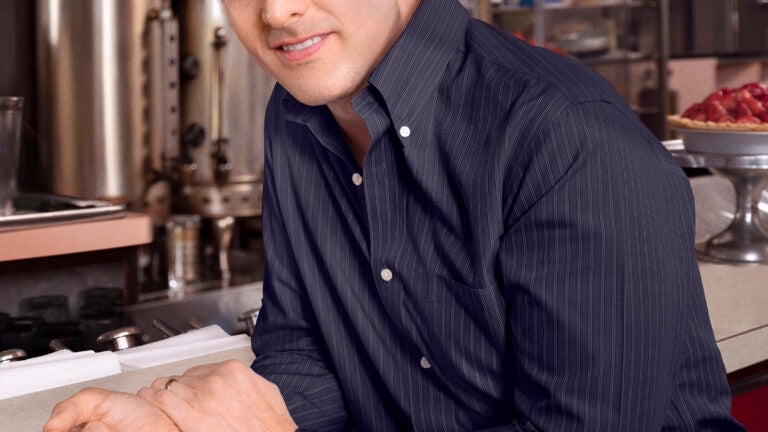 Joey McIntyre made a major life change last summer. After 15 years of living in Los Angeles, the Boston native moved his family to New York City — the actor and New Kids on the Block member wanted to pursue his career in theater. Shortly after moving, he landed the role of Dr. Pomatter on Broadway in "Waitress," the Diane Paulus-directed musical that made its world premiere at the American Repertory Theater in Cambridge. McIntyre will star in the pie-filled show through April 7.
McIntyre hopped on the phone Wednesday to talk about getting back on Broadway, his roots in community theater in Boston, and making new music with New Kids on the Block more than 30 years after its members first joined forces.
Q. This is your first Broadway show since "Wicked" back in 2004. How has it been getting back in the rhythm of nightly performances in front of a Broadway audience?
A. I was living in LA for the last 15 years, and did a bunch of theater there, so I'm not too out of shape in terms of the whole theater routine and putting up a show every night. But there's nothing like doing eight shows a week, getting into that schedule, and getting your body ready for it. I have three kids now, so my days start relatively early, and I was used to going to bed at 8. But now, all of a sudden, that's showtime. I've been getting my naps in.
Q. What drew you to "Waitress" and the role of Dr. Pomatter?
A. When I saw Dr. Pomatter, I thought that he wasn't necessarily the kind of character I'm used to playing. I think I've taken advantage of my Boston roots in the past. Usually the characters I play have a kind of edge — a little bit of sarcasm, cynicism, and a sense of humor has worked for me. But this character is a pretty buttoned-up guy, a doctor from Connecticut. I knew it would be a challenge, and I knew I would grow as an actor and get out of my comfort zone.
Q. You were in showbiz at a young age as part of New Kids on the Block, but your theatrical start came even earlier, as a kid back in Boston. What was it like growing up in a theater-loving family?
A. The first show that my mother did was at the Footlight Club, which is the oldest [continuously running] community theater in America. It's a beautiful facility. My mom was pregnant with me when she did her first show there. Some of my sisters were getting involved with different shows, and by the time I was 8 years old, they were doing "[The] Music Man," and I played Winthrop. It was a fun experience on and off stage. The camaraderie, the community, working with all different kinds of people. It was really a great experience, and it really enriches your life.
Q. You and your family moved to NYC last summer after 15 years in LA. What led to the move?
A. Career-wise, tops on my list was to do more theater. Not to be dramatic, but on my deathbed, I wouldn't say, "I wish I had hung in there for a few more pilot seasons in LA." Do I want to say that I did theater and did enough theater? Absolutely. And I want to do it while I'm quote-unquote "young."
Q. It was great to see the recent New Kids on the Block video where you and the rest of the band all dressed up as old men. How much fun was it to put something like that together?
A. As a group, we definitely don't take ourselves too seriously. Normally, you make your sexy video, and it's great. But this time we talked about it and just said, "Let's go there." Donnie [Wahlberg] had this vision in the middle of the night for us to dress up as old men to kick the video off, and we just ran with it. Once we saw the first cut, we were laughing ourselves, and we figured others would react the same way, and they have.
Q. You and the rest of NKOTB will be back in Boston for two nights in June. How exciting will it be to play for a hometown crowd?
A. When it comes to Boston, we've always been embraced, especially since we got back together 10 years ago. Now it's not really a reunion, we're just a working band, but to play our hometown and play the Garden for a couple of nights, it never gets old. We think we put another great lineup together — Salt-N-Pepa, Tiffany, Debbie Gibson, Naughty by Nature — it's gonna be a blast. At the end of the day, we just want to give everyone a great night out, and we plan on doing that.
This interview has been condensed.