Entertainment
What critics have to say about 'Avengers: Endgame'
Could the Marvel Cinematic Universe's colossal climax be its crowning achievement?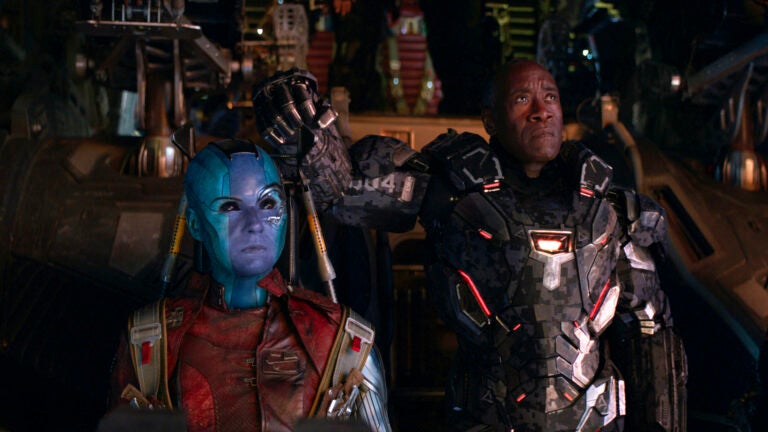 At a whopping 181 minutes, "Avengers: Endgame" joins the much-vaunted 'three-hour club' — members include "Titanic," "Schindler's List," and "Gone with the Wind." Notably, none of those films co-starred a gun-toting space raccoon.
That said, if any modern blockbuster were to command such a sprawling runtime, it might as well be the victory-lap capper to a superhero saga that's spanned 11 years and twice that number of entries.
Since its (relatively) humble origins in 2008's "Iron Man," the Marvel Cinematic Universe has burgeoned and broadened into a full-blown cultural phenomenon, redefining serialized storytelling at the movies and drawing in countless A-listers and esteemed helmers. In doing so, it has evolved comic-book cinema from cheesy, low-budget schlock to well-respected, event-cinema spectacle — all to the collective tune of $18 billion (and counting). That makes it the highest-grossing franchise in movie history, even without this finale's potentially record-breaking haul. (Some prognosticators anticipate "Endgame" will surpass $300 million in its first weekend.)
"Endgame," out Thursday evening, had a 97 percent freshness rating on Rotten Tomatoes at the time of this article's publication. It's a score you can be sure Marvel brass will promptly splash across its eve-of-release marketing campaign, though a closer look reveals that some critics are more measured in their praise than others (a site that summarizes reviews as either "fresh" or "rotten" doesn't leave much room for nuance).
Still, it does appear, at least from the early (spoiler-free) reviews, that Marvel well and truly snapped with this long-anticipated finale. Here's what the critics are saying about "Endgame."
Jake Coyle of the Associated Press expressed his satisfaction with how "Endgame" wrapped up the storyline started by last year's cliff-hanging "Infinity War," praising the heartfelt tone.
"Generous in humor, spirit and sentimentality, [co-directors] Anthony and Joe Russo's 'Endgame' is a surprisingly full feast of blockbuster-making that, through some time-traveling magic, looks back nostalgically at Marvel's decade of world domination. This is the Marvel machine working at high gear, in full control of its myth-making powers and uncovering more emotion in its fictional cosmos than ever before."
Leah Greenblatt of Entertainment Weekly called Josh Brolin's Thanos "a formidable antihero," and complimented "Endgame" for sending off some of the franchise's main heroes in rousing fashion.
"There's an expected urgency to it all, but an underlying melancholy too — not just for everything that's been lost, but for what won't be coming back. After 11 years, 22 films, and uncountable post-credit Easter eggs, the endgame of an era has finally come."
In a four-out-of-four-star rave, the Toronto Sun's Mark Daniell called "Endgame" "the greatest superhero movie ever made," stressing that fans should avoid spoilers of screenwriters Christopher Markus and Stephen McFeely's "intricately crafted" story.
"For fans who have invested their imaginations and wonderment into these various Marvel franchises over the past 11 years, the payoff is emotional, unpredictable and wholly new. You might be able to telegraph some of what happens, but at best you'll skim the surface of all the callbacks 'Endgame' makes to the earlier films."
In issuing "Endgame" five stars, The Guardian's Peter Bradshaw applauded the film's marrying of heart and humor.
"I have to admit, in all its surreal grandiosity, in all its delirious absurdity, there is a huge sugar rush of excitement to this mighty finale, finally interchanging with euphoric emotion and allowing us to say poignant farewells."
For US Weekly's Mara Reinstein — who also gave "Endgame" a perfect score — the film "exceeds the hype" and is "the best installment yet" in the MCU, as well as a feature-length opportunity to appreciate some of the franchise's most enduring actors.
"[Scarlett] Johansson, the lone female Avenger for way too long, has never lost her moxie. [Mark] Ruffalo can sell both the neurotic scientist and the rampaging Hulk. [Jeremy] Renner acts with soulfulness in his eyes. [Chris] Hemsworth has evolved into a loose, self-deprecating comedy God. [Chris] Evans embodies the goodness of a legit American hero. And the irrepressible [Robert] Downey [Jr.] proves again and again why he's been a movie star for the past 30 years."
The Atlantic's David Sims came down in firm favor of the film's epic runtime, calling it "a proper goodbye" to at least this iteration of the Avengers.
"It's hard to know whether the series will ever be able to replicate the peculiar magic of this movie's finale, which had me realizing with a jolt, over and over again, how much I cared about the lives of these loud, wisecracking, CGI-bedazzled champions."
A.O. Scott of The New York Times summarized "Endgame" as a "monument to adequacy," stating that this made it a fitting capstone to the MCU, a franchise he considers the ultimate crowd-pleaser.
"Was it worth it? In the aggregate, I have my doubts, but the chuckles and awws you'll hear around you in the theater at certain moments attest to the happy sense of participation that lies at the heart of the modern fan experience. At its best — and 'Endgame' is in some ways as good as it gets — the 'Avengers' cosmos has been an expansive and inclusive place."

Meanwhile, in a more mixed review, Eric Kohn of Indiewire called the film "a busy love letter" to the MCU and critiqued it for overfilling the frame with too many characters from past entries.
"It's an exhausting collage that bears no resemblance to any kind of franchise filmmaking other than its own overpopulated ensemble. (The 'Star Wars' expanded universe may have more characters, but never stuffed into a single scene.) More than that, this speedy arrangement of catchy exchanges and brawls feels like it was crafted with internet memes in mind. As 'Endgame' sputters to the finish line, it leaves the impression of witnessing a Marvel Movie Marathon compressed to three hours — and 58 seconds, but trust me, they're disposable — of unbridled fan service."